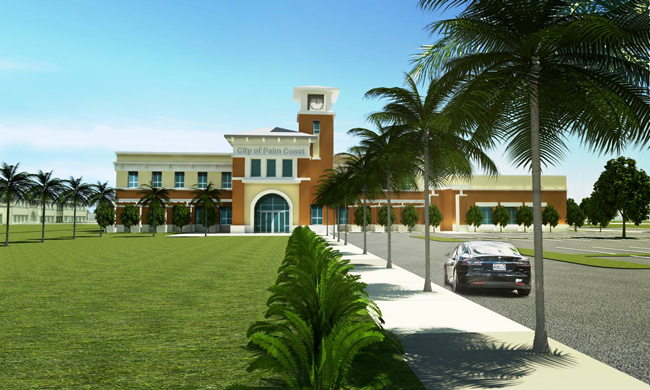 Gilbane Building Company, which has been selected as the construction manager for the Palm Coast City Hall project, will hold two Vendor Roundtables for contractors interested in working on the project. Local firms within the City and Flagler County are encouraged to attend.
The Vendor Roundtables will be held Tuesday, May 13, from 5:30 to 7:30 p.m. and Tuesday, July 22, from 5:30 to 7:30 p.m. at the Flagler-Palm Coast Campus of Daytona State College, 3000 Palm Coast Pkwy. SE, Building 2. Pre-registration is not required.
Contractors will be given information on the scope of work for the new City Hall and the anticipated schedule of bidding and construction. They also will be provided information on how to become pre-qualified with Gilbane Building Company.
Construction of the initial phase of Palm Coast City Hall project is expected to begin in September or October 2014 and take 9 to 12 months to complete. The phased project will initially include a 32,000-square-foot office building and parking area. Additional phases will include an 8,000-square-foot addition for community meeting rooms including City Council Chambers, a lakefront plaza and more parking. City Hall will be located on Lake Avenue at Central Park in Town Center.
The City Hall project is being designed by the architectural planning and design firm of C.T. Hsu and Associates.
For more information on the upcoming Vendor Roundtables, contact City of Palm Coast Purchasing Manager Brian Rothwell at 386/986-3731.