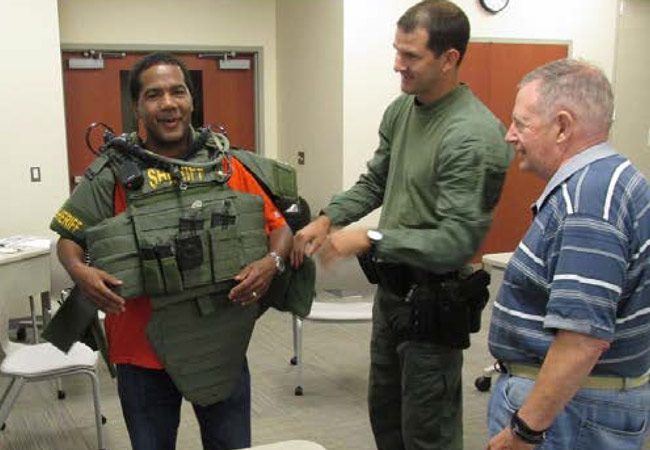 It's not a minor commitment: eight weekly classes in Flagler Beach, two classes a week for six weeks at the Sheriff's Office, 10 weekly classes for the county's version, and in the end you don't get much more than a shirt and maybe some applause at a public meeting. On the other hand there are no tests, no midterms, no grades, it's free, and graduation is guaranteed.
Local governments' citizenship academies have been relatively popular, especially among potential political candidates or the retired set with time on its hand and a desire to walk the backrooms and see the plumbing of government firsthand. And for those governments, it's a chance to project a generally happy, unfiltered and uncontroversial perspective on how their work gets done: guided tours elevated to civic purpose. It also demystifies assumptions and presumptions about government, showing the complexity and range of responsibilities for each agency in such a way that making generalities about "government waste" or distance from residents becomes more difficult.
Here's a run-down of academies in coming months.
Flagler Beach: Eight consecutive Wednesdays from 2 to 5 p.m. from march 7 through April 25.
Sessions will cover Flagler Beach history, how government works and is financed, and responsibilities of administrative and elected officials. There'll be tours of recreational, first responder, library, and public works facilities, with insights into plans for the city's future and opportunities for resident involvement.
Sessions are open to anyone residing within the city, with a limit of 20 participants. You can download a registration application here or get one at City Hall, the police department, the fire department and at the city's website. The application deadline is Feb. 23 and may be mailed to Jane Mealy, Commissioner, City of Flagler Beach, 105 S. 2nd St. / P.O. Box 70, Flagler Beach, FL 32136, or emailed to the commissioner here. You will then receive a detailed schedule of the sessions and where each will be held. For questions, contact Mealy at 439-4811.
Flagler County Government is accepting applications for its Spring 2018 Citizens Academy program, a ten-week course similar to Flagler Beach's. Registration is free, but class size is limited to 30 and applications are accepted on a first come, first served basis.
The spring classes will be held on consecutive Tuesday mornings, 9 a.m. to noon beginning February 27. Each week participants learn about responsibilities and operations of County departments, such as Land Management, Economic Development, and Fire Rescue. Locations include the 911 center at Emergency Operations, the control tower at the Executive Airport, and the Lodge at Princess Place Preserve. Citizens Academy is also an opportunity for participants to interact with administrative staff and ask questions on topics that range from code enforcement to senior day-care to the property assessment process.
The final session, on May 1, includes a Q&A round-table with county commissioners. A graduation ceremony will be part of the May 7 County Commission meeting, at 5 p.m. This will be the 14th Citizens Academy class.
Interested residents may register online here or by contacting Rose Keirnan, the county's public relations and marketing specialist, at 386/313-4026 or by email at [email protected].
Offered twice yearly, the next opportunity to participate in the county's Citizens Academy will be a series of evening classes in Fall 2018.
---
Palm Coast Mayor Milissa Holland on The Academy
Flagler County Sheriff's Office: The Sheriff's Academy is a six-week behind the scenes look at the daily operations of all areas of the Flagler County Sheriff's Office, held every Tuesday and Thursday evening from 6 to 9 p.m. beginning March 13.
Participants will get to visit the agency's 911 dispatch center and the county jail and will learn about district policing, the investigative division, drug and gang enforcement, Victim Services and SWAT. There will be live demonstrations of the Motor Unit and the K-9 Unit, and each participant gets to ride along with a deputy. Participants may also take part in an actual shoot/don't shoot decision making process through the use of a simulator.
"The Sheriff's Citizens Academy is a great program that offers the community a behind the scenes look at what our employees do each and every day," Sheriff Rick Staly said. "Anyone interested in signing up shouldn't wait; spots fill up fast."
The Sheriff's Citizen Academy is accepting applications until March 9. Participants may download an application here. For more information, see the sheriff's website. The application can be intimidating and requires disclosure of an unusual amount of personal information.
Participant Requirements:
• Minimum age of 18-years old.
• Must live or work in Flagler County.
• Must have no prior felony convictions.
• Must have no misdemeanors arrests within the last twelve months.
Palm Coast government: The city last fall launched its new Virtual Citizen's Academy, which gives citizens an opportunity to learn more about their city government from their own computers, tablets or smart phones. The Virtual Citizen's Academy is available online.
The innovative Virtual Citizen's Academy is one of the first of its kind, according to the city – if not the first. The online academy can be done at the reader's own pace and has no deadline for completion. It is an alternative to the in-person Palm Coast Citizen's Academy. The modules for the Virtual Citizens Academy include an introduction from Palm Coast Mayor Milissa Holland (see above), an overview of city government and sections about each of the city's nine departments, with video, photos, graphics and written text. The modules were created by Communications & Marketing interns Hannah Hussmann and Nick Boellner of Flagler College.
"You're going to love this experience," said Mayor Holland. "As one of the first graduates of the Citizen's Academy of Palm Coast, it was such a value added to my life. I felt a sense of pride even greater than I did going into it, and you get to know every single part of your city."
The in-person Citizen's Academy will be continuing for those who prefer that option. Residents can sign up online. The next session, in March, is full. But spots are still available for the May and September sessions.
The in-person Citizen's Academy is a five-week program with most meetings on Monday evenings. The most recent Citizen's Academy was completed in October with 23 graduates. It was the 42nd graduating class in the program's history. For more information, contact Cindi Lane, Palm Coast Communications & Marketing Manager, at 386-986-3708 or by email.