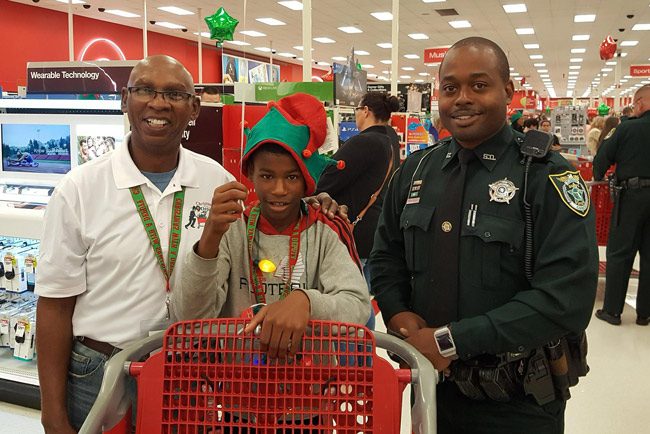 Christmas With a Deputy has been around 11 years since Larry Jones started it in the depth of the Great Recession, when he was a sergeant with the Flagler County Sheriff;'s Office and thought economic hardship should not interfere with a child's Christmas experience. He raised money and redistributed it to 14 children, each of whom got to spend a gift card while being accompanied by a sheriff's deputy.
The program has since grown almost every year, Jones's venture turning into an official non-profit, and this year, the Sheriff's Office alone raised $16,717 through payroll deductions from July to December. So when the 124 children qualifying for Christmas With a Deputy gather at Palm Coast's Chiumento law firm in Town Center, a long-time sponsor of the program, the money raised by the agency will cover almost the entirety of the cost of the $150 gift cards each of the children will take to Target.
Tonight's event starts on City Place in and around the law firm's building, with crafts and games, the distribution of gift bags and Santa hats, picture with Santa, and so on.
The children will then each be accompanied b y a law enforcement officer, the majority of them from the Flagler Sheriff's Office, but also involving the Bunnell and Flagler Beach police departments, the Florida Highway Patrol, and other law enforcement regional agencies. The children are selected through nominations submitted by sheriff's employees and with the help of the Flagler County school district.
The event usually draws some 100 patrol cars (tonight's tally will be 110 cars) and turns into a festive–and, from a distance, intimidating–parade of police vehicles, sirens blaring, emergency lights blaring, as children are loaded into the patrol cars and driven procession-style down City Place and through Town Center to the Target parking lot. It never fails: every year residents call police or local media, wondering what the emergency is.
Christmas With a Deputy has been so successful–and has attracted so much attention–that other local businesses want in on the action: this year, and for the first time, a second Christmas With a Deputy event will take place on Dec. 14, involving 30 children who will be taken through Walmart, because of a donation by the store. That shopping spree will follow the same method as the one at Target.
And here's an ironic twist about the program's success: it's now so well known that it inspired a Grinch (the appellation may be too kind) somewhere to launch a scam in its name. In mid-November, the Sheriff's Office warned that residents were receiving calls from a local number and from individuals asking for donations and claiming to be part of Christmas with a Deputy.
That's not the way the program raises money. (Calls came from (386) 410-1667.)
Christmas with a Deputy is a private 501(c)(3) organization. Legal donations may be made to "Christmas with a Deputy" by check which may be mailed or dropped off at the Sheriff's Office's county courthouse location, to the attention of Commander Lou Miceli, who is the current president of the non-profit. Aside from the gift cards, Christmas With a Deputy has additional expenses such as insurance, food, and supplies, but any leftover money is carried over to the following year's event.
See the event's Facebook page with more pictures from last year here.