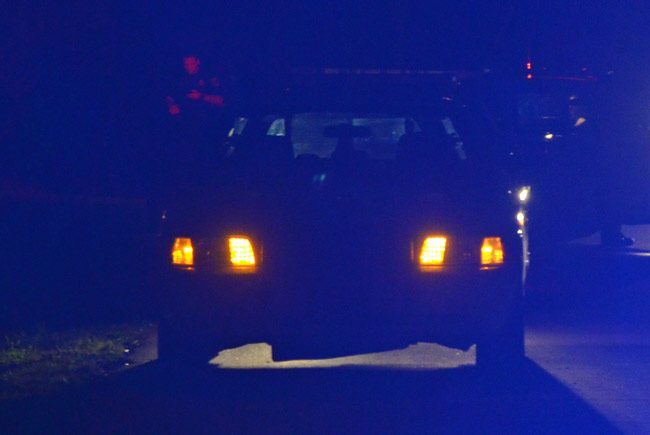 January 25, 2016 update: The charges against Rick de Yampert were dropped on Jan. 20, 2016.

Rick de Yampert, for 23 years a reporter and columnist covering arts and culture for the Daytona Beach News-Journal until his move to FlaglerLive in the same capacity this fall, was arrested on Christmas Eve on charges of domestic battery and false imprisonment.
The incident took place at de Yampert's Kannapolis Place home in Palm Coast in early morning hours. It followed an argument with his 31-year-old step-daughter that started over the posting of a family image of de Yampert's late wife, his step-daughter's mother, on Facebook. he and his step-daughter, visiting from Germany, were spending their first Christmas without his wife, who died of cancer in April.
His step-daughter, according to a Flagler County Sheriff's report on the arrest, told deputies that after she got upset over the posting, he "began to raise his voice loudly and point his finger in her face, which scared her, at which time she grabbed a laptop cord out of fear." The two then began to fight over the cord when he allegedly "pushed her to the ground in his living room and restrained her to the ground against her will." She told police that she "tried grabbing everything she could, causing her to knock down several things in the hallway."
He told police he got upset when his step-daughter grabbed his laptop, which he described as his livelihood, and that he had restrained his step-daughter "because she was destroying everything in his home and he wanted his laptop back."
When deputies arrived the alleged victim declined shelter at a safe house, saying she felt safe at the house, and said she hadn't intended for her step-father to be arrested. De Yampert was taken to the Flagler County jail and held the rest of the morning on $5,000 bond, which he posted by mid-afternoon. He subsequently described the incident on his Facebook page as making it "a traumatic, horrifying and utterly heartbreaking Christmastime."
A long career in journalism aside—he covered music for the Tennessean in Nashville before joining the News-Journal in 1992—de Yampert is also a professional musician who plays sitar, among a half dozen instruments, and performs regularly across Central Florida. The Volusia County Council declared last Nov. 18 Rick de Yampert Day "for his enduring contributions to arts and culture."