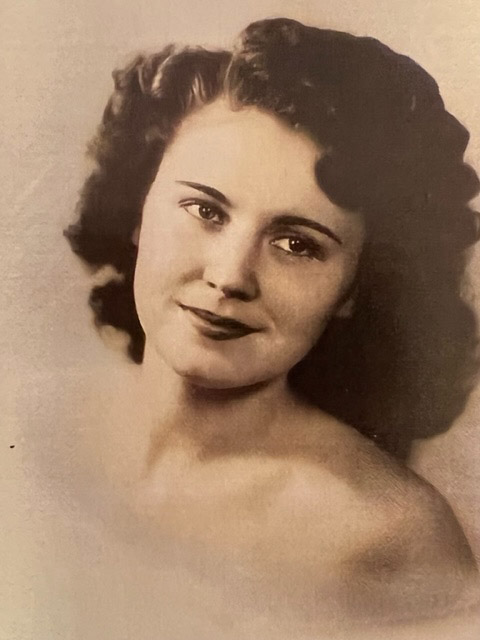 CHRISTINE (CHRIS) S. DEAL, 98, entered the Kingdom of God on Sunday, April 30, 2023, and joined members of her loving family who have passed before her into paradise. Chris was born on February 12, 1925 in Baxley, Georgia to Marcus C. Strickland, Sr., and Sadie Stone Strickland. She was the oldest of five children and grew up in Favoretta, Florida. Chris graduated from Bunnell High School and obtained her B.S. degree from the University of Tennessee where she was a member of the Sigma Kappa sorority. Chris majored in home economics and volunteered as a server in the University's cafeteria. One day in the cafeteria line, with over 400 Army cadets behind him, a man named Don would not move the line forward until he secured Chris' telephone number and address.
On this day, Chris met who would later become the love of her life, Donald L. Deal, Sr. Shortly following Don's return from the WWII, he and Chris were married on October 15, 1946, a union that spanned 71 years until Don's passing in 2017.
In the early days of their marriage, Chris taught elementary school. Later, Don and Chris started a family construction-related business together in South Florida. While Don ran the Sales Division, Chris managed the Office, Parts, and Service Divisions. During the 7 or 8 years they represented Universal Rock Crushers, their dealership was number one in world sales and received numerous awards.
The couple raised two children, Shyla and Don, Jr., and made their home in Miami. Together they instilled in their children the importance of helping others less fortunate as a way of daily life. While her children were growing up, Chris was a Children's Sunday School Teacher for many years and worked tirelessly with children's activities and special events. The three most important things in her life according to her children were God, family and helping others.
God: When Chris and Don retired to Flagler Beach in the early seventies, the first thing Chris did was seek out a church to attend. She decided on First Baptist Church of Bunnell and became an active member there. As Flagler County grew, Chris saw the need for a worship facility in the area of Korona which had the potential for the building of residential housing developments nearby. With the help of family members and other individuals in the community, this vision was realized in the early 2000s.
She and Don had previously donated approximately 18 acres of property for a new church site off Old Dixie Highway. They were founding members in what now stands as the Community Baptist Church. At Community Baptist "Miss Chris", as she was lovingly called by the church members, continued activities with the children's choir and special events. She was also the church organist. Prior to the completion of the new church, the Fire Station leaders in Korona were very gracious in allowing Chris to use their facilities to conduct activities for the children living in the area. Chris so appreciated their willingness to help.
Family: One of the most important things in Don and Chris' lives was spending time with family. They both loved family get-togethers of all kinds no matter where they were held. They cherished time at their lakehouse in Keystone Heights where they would have frequent parties for their extended family and friends. Having acquired the lakehouse when their children were small, the lake was a source of many wonderful summer memories while their children were growing up. One of Chris' favorite things to to do at the lake was making hand-churned ice cream. She followed in the tradition of the Strickland sweet-tooth. She also enjoyed picking wild blackberries around the lake with her children.
Helping Others: Chris' daily calendar was filled with the names of those in need and exactly what was needed. She would spend hours each day calling on those people and making arrangements for provisions. Whether it was a meal for those who were sick or bedridden, a ride to the doctor or to the church, she was there for them. She would help those who had fallen on hard times with clothes, home items, or whatever was needed.
Chris was known for her kindness, generosity and genuineness. She was a devoted wife, mother, mother-in-law, sister, aunt, grandmother, great-grandmother and friend. One of her greatest pleasures in life was bringing happiness to others. She is preceded in death by her parents; sisters, Wilda Hargett and Odell Clegg; brother, M.C. Strickland, Jr.; and her son-in-law, Dr. Fred E. Meece. She is survived by her brother Marvin Strickland (BettyJo); brother-in-law, Frank Clegg; and her children, Shyla Deal Meece (Fred), Flagler Beach; and Donald L. Deal, Jr., (Terri), Flagler Beach; grandchildren: Wendy Meece Simpson (Wayne), Cordova, TN, James Michael Meece, Bowling Green, KY, Cara Meece Karner (David), Palm Coast, and Matthew Donovan Deal (Ashley), Flagler Beach. Six great­ grandchildren: Isaac and Abby Simpson, Desmond and Miles Meece, Mikayla and Dylan Karner, and several nieces and nephews.
A celebration of Chris' life will be held Saturday, May 13, 2023 at Community Baptist Church, 956 Old Dixie Highway, Bunnell, Florida beginning at 11:00 a.m. Immediately following the celebration, will be a graveside service at the Strickland Family Cemetery in Korona. The family will receive friends on Friday, May 12, 2023, from 4-7 p.m. at the Craig Flagler Palms Funeral Home, at 511 Old Kings Road South, Flagler Beach, Florida. In lieu of flowers, the family suggests that those who wish to honor Chris' life and memory may make a donation to any one of the following organizations whose work she valued: Village Partners International, 217 S. Matanzas Avenue, Tampa, FL 33609.  Community Baptist Church, 956 S. Old Dixie Highway, Bunnell, Florida 32110.  First Baptist Church of Flagler Beach, Post Office Box 839, Flagler Beach, FL  32136. The family requests noting on any donation "in remembrance of Christine S. Deal."