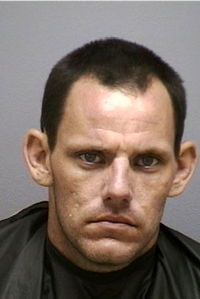 Christian Grasso had been in and out of jail almost a dozen times in Volusia and Flagler counties since 2005, including six times since last December, before he was shot on Christmas Eve on a street in Flagler Beach.
Grasso, 28, who usually lives with his mother at 2229 Daytona Ave. in Flagler Beach, was arrested and jailed in Flagler County last December on a charge of burglary and a charge of possessing a controlled substance. He got probation. He was jailed on another burglary charge in June. In early July, he was jailed in Volusia County on possession of Oxycodone pills without a prescription. He posted $6,000 bond. Later that month he was jailed in Flagler again for violating his probation. Three weeks ago he was jailed for possession of drug-cultivating paraphernalia. And on Christmas eve, he was jailed on two counts of violating his probation. He posted $2,000 bond.
Shortly afterward, he was shot in the back, a block away from his home, in the middle of South Central Avenue. A Flagler Beach police officer responded to reports of an argument and a shooting at 8:56 p.m. When the officer got there, he saw Grasso in the middle of the street. Grasso was bleeding but coherent. He told the officer he'd been pursued by three people in a white compact car who wanted his money–a heavyset white male, a black male with dreadlocks, and a woman, who drove the car. When he refused to hand over his wallet, he was shot. The police report notes the bullet entered his back "approximately 3 inches from the top if his butt crack."
The bullet, Flagler Beach Lt. Frank Parrish said on Monday afternoon, was lodged close to the fifth vertebrae, and Grasso was still awaiting surgery at Halifax Hospital.
Parrish said Flagler Beach police and detectives from the Flagler County Sheriff's Office's Criminal Investigation Division were interviewing "a couple of people" Monday afternoon, though Parrish did not specify who they were. Officially, the suspects are still at large.
The shooting took place between 20th and 21st Streets on South Central Avenue.