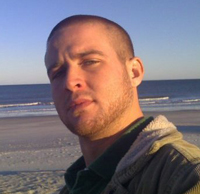 December 12 update–We received the following note today: "Christopher Molumby went home to be with the Lord at 9:44 a.m. Today , Thurs. 12/12/13 @Shands Hospital in Jacksonville. Please pray for Christ's comforting peace to be with his family during this time of mourning."
December 11—Christopher W. Molumby, a 27-year-old resident of Palm Coast's W Section, is in critical condition at Shands Hospital in Jacksonville following a single-car wreck Tuesday afternoon on I-95 just north of the Flagler-St. Johns County line.
According to the Florida Highway Patrol, Molumby was at the wheel of a 2006 Nissan Titan. He had just driven south of State Road 207 around mile marker 310 when he attempted to change lanes to pass another vehicle. The road was wet. Molumby lost control.
The Nissan rotated off the road to the east, sliding into the wood line. The driver's side collided with two pine trees before the car came to a rest on the grass shoulder, FHP reports.
The wreck took place at 3:38 p.m. Molumby was wearing a seat belt. He is a student at Daytona State College, an Army veteran, and the father of a young child.