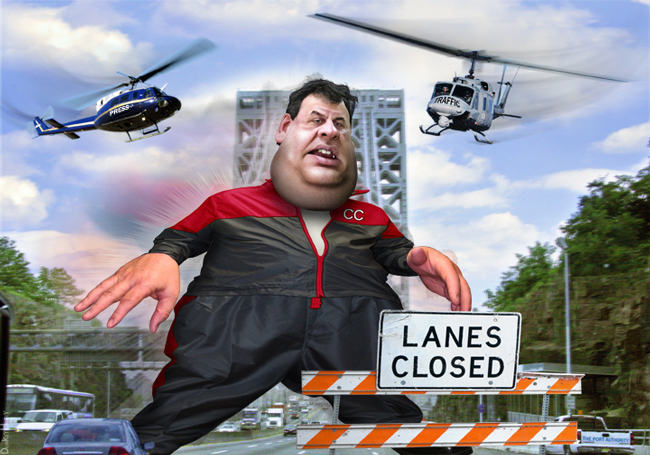 Would someone please call Chris Christie and tell him that if he thinks he could be President of the United States, he doesn't have a prayer. In the aftermath of the scandal in which his aides deliberately created massive traffic jams on the local roads leading to the George Washington Bridge, Christie could have turned things around. Had he maintained his post-scandal demeanor of bewildered contrition, he might be a plausible candidate. Politicians have survived worse. But, no. Like a horse running back into a burning barn, the New Jersey Governor has been doomed by his own actions. Earth to Chris Christie: Half of the electorate is women, and that's the main reason you'll never be President.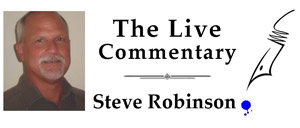 With official investigations into the lane closings swirling around him, Christie had a brainstorm: Use $1 million of taxpayer money to hire a politically-connected law firm to do its own investigation into whether he had advance knowledge of the scheme, or was told about it in-progress. This is like hiring a private detective to found out if you've been cheating on your wife.
We can only imagine how Christie's first session with the lawyers went:
Christie: "I want you to find out whether I knew about these lane closings. What did I know and when did I know it. Leave no stone unturned."
Lawyers: "Uh, ok, Governor. But don't you know whether you knew?"
Christie: "That's what we're paying you for."
Lawyers: "Well, Governor, did you know?"
Christie: "That's for you to find out."
In fact, the lawyers' mission was simply to absolve Christie of any responsibility. But the high-priced hacks that the governor hired to conduct this "investigation" were faced with a large obstacle, other than the governor himself. The three main figures behind the lane closings—David Wildstein, Bill Stepien and Bridget Kelly–refused to be interviewed. So the lawyers were free to write their own script. And the way they tell it, the lane closings–apparently carried out to punish the mayor of Fort Lee, who would not endorse Christie for re-election—were all about the high dudgeon of a scorned woman.
According to the lawyers' report, Kelly, the Christie aide who wrote the now infamous "time for some traffic problems in Ft. Lee" email, had been jilted by Stepien, the governor's top political strategist. The report noted that at one point Kelly was observed to be "emotional," and in another reference she "was seated alone and looked as if she had been crying."
Funny thing about that word "emotional." In the 360-page report, it appears half a dozen times. It is affixed to Christie several times, describing his demeanor as he pleaded with his staff to come clean about the lane closings. The governor is described as "welling up with tears" as he makes the decision to fire Kelly and Stepien. "Emotional" is used to portray Christie's apparent passion for unearthing the truth, and his shock and grief at having to fire trusted staff members.
As for Kelly, "emotional" is used to describe her state of mind in the aftermath of a brief affair. The implication is that Kelly's irrational female constitution led her to order lane closings that affected thousands of ordinary citizens. About the only thing the lawyers didn't say was that the whole mess could be blamed on Bridget Kelly's "time of the month." And that is why Chris Christie will never be President.
A candidate for President has to be many things, but high on the list is that he–or she, and we'll get to that—has to be likable. Most Americans have had a boss at one time or another, and if there is one thing that Americans hate, it's a boss who throws his employees under the bus when there is trouble. And in New Jersey getting thrown under the bus can be more than a metaphor. By retaining a team of lawyers to assign blame to everyone but the man in charge, Christie has forfeited any claim to a higher position of leadership.
On top of that, by insinuating that the lane closings were the handiwork of a woman suffering from a romantic setback, Christie's lawyers have ensured that he will be scorned by every woman who has had to endure the canard that women are ruled by their hormones and their feelings. When a man gets emotional, he is revealing the depth of his righteous indignation; when a woman gets emotional she ruins everyone's morning commute for a week.
With his lawyers' whitewash report still warm from the copying machine, Christie wasted no time reverting to his pre-scandal persona, berating and insulting reporters who had the temerity to suggest that the report was, at best, incomplete, and doing his best impersonation of a man wrongly accused. The governor was free to proclaim his innocence and get back to being the bully and blowhard whom many Republicans think is qualified for the Oval Office. But it won't fly.
Every year, a group called the American Dialectic Society chooses a Word of the Year. We're only a quarter of the way through 2014, but the leading contender for this year has to be "self-exonerate." It's already making its way onto the Internet, and any time it rears its head it will be fastened to images of Chris Christie proclaiming he is innocent because his lawyers say so.
If Hillary Clinton is indeed the Democratic nominee in 2016, and Christie fulfills a Republican death wish by winning his party's nomination, "self-exoneration" and blaming your troubles on an "emotional" woman will be at the forefront of any debate. And Christie will be the loser.

Steve Robinson moved to Flagler County after a 30-year career in New York and Atlanta in print, TV and the Web. Reach him by email here.