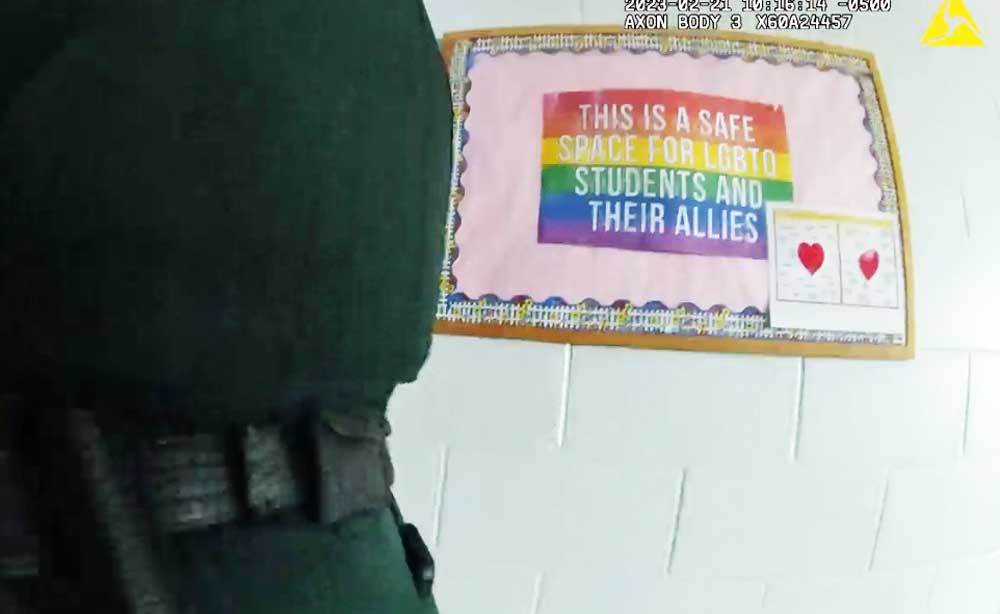 It was almost in the same breath. Flagler County School Board member Christy Chong had just decried a Matanzas High School student's attack on a teacher aide there. Not a minute into her comment at the end of Tuesday's School Board workshop, she also demanded that a "safe space" poster associated with LGBTQ groups and anti-bullying be removed from a Matanzas classroom.
"I'll take care of it," Superintendent Cathy Mittlestadt said.
The moment was a startling illustration of a central contradiction in the ultra-conservative doctrine that culture warriors like Chong, newly elected to the school board, represent: a zero-tolerance attitude toward students who are disruptive or violent at school, paired with zero tolerance for LGBTQ messaging aiming to protect students from denigration, bullying or violence at school.
"This is a safe space for LGBTQ students and their allies," the sign read. It was written in white letters against a rectangular rainbow, itself against a broader light-pink background surrounded by the likeness of a white picket fence.
The sign echoes School Board Policy 511: "It is the policy of the Flagler County School District that all of its students and school employees have an educational setting that is safe, secure and free from harassment and bullying of any kind." The policy includes "Sexual, religious, anti-Semitic, cultural, or racial harassment" and "public or private humiliation." The district also calls its resource deputies "safe school officers."
The sign was hung in a classroom where Matanzas High School's Gay-Straight Alliance used to meet every other Tuesday.




"It is my understanding the classroom where the sign was noticed was a classroom where the teacher last year was in fact the sponsor for the Gay-Straight Alliance," Kristy Gavin, the school board's attorney, said in an email. "It is not currently where they meet and the current teacher is not the sponsor for that group. We do not permit any signs, symbols, flags that are affiliated with social or political causes."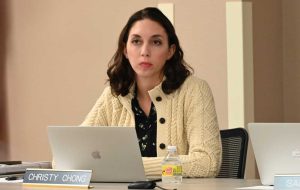 The district has never made clear how an LGBTQ flag, or a "safe space" sign, might differ from, say, a poster of Martin Luther King condemning discrimination, a Greenpeace poster condemning environmental desecration, or chamber of commerce-type posters championing capitalism.But the district is also trying to steer clear of state penalties that target LGBTQ expression specifically, if through relatively new legislation: Last year's "Don't Say Gay" law restricts discussions of non-conforming sexual or gender roles in certain grades. Another law restricts discussions of racism and bigotry. Both new laws, still in litigation, have created their own contradictions with other laws that forbid discrimination or restrictions on expression.
Chong brought up the LGBTQ issue during board members' comments at the end of a five-hour workshop on Tuesday. She first addressed the incident involving a special education student at Matanzas who, on Tuesday, allegedly attacked his long-time teacher's aide after she had taken away a game he was playing with.




"We do need to start a conversation about an alternative school for children that are breaking the law," Chong told the board. The district used to have an "alternative school" on the campus of Flagler Palm Coast High School, but closed it several years ago as "mainstreaming" students, or keeping students in mainstream schools, took precedence, along with alternatives that exist still now: off-site instruction for those who do break the law. The district has had to invoke that approach repeatedly for, say, students arrested for making threats at schools.
But the incident on Tuesday involved a special education student likely with behavioral issues, which are not unusual within certain groups of special education students. Numerous questions are unanswered regarding what led to the student's violent outburst, and privacy rules prevent the district from so much as identifying him, let alone detailing his behavioral issues–even to board members.
Nevertheless, Chong used the occasion to call for a discussion on opening an alternative school. "This is becoming a constant complaint across the campuses and in our community. We just had that battering yesterday beating a faculty unconscious which is horrible," Chong said. "The students need to know there's consequences for when they're acting out. It's not okay." The rest of the board immediately agreed to have a discussion about an alternative school.
Chong wasn't done. The Flagler County Sheriff's Office on Tuesday released a video of the arrest of the 17-year-pold student at Matanzas. As the student was being escorted out of one room, handcuffed and, at that point, submissive, a deputy with a body cam following, the camera for less than two seconds captured the LGBTQ sigh near the door–the sign Chong seized on in those two seconds.




"Let me try to choose my words carefully," she said. "But within that classroom, there was a poster on the wall pushing the LGBTQ agenda. And I want to know how much of this is going on in our schools. Like, I really do. If we can't hang bible verses or pray, then we shouldn't be pushing any kind of agenda in our schools. Our children are going there to have an education and not to have other things be pushed down their throats, especially sexuality."
Chong's statement was a series of gross inaccuracies. The sign, of course, was neither "sexual" nor "pushing an agenda," anymore than signs in the same room, on an opposite wall–with which Chong had no issue–we're pushing an agenda, thought they conveyed the same idea: "Have Hope." "Dream Big." "Laugh Loud." "Smile Often." A bright-colored decoration in the shape of a heart hung between two doors, also in the same room, echoing the two red hearts in the corner of the LGBTQ poster.
Nothing in the poster "pushed" any other message than safety–a district tenet, and no throats were being violated. Chong did not explain who she meant by "we" when she claimed that "we can't hang bible verses or pray," but that statement was false, too: students and staff may pray any time they choose. Staff may even join students in prayer, outside of class time, as long a students are leading the prayers.
Students may pray individually or in groups, and may wear religious clothing if they choose, including clothing displaying bible verses: "A student may wear clothing, accessories, and jewelry that display a religious message or symbol in the same manner and to the same extent that secular types of clothing, accessories, and jewelry that display messages or symbols are permitted to be worn," the district's policy states. Teachers and staff are somewhat more restricted only to the extent that their religious messaging would go beyond their person or personal effect, because the school may not be in a position of appearing to endorse one religion or another with, say, a crucifix above the blackboard or a menorah by the window, though it isn't unusual for teachers to have menorahs, bibles and other religious items they own on their desk.
Students and staffers' religious expression is explicitly protected in policy, far more strongly than sexual identity: "It is the policy of the Flagler County School District that the district will not discriminate against a student, parent, or school personnel on the basis of a religious viewpoint or religious expression," the policy reads. "A student may express his or her religious beliefs in coursework, artwork, and other written and oral assignments free from discrimination." (See: "Flagler Schools Will Reluctantly Adopt Religious Freedom Policy Imposed By State.")




The same policy underscores federal law's prohibition against discrimination on the basis of religion. A different policy underscores a prohibition against discrimination on the basis of sexual orientation.
The board had just finished another discussion about Superintendent Mittlestadt's contract, which expires in June. Board members will be receiving Mittlestadt's self-evaluation within days, and will in March decide whether to extend her contract for six months, a year or longer. So far, there has been no indication of an outright embrace of a renewal, especially with three new board members elected in November–Chong, Will Furry and Sally Hunt.
Mittletadt has been walking a tightrope for most of her tenure because of ideologically divided boards. The timing of this latest culture-war distraction being what it is, the superintendent may have been quick to jump on the poster matter to placate Chong so as not to unnecessarily alienate a vote on her fate. On the other hand, Mittlestadt had already set a precedent with a hard line against LGBTQ flag-waving in the district.
Last March Flagler Palm Coast High School student Jack Petocz was suspended–not for leading a march on school grounds to protest the state's "Don't Say Gay" bill (a bill restricting discussions of gender and sexual orientation in some grades), but for defying a school edict against brandishing LGBTQ flags. Petocz had secured dozens of such flags and had distributed them.