Arena Pantanal, Cuiaba, 6 p.m., ESPN2
I feel a little strange here, blogging about World Cup games while Iraq's Grand Ayatollah Ali al-Sistani, whose cool old head did so much to tamp down the Shiite insurgency against American occupation, calls on all able-bodied Iraqis, presumably able-souled Shiites, to take up arms and fight the ISIS blitzkrieg remaking the Iraqi map as we speak, and Barack Obama starts playing with his drones' joysticks and private-messaging his missile-launchers in the Air Force. It looks like before the weekend will be out we'll have American forces again in bloody action in or at least above Iraq, curiously with Iran's blessing, if not urging. Iraq is finally collapsing. Sistani is not a warmonger, so if he's panicked, he has reason to be. "Sistani's plea," the Times reports, "came as both the United States and Iran, adversaries on a range of issues including the Syria conflict, were both seeking ways to help the government of Prime Minister Nuri Kamal al-Maliki and avoid a collapse in Iraq that would further destabilize the Middle East."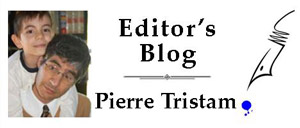 Not forgetting that half the reason this is happening so swiftly and bitterly is because the U.S.-backed al-Maliki is an Arab authoritarian cut of the same cloth as that of the new ugly little tyrant in Egypt and linked by tactics and repressive habits to the revolting monarchies of the Arab Peninsula: he's done nothing to make his Shiite-dominated government more inclusive, or to give reason to Sunni populations not to surrender to the ISIS's brutality. But here we are talking World Cup. Iran, incidentally, goes up against Nigeria on Monday, in the game just before U.S.-Ghana. Too bad the U.S. and Iran didn't end up in the same group. They'd have had a lot to talk about.
And here we are making World Cup chatter. I don't mean to go Ingmar Bergman on these proceedings, but just as the social rumbles outside the Brazilian stadiums, such as they are, should be given a hearing, so should these latest follies a bit farther off. Predictable follies of course: Iraq is going through convulsions anyone could have seen coming the moment the country was demolished from within. No American or Iranian force is going to stop the tectonic conflagrations between Sunnis and Shiites. As Flaubert would say–as he did say in 1858, after one barbaric Arab-on-Arab massacre or another and one European power or another was knee-jerking with a military campaign in response, he put it simply: "We're going to send soldiers and artillery against all these Muslims, when it's some Voltaire that they need." ("On va enbvoyer contre les musulmans des soldats et du canon. C'est un Voltaire qu'il leur faudrait!) We seem to have no Voltaires to send, so we send in the drones and the missiles.
World Cup 2014
---
Goals So far: 150

Matches: 55

Average: 2.78 (2010: 2.27)
Brazil 1, Chile 1 (Brazil on PKs) | USA 0, Germany 1: Small Loss for a Big Win | USA 2, Portugal 2 | USA 2, Ghana 1 | France 3, Honduras 0 | England 1, Italy 2 | Costa Rica 3, Uruguay 1 | Colombia 3, Greece 0 | Chile 3, Australia 1 | Spain 1, Netherlands 5 | Mexico 1, Cameroon 0| Brazil 3, Croatia 1

Onto Chile-Australia. Chile are not a bad team. Their qualifying campaign got off to a rough start, with defeats against Argentina, Ecuador and Colombia. One coach was sacked, another–the Argentine Jorge Sampaoli–was appointed, and Chile went on to win 10 of 15 matches, losing only to Peru and Brazil. Sampaoli likes the Spanish style of play: short, quick, tactical passes looking for the opening, and frustrating the opposition. It can make for annoying football unless the opposition is not ready to play that sort of game, as the Netherlands was not earlier today against Span, demolishing the approach and running away with a 5-1 victory. Chile will be relying a lot on Marcelo Diaz, who plays for Switzerland's powerful FC Basel, and Jorge Valdivia, who was once kidnapped at gunpoint (in 2012) for ransom.
Chile are ranked 15th on the entirely unreliable FIFA rankings, with Australia coming in as the lowest-ranked of the 32 teams in the tournament. Australia are so in need ot talent that they carted to Brazil the old Tim Cahill, 34, who made a name for himself at Everton's Goodison Park by running to the corner flag after every goal he scored and turning it into a punching flag. He's now playing MLS football for the New York Red Bulls. So the goal is to see a Cahill goal and watch him go Rocky on a pennant. another old timer Australia will rely on is Mark Schwarzer, 41, a goalkeeper still keeping Chelsea's bench warm. Australia hasn't had it easy in qualifiers. I mean, when you tie Oman, 2-2 and 0-0, lose to Jordan 2-1 and have to end up beating Iraq 1-0 to qualify, you may not be ready for prime time.
This match is not insignificant: either team can do damage by winning, now that Spain have fallen so terribly low after their match with the Netherlands, providing an unexpected opening for second place. A good showing by either team, then a couple of ties against Spain and the Netherlands could assure passage to the next round. I think it's a stretch, with both these teams doomed to be Group B's piranha meat, but I'll be rooting for a freewheeling match where both sides get the chance to play at least one match without the intimidation factor of going up against superpowers. That usually yields fun results.

First Half: For a time it looked as if Chile would demolish the Australians, who couldn't get a foot on the ball, couldn't defend, and couldn't figure out what side of the world they were on. They couldn't have been that disoriented: they're still in the southern hemisphere. But Chile played like Mapuche gods, and struck early and often.
First it was Alexis Sanchez, finishing a scramble that had Australians all over the penalty box chasing one, two, three Chileans as they dribbled with perfect control from right wing to the middle of the box, where Sanchez finally punctured the Australian goal in the 12th minute. Not two minutes later, Jorge Valdiva followed , taking a quick lateral pass from Sanchez at the top of the box and arcing the ball just below the crossbar, 2-0. "They're threatening to blow the Australians away," we heard.
They didn't. The Chilean assault continued for a few minutes, then it petered out, and the Australians, with Cahill leading the way, started to find their form. It was Cahill who took a long, long cross from the right, I think from Milligan. Cahill towered like a gable of the Sydney Opera House above Chile's minnows in the center of the box, he rose, he met the ball, and in it went. It was his fourth goal in seven World Cup games, now enabling him to say that he's scored in three different World Cups. The Australians almost equalized it a minute later with another shot from Cahill, but that was saved.
Chile are taking the field a bit deflated: Australia was not letting them have their way in the later part of the first half. This match is up for grabs in balmy Cuiaba (it's 82 and dry, for a change). It may come down to whoever had the best coffee at half time.

Second Half: Australia will be kicking themselves tonight: they sensed they had the means and the momentum to at least equalize, they had several chances, they were denied at every strike. Cahill thought he'd scored another header at the 53rd minute but he was clearly offside. By the middle of the half Australia were losing steam and Chile seemed unfazed by the heat or the humidity. They kept at it, and though the quality of play was not as high as in the first 60 minutes, they wore down the Australians and capped it off with a terrific goal from the terrifically named Jean Beausejour–it was their beautiful day–as he took a rebounded shot diagonally from the left side, well outside the box, and fired it past defenders and the diving Matthew Ryan.
Here's the unusual thing about this first full day of World Cup 2014: there were no boring matches. There were no turgid 0-0 draws. Even Mexico's 1-0 win over Cameroon was worth all 90 minutes. And finishing the day with 11 goals is just right. Spain's loss and Chile's convincing win made Group B interesting again, so it won't be a guaranteed Spanish advance to the next round.
We're bound to have a few duds. But so far, it's been a terribly officiated, wonderfully played World Cup. Get a good night's sleep: tomorrow's four matches will be luxuriously exhausting, assuming we're not dropping bombs all over Mesopotamia.