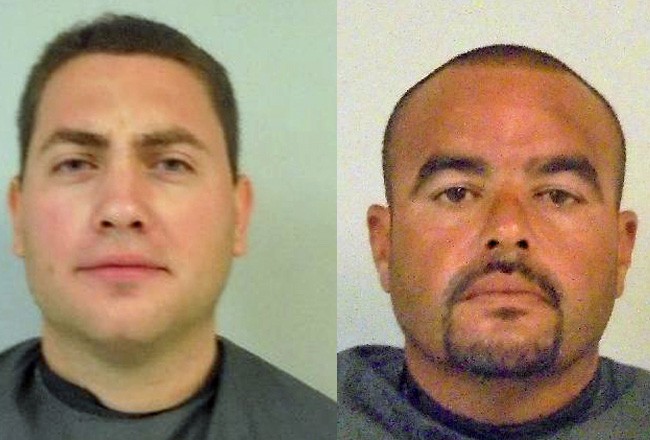 It's been a grim week for Palm Coast in sex crimes involving children. On June 26, 60-year-old Mario DiGirolamo was jailed on a count of raping a 12-year-old girl closely related to him, and two molestation charges.
On Tuesday and Wednesday, two more men were jailed on sex charges: Waldemar Rivera, a 36-year-old resident of Palm Coast's Rippling Brook Drive, faces a charge of raping a 13-year-old girl, a first-degree felony. He was arrested Tuesday. And John J. Schenone, a 32-year-old resident of Wellwater Drive in Palm Coast, was charged with two counts of lewd and lascivious acts on a child younger than 12, both first-degree felonies. He was arrested Wednesday. All three men remain in jail.
Schenone's case involves the 11-year-old daughter of his then-girlfriend. The 33-year-old mother's suspicions began when she'd come home from errands to find her child's door locked—and Schenone inside, claiming to be looking for her daughter's pet hamster, or that he was checking on the kids. (There were also a 13-year-old boy and a 9-year-old girl in the household.) The same situation unfolded early Tuesday morning when, getting out of the shower at 4 a.m., the mother noticed the door locked again, and Schenone again claiming he was looking for the hamster.
When mother and daughter had a talk, the 11-year-old told her mother that Schenone had been coming in her room frequently, thinking she was asleep, roll her onto her stomach, pull her pants down, clean her private areas with a baby wipe then start assaulting her orally. On several occasions, the girl claims, he also rubbed his genitals against her.
The mother and a sheriff's investigator then conducted a controlled phone call, with the mother's permission, in which she told him she'd forgive him if he was honest about what occurred. At first Schenone denied assaulting the girl, claiming instead to have been cleaning her after she'd soiled herself, even though, as her mother told him, the girl was old enough to take care of herself if that were the case. As the mother kept asking him for honesty, he said: "Fine, if that's what you wanna hear," then said, "fine, yes. I did," conceding that he'd licked the girl's private areas.
In a subsequent interview with the child protection team investigator, the child outlined several occurrences, some in her bedroom, some in the bathroom, where Schenone allegedly assaulted her in similar ways, saying the incidents had been happening for the past eight months and placing the number of incidents at around 50.
The investigator interviewed the girl's siblings, who said no such inappropriateness had taken place with them.
In a subsequent, controlled phone call between Schenone and the mother, Schenone said he had an "uneasy feeling" about what had taken place, but said it only happened one time, then later conceded to three, according to his arrest report. "So it's only the mouth on her three times that I need to get over?" she asked him in a third controlled call. "I need to get over it too," Schenone replied, begging her to come home after she'd told him she would be staying away. But he then conceded to rubbing his genitals on the child as well, blaming it on stress and the economy.
Then he asked the woman to come home to make him feel better.
He is being held at the county jail without bond. His felony arraignment is scheduled for July 27 before Circuit Judge J. David Walsh.
Rivera's case goes back to an incident that took place in May 2014, involving a 13-year-old girl in his custody.
Rivera, who goes by "Macho," had been in the girl's life for 10 years, and had a history of drinking, smoking pot, and verbal altercations with her mother. He'd also smoked pot with the young girl.
The day of the incident, according to his arrest report and the girl's account to a child protection team investigator, Rivera had picked her up from a friend's house, bought her cigarettes, given her alcohol, smoked pot with her, taken her to Holligan's—finishing beed and joints on the way, then back at the house, where the alleged assault occurred.
At one point Rivera asked her, "do you want to feel something you have never felt before?" The girl thought he was going to offer a different type of drug. She asked him what he was talking about. He allegedly told her to take off her shorts. The girl's demeanor, she says, immediately changed as she froze up, told him no, and became scared.
Rivera apologized, told her he didn't mean it and sat back down. But then Rivera stands up, pushes back the recliner on which the girl was sitting, "and surrounds himself all on top of her," according to the arrest report. "He then pulled down her shorts, and then he moved down and began performing oral on her," according to the report. The girl "froze up and started freaking out," orders him to stop, which he does, enabling her to get dressed, grab a cigarette and go outside.
Rivera followed her, tells her she must hate him now, prompting her to tell him that she fears his anger issues and doesn't want to trigger anything that would make him act violently. Rivera keeps telling her to hit him. She refuses, telling him, allegedly, that "she has seen him do that to her mother and it turns out bad."
They went back into the house to watch TV. As soon as he fell asleep, the girl called her friend on his cell phone, asking her to come pick her up. Her friend's mother calls police. Meanwhile, the girl escapes the house.
When Flagler County Sheriff's deputies got to the house where the alleged assault took place, they saw Rivera's car, knocked on the door repeatedly but got no answer, though they could see the TV on in a family room, and a bedroom light come on that had not been on before. At that point, deputies were investigating the case as a reported assault that had either just taken place or may still have been taking place, and they were looking for the victim.
When Rivera finally came to the door, he claimed he'd been in the shower. Cops checked: there was no trace of water in the shower. Rivera changed his story, saying he was about to get in the shower. The victim was nowhere. Other family members arrived. The victim was listed as missing. Rivera, his arrest report states, was unable to answer simple questions to ascertain where the girl was, though as he was being questioned a call came in informing police that the girl was safe at another house, and accusing Rivera of having sexually assaulted her.
The alleged incident took place on May 11, 2014. The warrant for Rivera's arrest was issued on June 26. He is being held on $100,000 bond. He also faces a pending charge of drunk driving.