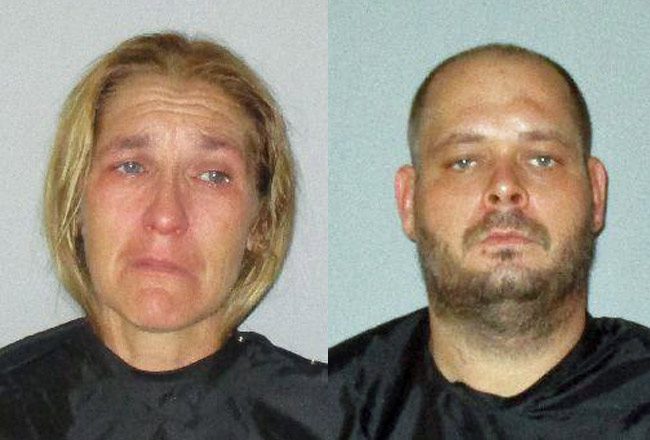 A resident of Flagler Beach and a resident of Bunnell face felony child abuse charges following separate incidents, each involving a 17-year-old boy Sunday.
Billy Burnett is 33, a resident of Poinsetta Street in Bunnell, uncle to a 17-year-old boy who lives with him, as do the boy's parents.
The 17-year-old boy was sitting in the living room when his cousin–Burnett's 8-year-old son–approached the older boy, who playfully took glasses off the younger boy's head and tapped him on the head. It may not have seemed so playful to the boy, who began to cry and ran to his father in a bedroom.
Burnett came out and  started yelling at the 17 year old, allegedly grabbing him by the throat, frightening the boy. The boy punched Burnett in the face with a closed fist. Burnett, according to the boy, punched him back, released him, then placed him in a choke hold, restricting the boy's airway "to the point where he was choking and gasping for air," according to the arrest report. Eventually Burnett released the boy and stormed out to the front yard where he took out his anger on an object.
The boy's 47-year-old stepfather was in the house in his room due to a medical condition, so he did not see what had led up to the confrontation. But he came out of the room due to the commotion and, he told Flagler County Sheriff's deputies, saw Burnett place the boy in a choke hold. He tried to separate the two but because of his medical condition was limited as to what he could do.
The boy's 37-year-old mother was not in the house when the confrontation took place, but she told deputies that she got home as Burnett was outside beating on something with what appeared to be a "weed eater," according to the arrest report. But moments later, she says Burnett approached the 17 year old, screamed at him, grabbed him by the head or neck area with one hand and his lower jaw area with the other.
Burnett himself told deputies of the confrontation, but said the confrontation was more limited, and that he was just trying to protect his 8-year-old son. He is described in his arrest report as 6'1", twice as tall as the alleged victim, and at 237 pounds, at least twice his weight.
The 17 year old initially declined to be medically checked out, but paramedics eventually examined him since he said he'd been choked.
The initial charges on Burnett were child abuse and aggravated assault by domestic strangulation, both felonies. He would have been able to post $2,500 bond. But a few weeks ago he agreed to a plea on a set of unrelated charges, including illegally carrying a concealed firearm. That was also a violation of an injunction against him that was still in place. Adjudication was withheld, but he was placed on three years' probation. Sunday's incident resulted in a third charge, a probation violation, also a felony, and he is being held at the county jail on no bond.
Tricia Reigle, 46, a resident of Snowbird Lane in Flagler Beach, faces a felony child abuse charge after allegedly slapping a 17-year-old boy she accused of stealing from her.
The boy was walking near Reigle's house Sunday afternoon when she "verbally accosted him," according to her arrest report, and accusing him of stealing things from her house some time ago. When the boy stopped and turned to face Reigle, she allegedly slapped him. The boy went home and called his mother.
When deputies spoke with Reigle, she said a week ago the same boy was involved in an altercation with two other boys in front of her house. She allowed the boy to go into her house to get away from the others, but when she woke up the next day she noticed that $60 in cash and a bong were missing from her house, so she assumed he'd stolen the money and the bong. When he got smart with her, she slapped him. The boy's mother decided to pursue charges.
Reigle was booked on $500 bond but was still at the county jail Monday afternoon.