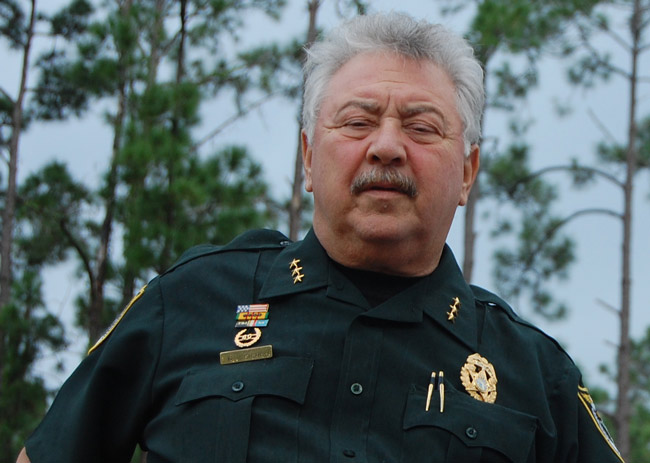 Under-sheriff Rick Look will not be returning to the Flagler County Sheriff's Office, Sheriff Don Fleming said Thursday. Look, 62, has been battling health issues since last year. He will most likely be replaced by Maj. David O'Brien, who's been acting under-sheriff.
"The chief is out on what you call long-term disability, it falls underneath the workman's comp, he applied for that and was approved so he;s not officially retired, he's just on long-term disability," Fleming said. Look can be on disability for up to three years, when Medicare kicks in. Nevertheless, Fleming said of Look, "his time with the sheriff's office is over. I'm going to miss him, he's been a great addition to the office, with all the years he's put in with FDLE running the Jacksonville office. He's surely going to be missed."
"Since July," Look said, "I've had quite an ordeal, and it's sort of brought me to the point that I realize you can only go so far in this business. The doctor says I'm mending well and that's a good thing. But that's all I can tell you about that. I'm going to miss the job."
"I'm doing better, I can tell you that," Look added. "That pretty much sums it up. I'm at the end of my career here, 42 years."
Fleming hired Look in June 2005, when Look was assistant special agent in charge for the Jacksonville region. Look was replacing William Karback, who Fleming fired. Look started his career with the Florida Department of Law Enforcement in 1978 after working almost 10 years with the Washington, D.C., and St. Petersburg police departments. He'd served on a SWAT team and been a detective before joining FDLE. He's also a graduate of the FBI National Academy, and an Army veteran.
Look had been involved in Flagler County issues well before his appointment at the Sheriff's Office. In 1999, he served on a panel of law enforcement and local officials to pick a police chief for Bunnell, where the police department had been–as it has continued to be since–mired in controversies. Look is also the commander of the local chapter of the Military Order of the Purple Heart—Chapter 808, which he helped form formed in Sept. 2008.
Look said he'll stay involved in local charities and is on call with the sheriff's office if needed, but he'll be spending more time with his family Will stay involved in charities, veterans issues, but spending more time with family and taking "care of those things that I never could take care of before. Most important thing is to get my health back to where I can enjoy the rest of my life."
O'Brien is one of three majors at the Sheriff's Office. Steve Clair and John Plummer are the other two. Majors are paid $90,000. Although it's been known for months that Look would not return, his status with worker's compensation wasn't known until recently. Fleming won't announce the changes officially until February, nor the appointment of a new under-sheriff. "I'll make that determination at another time," Fleming said. The under-sheriff runs the day-to-day operations of the department. "I want to evaluate David in that position. I want to have an opportunity to evaluate the other two majors." Clair heads the patrol division, with three captains who report to him–Mark Carman, Paul Bovino and Robert Weber. Plummer is in charge of the investigative division and O'Brien had been heading the administrative division.
Fleming said the change won't mean a change in philosophy, which remains his own. "We have a boots on the ground philosophy," he said. "They're out there on the street, it's a military version of what they call boots on the ground. And it's working very well."
Fleming is running for reelection this November, and is already facing two opponents.
"We've had six years of getting the department where we want it to be," Look said, "and we've got good staff on board. The mission always continues, regardless of who's at the helm, and I think the sheriff will make the right choice in what he wants."