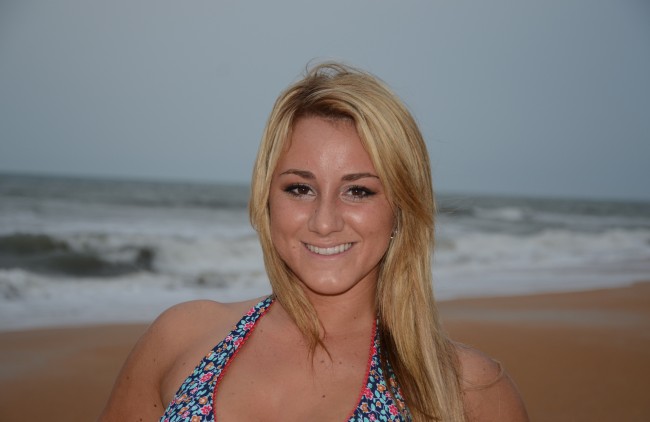 Chelsea is the daughter of Christopher and Chistine Barney of Bunnell. She is 20 years old and stands at 5 feet 1 inch tall with blonde hair and brown eyes.
She is working on her Bachelor's degree in Business at Daytona State College.
Chelsea is sponsored by 4 C's Trucking and Excavation. She enjoys cooking, reading, playing co-ed softball. In 2010 Chelsea started her own cake business called the Sassy Sweetery, where she makes cakes for special occasions every weekend. Over the next year Chelsea plans on completing her Bachelor's degree in business, continue her cake business and work on getting her general contractor's license. Upon completion of her degree next spring she can work alongside her father in his construction business.

The Complete Miss Flagler County Pageant Image and Portrait Galleries
2013
Little Miss Flagler County 2013 Contestants, Ages 5-7
Little Miss Flagler County 2013 Contestants, Ages 8-11
Miss Junior Flagler County 2013 Contestants, Ages 12-15
Miss Flagler County 2013 Scholarship Pageant Contestants, Ages 16-23
2012
Meet the 2012 Miss Flagler County Contestants: The Overview
Little Miss Flagler County 2012 Contestants, Ages 5-7
Little Miss Flagler County 2012 Contestants, Ages 8-11
Miss Junior Flagler County 2012 Contestants, Ages 12-15
Miss Flagler County 2012 Scholarship Pageant Contestants, Ages 16-23
2011
Meet the 2011 Miss Flagler County Contestants: The Overview
Little Miss Flagler County 2011 Contestants, Ages 5-7
Little Miss Flagler County 2011 Contestants, Ages 8-11
Miss Junior Flagler County 2011 Contestants, Ages 12-15
Miss Flagler County 2011 Scholarship Pageant Contestants, Ages 16-23
2010
Meet the 2010 Miss Flagler County Contestants: The Overview
Little Miss Flagler County Contestants, Ages 5-7
Little Miss Flagler County 2010 Contestants, Ages 8-11
Miss Junior Flagler County 2010 Contestants, Ages 12-15
Miss Flagler County 2010 Scholarship Pageant Contestants, Ages 16-23