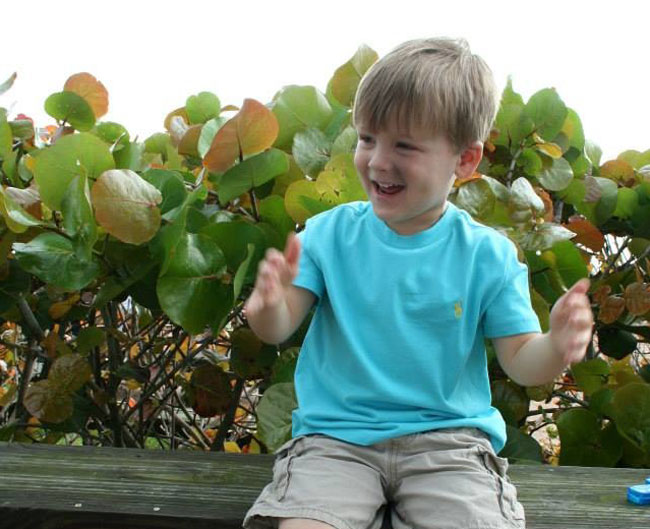 Chase Price, the 3-year-old boy injured in a campfire accident last week–and the son of Flagler County firefighter Aaron Price–was released from Shands Hospital's burn unit on Tuesday and has been recovering at home.
Hydrotherapy sessions, a process of washing burned tissue to keep it free from infection, will still be performed, but the Price family has been trained by the Shand's staff on the procedure and will be able to continue the process in the comfort of their own home, Stephen Palmer, president of the Flagler County Firefighters Association, said. Local firefighters have rallied to Price's side, scheduling 20 to 30-minute rotation sessions to help Aaron and his wife Christina care for Chase.
"There has been an amazing outpouring of support," Palmer said. "Firefighters from Alachua County, Tallahassee, and even the regional union representatives have reached out to the Price family during this time. It is a true testament not only to the brotherhood of the fire service, but to the general humanity of people can demonstrate. Inspiring is the word that comes to mind."
See below for the previous story on the accident, and details and links to the family's fund-raising efforts to help defray medical costs.

Flagler Firefighter's 3-Year-Old Son Suffers Severe Burns in Campfire Accident
June 30–On Friday (June 27) Aaron Price, a Flagler County firefighter for nine years and the department's Marine Rescue Unit leader, was camping with his wife and 3-year-old son Chase in Salt Springs, in Marion County.
They had a campfire going. They were roasting marshmallows.
Then every parent's nightmare came true. Chase was showing his parents the marshmallow he was roasting, according to Stephen Palmer—the president of the Flagler County Firefighters Association, who's been with the family for the past several days—when Chase stumbled backward and fell into the fire.
"He was airlifted to Shands-Gainesville where he is getting treatment for his injuries," Palmer said. Chase got 2nd and 3rd degree burns on 20 percent of his body—on his back and on his legs. Doctors at Shands' burn unit say he will be in treatment for the next two weeks.
Chase has been awake, alert, aware, and even able to walk some, but he's been in considerable pain as well, Capt. Richard Bennett, who's been in contact with the Prices, said. "A couple of his kid friends came by yesterday and he was able to play with them a bit in the room," Bennett said, though Chase then had a difficult night that kept his parents awake again. In the weeks ahead as he recovers, because of the severity of the burns, Chase's ability to play with other children will be restricted–because of the susceptibility to infection–and he will have to stay out of the sun for two months. He will also not be able to be in day care or other such communal environments, and will have to remain under strict supervision.
"He's in a lot of pain," Bennett said, but "all in all, he's doing very well, all things considered." Chase's parents meanwhile, who have been at his bedside throughout, are "at their wits' end" from white nights and worry.
Flagler firefighters have rallied around the family as they would when one of their own is hurt. Stacy Bennett, who is married to Capt. Richard Bennett, set up a fund-raising campaign to help the family at FundRazr.
Those who wish to help can go here and contribute.