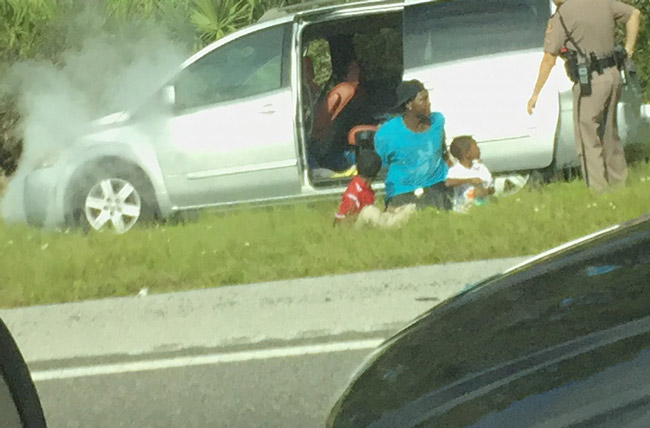 All Frederick President wanted was a safe ride to South Carolina with his two young sons and their little dog. He didn't know that the people he hitched a ride with included a 16-time convicted felon, that a loaded gun was in the vehicle, as was a crack pipe, and that the vehicle—a van—had been stolen in Orlando. After a dangerous chase through Palm Coast that ended on I-95, President was briefly detained in the grass by the side of the road, in handcuffs, his two sons on either side of him, as cops chased after the driver and a passenger.
The cops caught them with a K-9's help. The K-9 took a bite out of one of the suspect's butt cheek. The suspect, Dana Mathes, 36, required hospitalization before her jailing on six charges, not including an out-of-county warrant from Lake County: fleeing and eluding police, willful, wanton and reckless driving, grand theft auto, cruelty toward children (for endangering President's children), and other lesser charges. Jerrad Lamon Moore, 34, the felon with a long rap sheet, was booked on charges including cruelty toward a child, four weapons-related charges, and a resisting arrest charge. Both their bonds hover around $40,000.
President was eventually released.
The chase began around 4:30 p.m. Thursday south of Palm Coast on I-95 when a Florida Highway Patrol trooper spotted the Nissan Quest that President and his sons were passengers in, heading north. Its brake lights caused the trooper to run the plates, which showed the vehicle to have been stolen.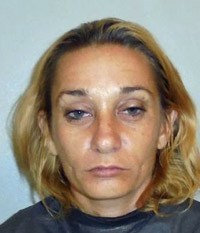 Mathes was driving. Moore was in the front passenger seat. Right about the time the FHP trooper behind the Nissan radioed another trooper to assist him, Mathes exited at State Road 100, going east toward Flagler Beach. It was obeying all traffic laws at that point. But a mile further east, when another FHP trooper arrived and both troopers turned on their police lights, Mathes made a U-turn near the Publix shopping center and started heading west, speeding at that point. It "recklessly maneuvered around other traffic," according to Mathes's arrest report, ran a red light at heavily-trafficked Old Kings Road and got back onto I-95.
At one point the van was going 100 mph, according to the arrest report, weaving and swerving and skirting the grass shoulder, which slowed it down. At mile marker 288, one of the troopers attempted a so-called PIT maneuver—an acronym for "precision immobilization technique," itself a euphemism for a maneuver that tries to force another vehicle to abruptly turn, lose control and stop by edging against its rear than steering hard against it, sometimes causing the targeted vehicle to spin out. It appears that troopers may not have known of the presence of the two young children in the van at the time of the chase and the maneuver.
"The vehicle did not completely spin out but it did come to a stop on the grass shoulder," the FHP report states—steaming profusely from its front.
Moore and Mathes immediately bailed and ran east into the woods. One of the troopers had K-9 Ronnie with him. Trooper and Ronnie gave chase while another trooper stayed with the van and, drawing his gun, ordered President out. President stepped out with his two children and their small dog. President was ordered to his knees and handcuffed as his children looked on, likely terrorized.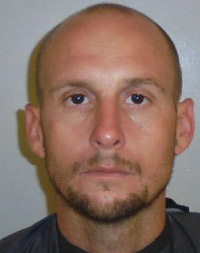 Soon Moore and Mathes were caught—with Mathes injured from the K-9 bite to her rear. The scene drew a swarm of additional FHP and Flagler County Sheriff's units, and the attention of passing drivers, who slowed down traffic to a crawl and caused an extensive back-up.
Cops located a Taurus 45 caliber handgun on the front passenger floorboard, fully loaded, with 10 rounds in the magazine and one in the chamber. There was a crack pipe in the driver's door handle. There was an open beer (Natural Light) and a full container of beer in a Race Trac gas station cup, to the right of the driver.
Mathes claimed she acquired the van from an unknown man—she specified he was black—in Orlando and that President had paid her $200 plus gas to take him to South Carolina. She put the blame for the gun on President, and said she ran because she was scared. She later said she ran because of her warrant out of Lake County (for resisting arrest and criminal mischief). Moore refused to talk, as is his right, though on the way to jail he, too, blamed the gun on President, and his running on the fact that he's on probation.
President told cops he paid Mathes $40 for gas and $60 in cash to take him and his children to South Carolina after meeting them at a gas station in Orlando. He said he didn't know about the gun until Moore threw it as he bailed out of the vehicle. President was taken to the Palm Coast Substation, where the Department of Children and Families was contacted, but he was not arrested.
Mathes and Moore remain at the Flagler County jail tonight.