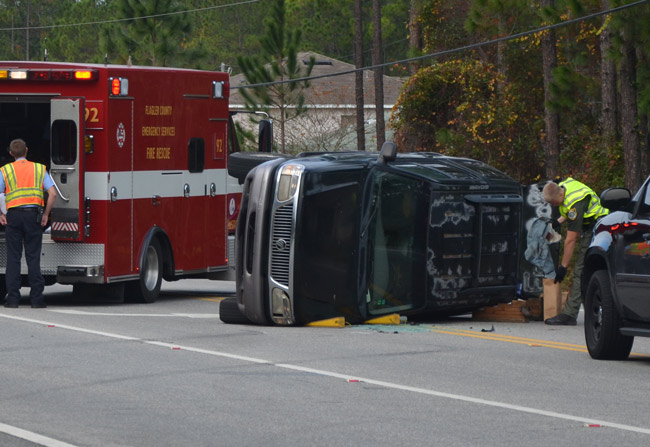 Last Updated: 6:58 p.m.
Three men are in police custody this morning, one of them after a lay-over at Florida Hospital Flagler, following a chase through Palm Coast's R Section that ended with an SUV's crash in the middle of Royal Palms Parkway.
The chase took place just after 9 a.m. Under-sheriff David O'Brien, at the scene, described the incident: "Potential burglary suspects back in the R-Section here. Deputy rolled up, caught two running across the yard, still in the very early stages right now."
A third suspect evaded deputies in the SUV, a black Mercury Mountaineer with the words "Free Cobb," or something to that effect, spray-painted in white on the back windshield. There is no inmate with the last name of Cobb currently jailed in Flagler County, but there are some 43 Cobbs serving time in state prisons in Florida. The words could just as possibly refer to free wares of some sort.
"School was locked down for a very short period of time, and we released them," O'Brien said, referring to Rymfire Elementary School, a few blocks from the scene of the crash.
Early Monday evening, the sheriff's office circulated a news release that identified the location of the alleged burglary as 33 Renshaw Drive. But the sheriff's office says the burglary was unsuccessful. The Mountaineer was chased out of the R Section, coming out where Rymfire and Royal Palms meet. The SUV turned right, or west, going toward U.S.1, but tread marks on the two-lane road show wild and insistent swerving all over the road for about 50 yards, ending where the SUV did, on its side, facing southeast.
The third suspect in the SUV was apprehended and taken to Florida Hospital Flagler with minor injuries. No other vehicles were involved in the wreck. Numerous deputies and at least one detective were at the scene shortly after the wreck.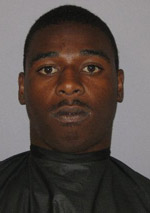 In its release, the sheriff's office stated that only two people were involved, not three. One, Jeremiah Harris, 20, of Raintree Drive, was arrested as he walked away from the scene along Renshaw Drive. He is charged with burglary and loitering. The second man–the man at the wheel of the SUV–is not being identified by the sheriff's office yet, as the investigation continues, and additional charges are pending. Harris has a long history of arrests in Flagler, for a variety of causes, including burglary, assault, fleeing and eluding police, grand theft, and more.
Royal Palms was shut down in both directions until a little before 10 a.m. Flagler County Fire Rescue, the Palm Coast Fire Department and the Palm Coast Fire Police responded to the scene, in addition to the sheriff's office.