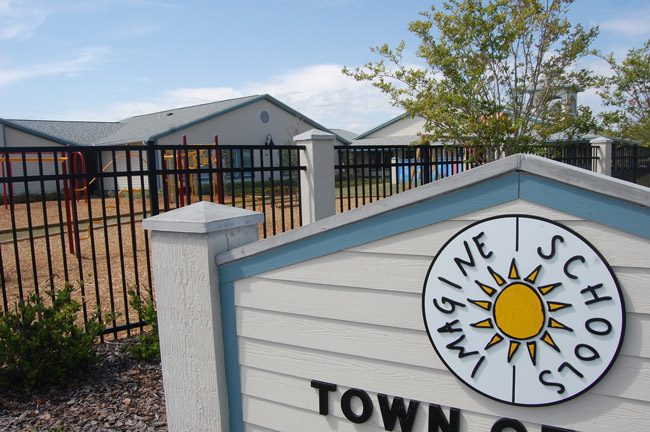 Rejecting arguments of school boards across the state, a Leon County circuit judge this week formally rejected a challenge to a controversial 2017 law that included a series of moves to boost charter schools.
Circuit Judge John Cooper, who had earlier indicated he would turn down the challenge, issued an 18-page ruling Tuesday siding with the Florida Department of Education and the State Board of Education, the defendants in the case.
The lawsuit centered on a measure, commonly known as HB 7069, that was a priority of House Speaker Richard Corcoran, R-Land O' Lakes, and became one of most-controversial issues of the 2017 legislative session. Debate about the measure highlighted continuing tensions between local school districts and the state about oversight and expansion of charter schools, which are public schools but are often run by private operators.
Flagler County school district board members spoke openly and critically about the law, which School Board Chairman Trevor Tucker said "will change education in Flagler County for generations to come." He was especially critical of the provision diverting school district dollars to charter schools to build or renovate buildings that are then owned by the private entities running the charter schools. "If a given charter school moves out of the building or shuts down, the public does not get the building or the benefit of the taxpayer-funded renovations," Tucker wrote. (Flagler did not join the lawsuit.)
But that was just one of the many issues local educators were concerned about.
The mammoth law also set the stage for adding new charter schools — dubbed "schools of hope" — that would serve students whose traditional public schools have been considered low-performing.
Among other issues, the law called for school districts to provide federal Title I funding — which is designed to help schools that serve large numbers of low-income students — to charter schools.
School boards in Alachua, Bay, Broward, Clay, Duval, Hamilton, Lee, Orange Pinellas, Polk, St. Lucie, Volusia and Wakulla counties filed the lawsuit last year arguing, at least in part, that HB 7069 infringed on their constitutional authority to operate public schools within their districts. The Collier County School Board also intervened in the case.
Cooper held a hearing April 4 and, according to Tampa Bay Times and Orlando Sentinel reports, said he would rule in favor of the state. He then issued the 19-page final order and judgment this week rejecting the arguments raised by the school boards.
For example, Cooper dismissed an argument that the law required school boards to share local property-tax revenues with charter schools in an arbitrary way.
"HB 7069's enrollment-based formula for charter-school capital-outlay funding accounts for the fact that schools with more students need more classrooms, and charter schools are required to spend capital-outlay funding for substantially the same purposes as school districts," Cooper wrote. "The local boards have not shown that the capital-millage (property tax) provisions are constitutionally different from the numerous other, presumptively constitutional requirements governing the use of local tax dollars in Florida's public schools — which have included charter schools for more than 20 years."
As another example, Cooper rejected arguments that school districts have a right to decide how to allocate Title I money.
"HB 7069's effort to direct more Title I funding toward individual schools is also rationally related to legitimate concerns about ensuring that Title I funds benefit schools with the highest proportion of economically disadvantaged students," the judge wrote.
–Jim Saunders, News Service of Florida