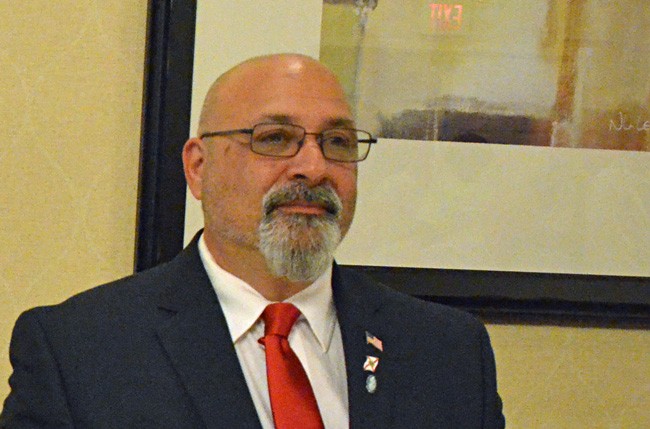 Palm Coast City Council member Steven Nobile wants a broad review of the city's charter. Why he does so, other than that the city hasn't had such a review in 15 years, and what exactly he would like to change, isn't clear, at least not overtly. And the more his council colleagues pressed him on it, the more upset he got today.
people aren't remembering the fact."
"Can you tell us what it is in the charter that's got you concerned?" council member Bill McGuire asked him, about 35 minutes into the discussion Nobile had started on the matter.
"Nothing's got me concerned," Nobile said.
"You're obviously agitated about it," McGuire said.
"I'm agitated because we're trying to leave the people out of the process of them making a decision on their charter for how their government works, that's what I'm upset about. I'm not upset about anything in the charter."
"You represent a sizeable amount of people, you're their mouthpiece," McGuire said. "So what's bothering them?"
'They want a charter review," Nobile said.
"Because?"
"Because there are some things that they potentially would like to see changed."
"What would they like to see changed?" Mayor Jon Netts asked.
"Again, I will bring them here. I will get them and I will bring them here for you to make the decision whether we do it or not," Nobile snapped, his voice rising to within a whisker of a shout. "And that's what I'm against, is that you're going to make the decision, see? You're not getting it. You're not getting it. I am not upset about what the people want changed, if they want something. I'm upset that we're not giving them the opportunity to do something that—"
"That's not true," Netts interrupted him. "Why are we discussing Richardson Drive at all? Because residents came to city council, said we've got an issue." Netts was citing an issue that just last month Nobile himself had raised on behalf of residents—tensions that have again risen in the neighborhood around Ralph Carter Park, in Palm Coast's R-Section—and successfully steered the council toward addressing.
And still, Nobile would not say who or what his constituents had a problem with in the charter: in the history of the council, and certainly in the past five years, hardly anyone has appeared before the council to suggest a change, let alone push for one, in the charter. There's been allusions to a referendum on red-light cameras, but that never amounted to more than claims.
---
Deciphering the political motives behind a charter review no resident has asked for in years.
---
And a 50-minute discussion of the matter at a council workshop today only tangentially prodded the unpredictable elephant in the room when Netts said: "I have heard one person one person and one person only stand up at a city council meeting and say, I want to change the charter. I've heard one person out of 78,000. There may be hundreds of others. I heard one."
Netts was referring to Dennis McDonald, Nobile's fellow-member of the Ronald Reagan Republican Assemblies, the hard-right Republican group. In the fall of 2012, McDonald pushed the notion of a petition-driven change to the charter. He wanted to change the form of government from one employing a city manager to one with a strong mayor instead. (McDonald and Jim Landon, the Palm Coast manager, are as close to sworn enemies as there are in Flagler's government dynamics, and McDonald's feelings toward Netts aren't much warmer.)
In an interview late this afternoon, Nobile clarified as much: "From salaries to the type of structure we have, like we have a mayor-manager" form of government, Nobile said, "is that still how people wants us to work, not how the council wants it to work?"
Several people he has spoken to, Nobile said, want to lower the threshold where the council gets involved in approving contracts' dollar amounts. People, he said, "are a little concerned that the manager has too much leeway into getting things done on his own and they want to bring that back to the council, I hear that a lot—not displeasure with Mr. Landon, but if we're going to have a council and the council is going to manager the decisions, the council should be involved in the decisions. That was the gist of what they would like to see." But switching to a strong-mayor structure is "not what they want," Nobile said–merely altering the involvement ratio between council and administrative decisions.
Asked for other specific changes he was inclined to ask for or he's heard his constituents ask for, Nobile cited two: younger adults are asking for higher council member salaries (currently just under $10,000 a year) so the elected position would not be held only by those who can afford it, or by those who are retired. And his constituents want all business meetings to be held in the evening, rather than one in the morning and one in the evening. The council has two such meetings a month. There is no issue with morning workshops, Nobile said. The discussion never got to those specifics today, he said, because he got disturbed by the council's push-back on the notion of involving the public without council filter.
Nobile conceded that such changes may not rise to the level of charter amendments, and he plans on proposing them himself at some point, but he repeatedly stressed that he wanted the public to have its say without council interference when it comes to devising how the council governs itself.
Nobile won't say so, but it is likely that the push for a charter review originates again with McDonald and the Reagan group, which could change the charter in such a way as to make it easier for its members to win seats—as, for example, by making city elections partisan, as opposed to the current non-partisan system. Partisan elections would enable closed primaries, vaulting the GOP's more extreme candidates (that is, the Reagan group's choices) to the fore.
That's why Nobile wasn't wrong today when he sensed—and repeatedly complained about—the council's resistance to his proposal. Council members don't want the charter radicalized. They're going to use what means they have to hedge against such a possibility, though state law, the current charter and any review process inherently guards against radical changes: even if Nobile were to succeed in getting a charter review commission established, the commission would have to be made up of one member from each of the council districts, and an at-large member designated by the mayor. The make-up would more likely than not neutralize Nobile's choice, and refract the council's desire for a more cautious than radical review.
That's assuming there is a palpable wish for a charter review among Palm Coast's voters. For now, there clearly has not been. The council wasn't blunting Nobile's efforts, but making the point that if there had been a movement to change the charter, it would have heard about it—and acted on it.
Nobile today sought to project a different narrative, and at least in this respect unfairly so (if the last many years' record of silence on the charter is any indication), by portraying the council as a barrier against a citizen-initiated review.
"It's unfortunate but if we don't do it, that's what I'm going to push," he said, referring to a citizen-driven petition to review the charter. "I'm talking about the people making the decision."
But that would be very difficult.
As City Attorney Bill Reischmann outlined the process, state law and Palm Coast's charter control how the charter may be changed. Council members could change the charter by ordinance then submit the change for approval in a referendum. Or 25 percent of the city's registered voters could petition a specific change to the charter. That approach does not mean a wholesale re-writing. But it does allow the submission of an unlimited number of specific changes.
State law requires just 10 percent of registered voters to petition for a charter amendment, but state law defers to city charters when it comes to which of the two prevails. Palm Coast's charter on that sore states specifically: "At least 25 percent of the qualified electorate of the City shall have the power to petition the Council to propose an ordinance or to require reconsideration of an adopted ordinance, or to propose an amendment to this Charter. If the Council fails to adopt such ordinance or amendment so proposed, or to repeal such adopted ordinance, without any change in substance, then the Council shall place the proposed ordinance or amendment, or the repeal of the adopted ordinance, on the ballot at the next general election."
The city's charter does open the way for a charter review at least 10 years after the original charter was adopted. But it does not require it.
Reischmann cautioned that any charter review could result in an innumerable number of recommended charter changes, all of which would have to be submitted to voters. It could just as well result in two recommended changes. (Bunnell's charter review process resulted in nine recommendations two years ago, all of which voters approved.) To have a better product, Reischmann said, the charter committee process must have enough funding and staff, including an attorney always present, so they have a "targeted overhaul," avoiding a scattershot approach. He projected a more controlled process than what people at large may assume such a review entails, riling Nobile.
Should a charter review committee be organized, it would not automatically mean that its recommendations would go before voters. "I don't read this to say that we have to put those recommendations on the ballot," Reischmann said, referring to the city charter as it now is.
That position may be in dispute: the charter's wording strongly suggests that what recommendations the committee proposes would have to go before voters. The charter reads that after the committee completes its work and present any recommendations for change no later than 60 days before the general election, the council "shall hold a minimum of two public hearings on the proposed changes to the Charter prior to placing the proposed changes on the scheduled general election ballot."
City Manager Jim Landon spoke of his own past experience, in previous cities, of seeing the review process in action. "It's intended to be a framework that lasts a long, long time, but they always have to be tweaked," he said of charters. But he recalls an occasion when the charter hadn't been reviewed in decades. The city thought of starting over. It hired a facilitator and an attorney and presented either 34 or 43 ballot measures to voters. "It went down big time," he said, with every proposal, the preamble included, rejected at the polls.
"What I'm really going to strongly suggest to you is, our charter is not that old," Landon said. Several years ago council members rethought the charter but the only item they thought needed changing was the timing of city elections, changing it from odd years to even years, to coincide with general and state elections and save money. Voters approved. Landon suggested the same incremental approach could be implemented again.
"If city council wants a review of the charter, then you have work to do first," Landon said, "and that is do your own review as to what issues you think should be evaluated. If you take people who haven't been involved in this and put them in a room and say, go do something, without any guidance as to what specific issue, what targeted issues you would like them to look at, it will be a long, usually very frustrating process. If you have specific issues you want them to look at and come up with a recommendation, give them that task. But I think you have to give them a task and not just tell them throw out our charter and start over again, because that's really not what it's intended to be."
Netts suggested that as the council does its homework, its members should speak with members of the original charter commission such as Palm Coast historian Art Dyke, Arnold Levine and Vincent Liguori. (Liguori later noted that neither he nor the other two men had been on the charter panel. He had served on the Home Rule Coalition.)
"I think the issue though, with a charter review is," Nobile said, "a major majority of people who are here today don't know those people, because the city has changed, and that is the purpose of a charter review. Is the charter in line with what the current constituency wants, not what we want. We don't sit here and say, we want this. If we're going to do a charter review and we're going to sit down and make suggestions, I'd say forget it. It's not worth it. This is not about a council. This is bigger than—this is, how does the city want us to function, not us."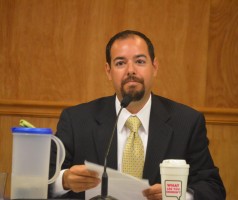 "But that's what we do every day," council member Jason DeLorenzo said.
To Landon, what Nobile was talking about had little to do with charter review and a lot to do with "visioning," which Nobile in turn batted down, saying that process is taken care of by citizen surveys.
"Now, do I want a rewrite? I don't want a rewrite," Nobile said, rejecting the notion of throwing out the charter. "I'm saying go through the charter with this committee and find the points that someone on the committee has contention with, and then work it out." He stressed his opposition to the council serving as a filter or arbitrator of issues that get to the committee.
If that's the approach, Netts said, then 25 percent of the city's registered voters could petition for a charter change. (He estimated the city's registered voters at around 30,000, which would require 7,500 signatures on a petition. In fact, there are about 55,000 registered voters in the city—there are 74,000 registered voters in Flagler County as a whole—so the requirement would be closer to 14,000 signatures, a very high hurdle for any charter change initiated by voters.)
"Steve I've got to tell you, I think I could ask 100 people over the next couple of days that I don't know, and they will have never read the charter, they wouldn't know what's in the charter, and they would have absolutely no opinion on the type of government we're running," DeLorenzo said.
"Really?" Nobile said. "OK, it's fine."
"My family doesn't have a clue. They still don't know what a city manager does," Landon said.
Landon and DeLorenzo are very close to the truth: even judging from the responses to routine or controversial government stories on this site, from residents who show at least some familiarity with the process and sustained interest in issues and voting, misunderstandings are rife about the city's authority, the lines between city and county jurisdictions, the scope of state law on local governments. As to any familiarity with the charter, it is extremely unlikely that most people, council members among them, know even its basic parameters without having to look it up—if they know where to look, or if, as most residents likely do not, if they know that there is a city charter to start with, or know what it means.
That's when Nobile began losing his patience, speaking of his constituents who work and can't be at council meetings, and whose ideas should be heard more intently. He again stressed that a majority of council members should not block an independent review. But other council members rejected the notion that residents were not aware of council proceedings: they listen to meetings, they said (and they follow the news, presumably).
What became clear after today's discussion is that Nobile is isolated on the larger question of a charter review commission.
"What I'm saying is, one more time, that what the people come up with goes on the referendum. It is not subject to the council to decide," Nobile said.
In a brief interview after the meeting, DeLorenzo compared the city's charter to a constitution that should not be altered lightly. "I have not had anyone come talk to me to say something is amiss with the charter," DeLorenzo said. "I'm not familiar with anything that needs to be changed with the charter. So unless someone explains to me what the problem is or some citizens give me some guidance on what needs to be changed, I don't find it necessary to have a charter review." He added, "If a group of citizens comes and says this should be changed, it would be something the council would consider, and we do that all the time, we do that just about every meeting."
Nobile in the interview said he would be seeking out input from people he's discussed charter matters with previously. "If I get that feedback then I will bring it to the council and say, this is what my constituency is asking for," Nobile said.