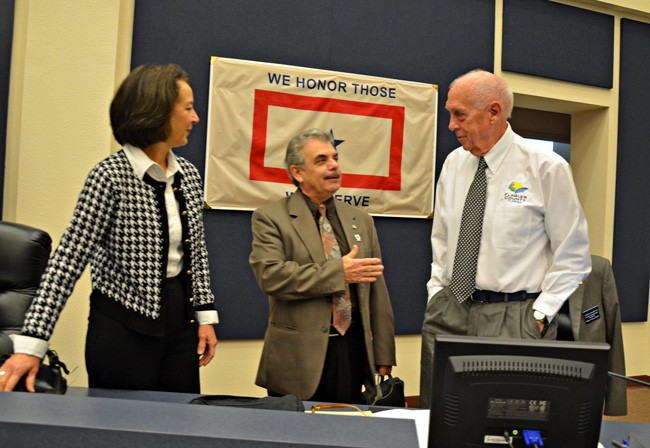 It was just a few months ago that Charlie Ericksen, the Flagler County Commissioner, was marking the completion of a 25,0000-mile bicycle trek he'd begun on a lark a few years earlier. In January for his 72nd birthday, he'd planned a cruise to St. Martin in the Caribbean with his wife Shirley.
Instead, he ended up spending his birthday under a surgeon's knife as his skull was drilled to relieve some bleeding. Two and a half days later, just after going home, he was back on the surgeon's table, getting his gallbladder removed. Already lanky—Ericksen stands a few inches about 6 feet—he lost 20 pounds, he missed almost a half dozen commission meetings, including marathon hearings on the Hammock's Salamander hotel and a new vacation-rental ordinance—either of which might have caused any normal human being a few cerebral shocks—though he followed most meeting online from home. And he went through frustrating days of dueling with brief moments of memory loss, particularly in the days before and immediately after the surgery.
It's what made him nervous about returning to the commission.
He'd been biking again—not yet the 15-mile runs he's used to every morning, surveying Palm Coast at dawn, but up to five miles at his usual clip of 10 to 12 mph. He'd even ignored doctor's orders and "secretly" took a one-block ride in late February, a rebellious run he subsequently revealed on Facebook. But he wanted to be sure he'd be in full command of his faculties before resuming his commission duties.
Monday, morning, Ericksen returned to his colleague's welcome and even some ribbing about his memory.
"If you haven't noticed, we have a full board back. Charlie—oh, gees, it's been so long, I forgot his last name," County Commission Chairman Frank Meeker said, starting the meeting.
"I might not remember it myself," Ericksen said.
"It feels great to be here," he'd said in a brief interview before the meeting. "I'm looking forward to it. I got rid of the nervousness about coming back. I just didn't know if I could get in here and just dummy up, because I forget a few things still."
Ericksen ended the 90-minute meeting with a brief, emotional tribute to the many people who shepherded him and his wife through his ordeal a few weeks ago.
"Since I was in and out of consciousness numerous times, I've had some limited memories of those incidents that occurred during those early days, but I specifically remember some," Ericksen said. He thanked Meeker and his driving skills for delivering him to Florida Hospital Flagler "in record time." He was soon transferred to Florida Hospital in Ormond Beach, with Flagler County Fire Rescue Captain Richard Bennett ensuring a rapid transfer. "All during this time, Mrs. Ericksen was nervously looking, supported by Christie Mayer, Sally Sherman," he said, his voice breaking, referring to the administrator's executive assistant and the deputy county administrator.
He's already erased half his weight loss, thanks in large part top discovering bagels and refusing to submit to any premature thoughts of pasturage. "Being hospital confined and in front of a TV at home," he wrote on Facebook over the weekend, "is like a tiger in a small cage. I guess those days do happen to everyone, but I'm not ready for them, I have things still to get done. Grrrrrr."