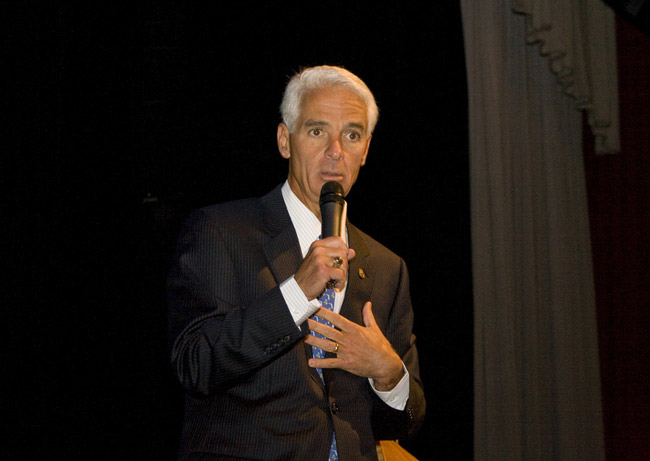 CHARLOTTE–Little more than 48 hours before a onetime opponent is expected to take the stage at the Democratic National Convention to embrace President Barack Obama, Florida Democrats are facing a question that could shape their party's future: How much do they trust Charlie Crist?
It's part of a soap opera unfolding before partisans in two states, an episode that has proven that even after his crushing defeat in the 2010 U.S. Senate race, the former Republican commands attention like few others can.
Crist is expected to reiterate his endorsement of Obama at the DNC– perhaps as part of the confab's final session on Thursday — in a move that campaign officials clearly hope will send a message to independent voters in the battleground state of Florida and elsewhere.
But many also see a benefit for Crist, who left the GOP to run for Senate once it became clear that he couldn't win his party's primary against Marco Rubio. If Crist is eyeing a comeback, his best chance might be to run against his unpopular successor, Gov. Rick Scott, as a Democrat. And that could rile party stalwarts already positioning themselves for a bid.
For now, those officials say that anyone who wants to help Obama recapture Florida's 29 electoral votes, and likely the White House along with them, is welcome.
"I think right now the focus is on getting Obama re-elected, and obviously the Obama campaign feels that the former governor may be able to be helpful with attracting independents," said Sen. Nan Rich, a Weston Democrat who has already announced she's running for governor.
If Crist does complete his Republican-to-Democrat metamorphosis, it would mark the most stunning change in a career that has long drawn the derision of critics who say Crist is the worst kind of political opportunist. And it would shake up a nascent race that has already drawn the interest of figures like Rich, former Democratic gubernatorial candidate Alex Sink and possibly others.
Florida Democrats made it clear Tuesday that it was the Obama campaign's decision to put Crist front and center — and that it would signal nothing about what kind of support the former governor should expect were he to run again.
"I'm one of those believers that if you want to join our church you're always welcome in the congregation. That doesn't necessarily mean I'm going to make you a preacher," said Florida Democratic Party Chairman Rod Smith, who has himself been mentioned as a possible candidate in 2014. " … I think he would have to take some Desi Arnaz lessons. He'd have some 'splainin' to do."
Much of a brief media availability Smith held after the Florida delegation breakfast in downtown Charlotte focused on questions about Crist.
Meanwhile, Rich seemed ready to go ahead and make Crist's changing allegiances an issue if he were to run.
"Anybody who runs as a Democrat for governor will have to prove their credentials to the Democratic primary voters," she said. "And I'm willing to put my credentials up against anybody's as a true Democrat."
For his part, Crist has been nearly silent on his latest transformation, though he penned an endorsement of Obama for the Tampa Bay Times last week — an unsubtle jab coinciding with the Republican convention in Tampa.
But Crist might need to go further than that this week in Charlotte if he hopes to start building support for a 2014 race, said University of South Florida political science professor Susan MacManus, who was on hand for the convention.
"People here, I think, are to the point where this discussion needs to have some finality," MacManus said. "Is he or is he not a Democrat?"
Republicans weren't waiting for the answer, going up in Florida with an ad featuring Crist repeatedly referring to himself as a Republican or a conservative. "I'm a pro-life, pro-gun, anti-tax Republican," Crist says in the spot.
Not anymore, it seems.
"Charlie Crist may try to use the Democrats' national convention as his latest attempt to shed his political skin, but the RPOF intends to make sure the people of Florida and the nation remember his words and record," Republican Party of Florida Chairman Lenny Curry said.
That might be a bipartisan endeavor.
–Brandon Larrabee, News Service of Florida