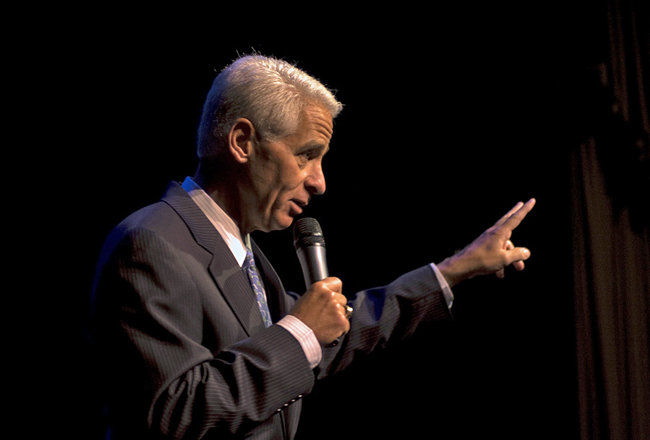 After months of speculation — and a high-profile stint campaigning for President Obama — former Republican Gov. Charlie Crist signed up Friday night to become a Democrat.
Crist, who left the GOP to run as an independent for the U.S. Senate in 2010, signed a registration form during a reception at the White House. He sent out a Twitter message that said, "Proud and honored to join the Democratic Party in the home of President @barackobama!"
Also, Crist posted a photo that showed him holding up the signed registration form, while his wife, Carole, smiled. The Tampa Bay Times reported that Obama celebrated the change with a fist bump.
But the Republican Party of Florida, which has long criticized Crist as a turncoat and an opportunist, quickly bashed the former governor Saturday morning.
"The truth is that this self-professed, Ronald-Reagan Republican only abandoned his pro-life, pro-gun, conservative principles in 2010 after he realized that Republicans didn't want to send him to Washington D.C. as a senator, especially after he proved he couldn't do the job as governor," the party said in a prepared statement.
Crist's move to the Democratic Party will add to widespread talk that he might try to return to the governor's mansion by challenging Republican Gov. Rick Scott in 2014.
So far, no clear Democratic front-runner has emerged for the race, though the party's 2010 nominee, former state Chief Financial Officer Alex Sink, could run again. Also, former Senate Minority Leader Nan Rich, D-Weston, has opened a campaign account.
If Crist runs and captures the Democratic nomination, it likely would be one of the highest-profile — and fiercest — races in the country in 2014. Crist campaigned heavily for Obama this year, including giving a speech at the Democratic National Convention.
For years, Crist was a star in Republican politics. He first gained notoriety as a state senator from St. Petersburg and later was elected education commissioner, attorney general and governor. He parlayed an upbeat demeanor with popular positions on issues such as holding down taxes and insurance rates and fighting crime.
But Crist tangled with some major business interests, such as utilities and insurance companies, while governor. He then completely broke with the party by running unsuccessfully as an independent for the Senate seat after facing a primary fight from the eventual winner, U.S. Sen. Marco Rubio.
During his speech at the Democratic National Convention in September, Crist said the GOP had left its roots and become too extreme. He said GOP presidential candidate Mitt Romney and vice-presidential candidate Paul Ryan couldn't lead the country in a bipartisan fashion.
"When I look at the Republican ticket today, I see two candidates who would break the fundamental promise of Medicare and Social Security, and cut investments on our middle class that are so important to our economic recovery," Crist said during the speech. "And when I look at President Obama, I see a leader with a cool head, a caring heart and an open mind, a president who has demonstrated through his demeanor, his grace and his deeds that he is uniquely qualified to heal our divisions, rebuild our nation and lead us to a brighter future."
But Republicans on Saturday said it was Crist who had changed. The state GOP pointed to examples such as Crist's support in 2008 for Republican president candidate John McCain over Obama.
"The Great Imposter … at it again," national Republican consultant Mike Murphy wrote in a Twitter post that linked to a Tampa Bay Times story about Crist's Democratic registration.
–Jim Saunders, News Service of Florida