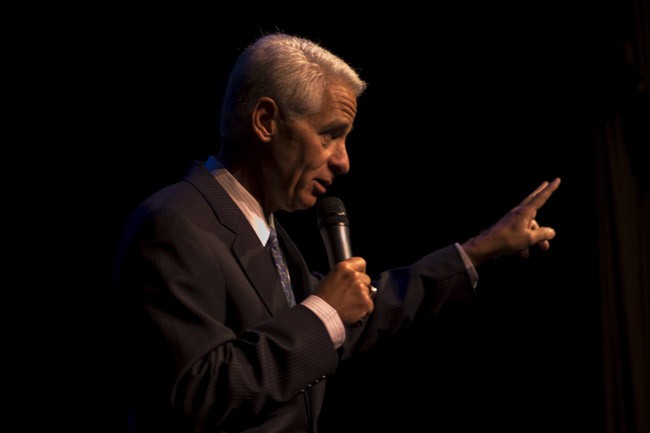 Former Gov. Charlie Crist appears likely to run for a Pinellas County congressional seat in 2016, two years after losing a comeback bid for the governor's mansion.
Crist said Monday he will run for Congress if, as expected, he is included in a newly redrawn district that would be friendly to Democrats.
"If the new congressional map includes my home, I intend on running to serve the people again," said Crist, a St. Petersburg Democrat who was elected governor in 2006 as a Republican but later switched parties.
Crist issued the statement just hours after Pinellas County Congressman David Jolly, a Republican, announced he will run for the U.S. Senate next year to try to succeed presidential candidate Marco Rubio. A Florida Supreme Court ruling will force the Legislature to redraw Jolly's Congressional District 13 to take in more Democratic voters.
The newly redrawn district is expected to include Crist's home, fueling widespread speculation recently that the 58-year-old Crist would launch another political comeback. After Crist released his statement Monday, Republican political commentator Ana Navarro tweeted, "Like Jason from Friday the 13th."
Crist was elected governor after serving as a state senator, education commissioner and attorney general. But he decided to run for the U.S. Senate in 2010 instead of seeking a second term in the governor's mansion and wound up losing as an independent candidate to Rubio. He ran as a Democrat in 2014 but lost to incumbent Republican Gov. Rick Scott.
The Supreme Court this month ordered the Legislature to redraw eight congressional districts, which it found violated a 2010 constitutional amendment aimed at preventing gerrymandering. As part of that ruling, the court pointedly ordered changes in Jolly's District 13 and neighboring Congressional District 14, which is represented by Tampa Democrat Kathy Castor.
Justices said District 14 was drawn to cross Tampa Bay from Hillsborough County and split Pinellas County and the city of St. Petersburg. The split put more black Democrats into District 14, effectively creating a more-Republican District 13.
"The enacted configuration of these two districts, which crossed Tampa Bay, added more Democratic voters to an already safely Democratic District 14, while ensuring that District 13 was more favorable to the Republican Party," the Supreme Court ruling said.
The Legislature still needs to meet in special session to redraw the districts, with the session scheduled to start Aug. 10. But the Supreme Court ruling explicitly said districts 13 and 14 "must be redrawn to avoid crossing Tampa Bay."
As a result, the redrawn District 13 is expected to include a larger portion of Pinellas County, including predominantly black areas that are more likely to vote for a Democrat.
If Crist runs next year, he could face opposition in a Democratic primary. Former Pentagon official Eric Lynn, a Democrat, announced in April that he planned to run in District 13. Also, media reports in the Tampa Bay area have indicated state Rep. Dwight Dudley, D-St. Petersburg, is considering the race.
–News Service of Florida