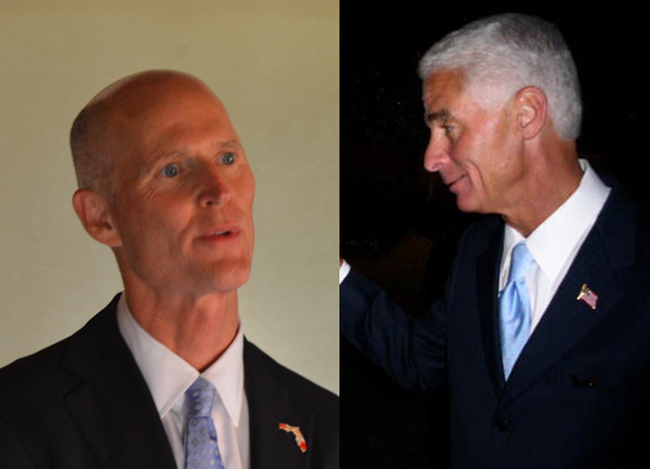 Despite two months of high-profile policy initiatives designed to boost Gov. Rick Scott's re-election campaign and sagging numbers against former Gov. Charlie Crist, the latest Quinnipiac University Poll shows Crist maintaining a healthy 10-point lead over the incumbent, a two-point improvement since late January, before the legislative session and Scott's PR onslaught got under way.
Crist's lead is especially pronounced among Independents, who give him a 14-point advantage in a state where independents have often been the deciding factor in statewide elections.
Floridians find Crist more compassionate than Scott and think the former governor's switch from Republican to Democratic shows pragmatism more than it does opportunism—especially at a time and in a state where traditional Republicans have grown increasingly disenchanted with the party's rightward tilt, under the sway of the tea party. The Scott campaigns relentless attempts to tarnish Crist by associating him with President Barack Obama and with Obamacare, also appears to have had little to no effect.
Crist, on the other hand, is drawing on a well of Floridians' memories about his always-popular tenures as a senator, education commissioner and attorney general before his 2006 election to the governorship. In 2010, when re-election to the governorship would have been an easy prize, Crist opted to run for U.S. Senate instead, first running as a Republican then switching to independent and receiving just 30 percent of the vote, against Marco Rubio's 49 percent.
While Crist's honesty and trustworthiness is one of his few weak points against Scott (45 percent of Floridians find him honest and trustworthy, 43 percent do not), Floridians find Scott far less honest or trustworthy, with 51 percent rating him negatively on that score, and just 38 percent rating him positively.
"So far, Florida Gov. Rick Scott's television barrage apparently has had no impact on the race," said Peter Brown, assistant director of the Quinnipiac University Poll. "The incumbent has not been able to reduce former Gov. Charlie Crist's lead. In fact, voters see Crist's party switch in a positive light and the incumbent's effort to tie Crist's support for Obamacare has not yet borne fruit."
Scott's negative numbers are hurting him in key categories: 46 percent of Floridians view him negatively, as opposed to 36 percent for Crist. Only 42 percent of Floridians approve of the way Scott has handled his job as governor, with 50 percent disapproving. That compares with a 52 percent approval rating for Crist, against 38 percent disapproval.
The Scott campaign has been placing particular emphasis on what it sees as a contrast between the two administrations—a contrast favoring Scott, his campaign claims, as jobs shrank during the Crist years but have grown during the Scott years. Floridians are not buying the narrative, choosing instead to see the Crist years as bearing the brunt of the national housing crash, and to see Crist himself as having navigated the state through the crash more ably than Crist has navigated the recovery.
Floridians also find Crist to have stronger leadership qualities than Scott.
"The difference may be simple," Brown said. "Voters like Crist, whose strength always has been his ability to connect. Voters sometimes elect candidates they don't like personally, but not that often."
Just as he launched his PR assault before the legislative session, Scott paired the strategy with a rebranding of his personal image, adding numerous pictures of himself as a family man on his Facebook page, telling stories of his newborn grandchildren, showing himself in bright lights and in congenial poses. Floridians may be questioning the authenticity of the rebranding, however, in a way that they do not question Crist's likability: throughout his tenure in government, Crist was known to be genuinely approachable and at ease with people in a way that Scott has not quite managed.
In other findings, Florida voters support same-sex marriage by a 56-39 percent margin, with significant support from Independents and Democrats, though Republicans remain opposed, 64-31. Every age group supports same-sex marriage except voters over 65 years old, who are divided with 45 percent in favor and 49 percent opposed.
Voters also say by a 55-41 percent margin that an illegal immigrant who attends high school in Florida should be eligible for the in-state tuition if the immigrant is accepted at a public college. Men, women and all age groups support the idea.
Quinnipiac University surveyed 1,413 registered voters with a margin of error of +/- 2.6 percentage points. The phone interviews were conducted From April 23 to 28.