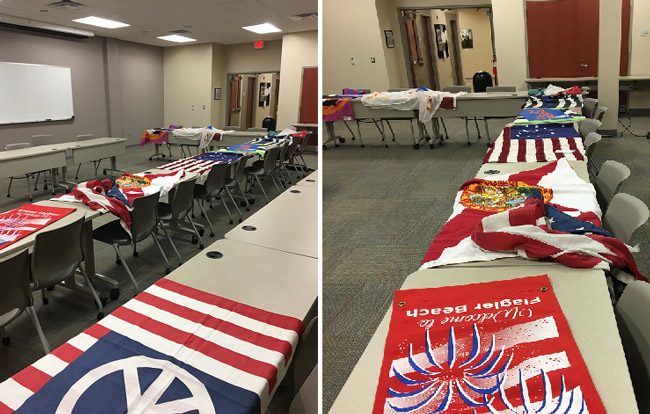 Late Sunday night sheriff's deputies responded to the area of 6601 on County Road 305 after reports of a suspicious person in the area.
Charles Cowart Jr. lives not far from there–when he's not at the county jail or committing one mischief or another, or doing strange things, like riding down the streets of Bunnell on horseback, with hardly any clothes on: he has issues. He's had drinking and other substance abuse issues. He's had psychological issues. The details are not known: privacy laws make sure of that. But those who know him–and many people in west Flagler know him and his family of long standing–see the issues and beyond the issues: he's nobody's fool, when he's not prey to his demons.
But he falls prey to them a lot, even though most of the charges against him have been dropped over the years, including for more violent allegations. His continued presence at his home in west Flagler, without treatment, has been inexplicable, or at least not explained, which has led to further arrests and more inexplicable behavior.
Monday evening Flagler County Sheriff's deputies found him and his father chasing after horses on County Road 305. They also found him angry and impaired, according to a sheriff's incident report. A deputy smelled alcohol and termed him "intoxicated." He was holding a harness. He was trying to catch two horses. The deputies quickly found the horses and helped the Cowart's father secure them in a cow pen nearby.
Then Charles Cowart Jr., who goes by Skeeter out west, and has a conscience, told the deputies he had something to show them at his home, putting it in sharper terms to one of the deputies: "I did some fucking rude shit. You need to talk to me." He kept repeating that. The deputy had no idea what he was talking about, according to the deputy's report.
He then requested that deputies drive him to his grandmother's house, where he lives, in the same neighborhood. Cowart went into the house the back out with a large American flag, about 15 by 25 feet. He claimed he'd stolen it from the Indian Trails Sports Complex a few hours earlier. How was not explained. Those flags there fly very high on an immense pole and cost $500 (the value listed in the sheriff's incident report), though they're also stored in a building. He claimed he'd also stolen another one from Palm Coast Parkway, valued at $153. That one, he'd draped over his bed.
Before long he owned up to stealing more than a dozen flags that had been displayed publicly. He claims to have stolen them over a two-year span, including a flag from Bunnell City Hall, stolen last July 4. That flag, he'd wear while going out to a bar. The reason? Because, according to one police report, "because we don't give a shit about the flag," he told a deputy–a statement that can hardly be said of local government agencies, let alone Bunnell, which has a particularly reverential relationship with American flags and in 2015 held an actual retirement ceremony for 90 flags that were to be discarded.
Cowart's statement only underscored the occasional distance he seemingly finds himself from reality. So do his actions: as he was retrieving the flags for the cops' inspection, he offered them tea.
The deputies escorted Cowart to his father's house where he'd also stored flags, including one stolen from the Flagler Beach Police Department–a remarkably brazen act–and several others from Flagler Beach, among them a welcome sign: he did not limit himself to flags. He'd also stolen an Italian flag from a pizza shop in Flagler Beach (luckily, he appears not to have been near Italian soccer fans), and a peace symbol stolen from Flagler Beach as well.
And so the routine Cowart is well familiar with followed its course: he was arrested, he was transported to the Flagler County jail, he was booked. He smiled as his booking picture was taken, just as he has more often than not when booked at the jail. This time the sheriff's office opted to issue a release calling him a "serial Flagler County flag thief" and listing his previous violent charges with little context. The strict accuracy of the release belied the absurdity of Cowart's case, a difference courts don't take into account.
He was charged with petit theft, then grand theft, and probation violation: he was sentenced to drug-offender probation for three years in 2017.