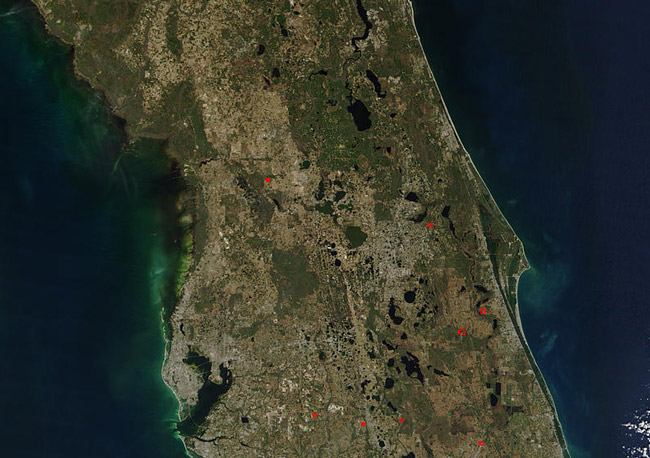 Aided by wins in Central Florida, Democrats chipped away Tuesday at Republican majorities in the state House and Senate — though the GOP will continue to hold a huge advantage in the Capitol during the next two years.
Democrats picked up net increases of two Senate seats and as many as five House seats during Tuesday's elections, while defeating up to five incumbent Republican lawmakers.
Much of the success came in the Orlando and Tampa Bay areas, where Democratic candidates toppled GOP Reps. Scott Plakon, Shawn Harrison and Peter Nehr and could be on the verge of a huge upset against Rep. Chris Dorworth, who is slated to become House speaker in 2014.
Tampa Democrat Mark Danish, who beat Harrison in District 63, and Palm Harbor Democrat Carl Zimmermann, who beat Nehr in District 65, had drawn little statewide attention before Tuesday night. But the House races came amid a broader Democratic surge in the Tampa Bay area.
"The numbers in Hillsborough and Pinellas, in particular, we did very well there," Scott Arceneaux, executive director of the Florida Democratic Party, said Wednesday. "We were surprised we were able to get it that high (in those two counties)."
The Democratic Party said the election also marked the first time in three decades that it has enjoyed a net increase of Senate seats. Democrats dominated both chambers of the Legislature for generations but lost majorities in the 1990s.
Republican lawmakers can be assured, however, that they will remain in total control when they return to the Capitol on Nov. 20 for an organizational session that will include swearing in members. After Tuesday, the GOP will hold a 26-14 majority in the Senate, down from the current 28-12.
It also will have a 76-44 or 77-43 advantage in the House, depending on whether Democrat Mike Clelland can hold onto a 37-vote lead in what almost certainly will be a recount in his District 29 race against Dorworth.
Republicans currently have an 81-38 majority in the House, with one seat vacant because of the resignation this year of Miami Beach Democrat Richard Steinberg. Another Democrat, David Richardson, already had been assured of representing the Miami Beach area during the next two years after winning an August primary.
Incoming Senate President Don Gaetz, R-Niceville, pointed Tuesday night to the GOP's continued Senate majority, which is disproportionately large compared to party registration numbers. He said that means "tens of thousands of independents and Democrats crossed the line and voted for Republican senators because, I think, we had better candidates with compelling ideas."
Tuesday's results could affect the workings of the House and Senate because of the elimination of two-thirds majorities that have provided procedural advantages to Republicans. While that is a somewhat-esoteric, inside-Tallahassee issue, Democrats will now have more leverage to slow down or even stop legislation.
In the weeks before Tuesday's elections, Republican and Democratic leaders made clear they expected some of the top battles to occur in the famed "I-4 corridor" — the voter-rich swath of central Florida that runs from Volusia to Pinellas counties and includes Orlando.
In addition to the Hillsborough and Pinellas wins by Danish and Zimmermann, Democrats took perhaps the highest-profile House race of the year when Maitland teacher Karen Castor Dentel knocked off Plakon in District 30, which includes parts of Seminole and Orange counties. Dentel received heavy support from groups such as teachers unions, while Plakon had the backing of business lobbies.
The biggest upset, however, would occur if Clelland, a lawyer and retired firefighter, can defeat Dorworth. The Seminole County elections canvassing board is expected Thursday to consider provisional ballots, and an automatic recount likely will follow because of the slim 37-vote margin.
Democrats also won heavily contested House races in Orlando and Miami, though the overall net increase was affected by Republicans picking up open seats.
As an example, Monticello Republican Halsey Beshears won in a north Florida district that became open when Rep. Leonard Bembry, D-Greenville, decided to run for Congress. Similarly, Key Largo Republican Holly Merrill Raschein won a South Florida district that became open when House Minority Leader Ron Saunders, D-Key West, chose to run for the Senate.
The Democrats' two-seat pickup in the Senate stemmed, in part, from Sen. Maria Sachs, D-Boca Raton, defeating fellow Sen. Ellyn Bogdanoff, R-Fort Lauderdale, in a nasty campaign in District 34. The incumbents ran against each other because reapportionment changed district lines in Broward and Palm Beach counties.
Another key Senate win came in central Florida's District 14, where Rep. Darren Soto, D-Orlando, handily beat Republican attorney Will McBride. The reapportionment process gave an edge to Democrats in that district, which includes parts of Orange, Osceola and Polk counties.
Gaetz, however, touted wins by Republican Senate candidates Aaron Bean and Dorothy Hukill in high-profile races in northeast and east-central Florida. Hukill, a House member from Port Orange, beat longtime Volusia County Chairman Frank Bruno in District 8, which both parties had described as a priority.
"Dorothy Hukill was up against the best that the Democrats could throw at her," Gaetz said. "Her opponent was the person who the Democrats said was their best candidate."