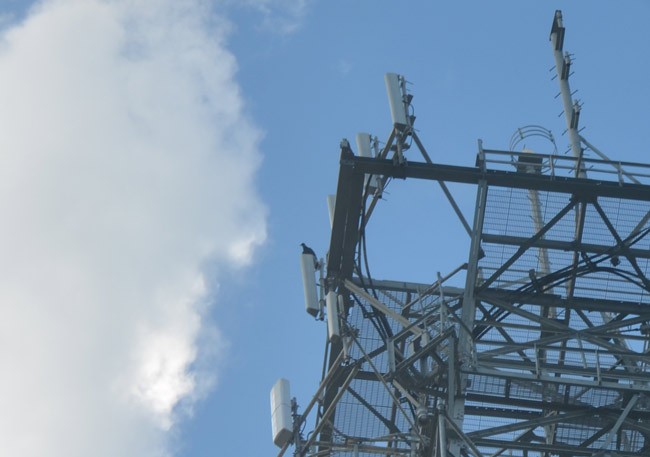 Responding to concerns about the height, visibility and environmental consequences of three proposed communications towers rising between 320 and 350 feet–more than twice the allowable size under county rules–the Flagler County Commission Wednesday rejected two of the three proposals. (For background on the proposals, see here.)
It did so despite hearing from its own emergency services chief that the towers are essential to ensure emergency communications coverage all over the county, especially as the county upgrades to a new system later this decade. And despite hearing from its county administrator that the three towers together would save the county substantial dollars, as it would not have to renew five-year leases on its existing, ageing towers.
But the counter-arguments were powerful, too–from residents neighboring the proposed towers, from environmentalists with concerns about wildlife and visual pollution, and from those who noted how the county's land regulations would be rendered invalid if such broad exceptions could be made to allow for colossal towers.
More than four hours of hearings and debates–on top of three earlier hours of a marathon commission meeting that began this morning–resulted in the following decisions late this afternoon: the proposed 320-foot lattice tower on John Anderson Highway in Flagler Beach was rejected, with Commissioners Barbara Revels, Charlie Ericksen and George Hanns voting to reject, and Frank meeker and Nate McLaughlin voting to approve. The proposed 345-foot guyed tower at Espanola was approved unanimously. And the proposed 320-foot guyed tower proposed in the area of Cody's Corner, off County Road 305, denied by the planning board, was rejected by the commission, again on a 3-2 vote, but pending possible further negotiations with area property owners. That third proposal is in some limbo, with a technical opening for the company to amend its proposal. In effect, a portion of the proposal was tabled, leaving a door open for a different outcome later this month.
"If we can get some satisfaction from the neighbors in some fashion, I don't know how it would change, maybe it won't work," Revels said, "I'm willing to see that happen."
McLaughlin spoke repeatedly with frustration about the direction of the votes, even the approval of Espanola, which he called "moot," because "we've killed the triangulation of this system and we're back to square one from the sound of it and we fall short on our serving the public safety factor. Twice."
"For two and a half hours I've seen the perfect discussion of the nimby situation, that not in my backyard discussion," Meeker said as he talked of the John Anderson tower. "I actually think it's not going to matter where we put in a tower in this area. If we vote against this one and say well, let's take a look at the site on the other side of Bulow Creek, then it's going to be 320 feet or whatever, I'm going to have people coming out of the woodwork on that one." He said the vote "is going to put off the decision one way or the other."
James Fisk, president of the Bulow Parks Historic Alliance and a board member of the Flagler County Historical Society, on the other hand, said the county was "letting these companies dictate the policies that we're having to deal with right now. They've got a gun to our head, and that's ridiculous." He was referring in this case to NexTower, the Jacksonville-based company that would build the towers and lease space to other companies, and the county, to use them. "I've heard a lot of bovine excrement today."
"There's possibly other options for John Anderson. I know that we're out of time," Revels said, by which she meant that the county's current leases on four other towers are soon to expire. "I'm sure they're not going to tally boot us off if we're still working on it, but I think we've got some other potential properties. I agree with the people who have contacted me on the thought process that the county has invested so much money in pristine sites. We have Bulow Creek, which is an outstanding Florida water and a gorgeous, gorgeous location. We have created all these greenways on both ends of our county, and we're going to trash it with this tower. I know no one likes them in their backyard, it's very hard to place them, and please everybody–you never will. But I think this one is very ill-advised, and I think there's more work that we could do on this particular location and I'm not going to support this."
[This is a developing story. More soon.]