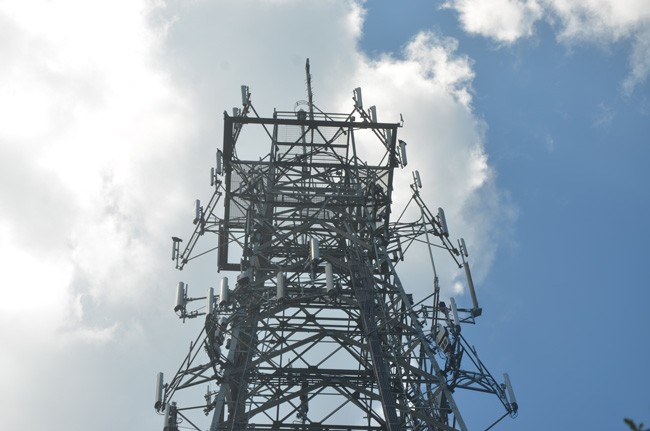 Imagine a lattice cell tower rising taller than the 305-foot Statue of Liberty just west of John Anderson Highway in Flagler Beach, south of State Road 100, not far from the headwaters of Bulow Creek and the Intracoastal Waterway. So tall that at 320 feet, it would exceed the county's limit on cell towers near residential districts by 170 feet.
Imagine two more towers like it, one of them rising even higher (to 345 feet) in Espanola off County Road 205, and one rising 320 feet near Cody's Corner, off County Road 305.
The Jacksonville-based NexTower Development Group is seeking to build all three. To do so, it must get permission to violate county land regulations by securing "variances" from the rules. In each case, the tower would considerably exceed height limitations and violate buffer rules that require certain distances between towers and homes or neighboring properties.
This proposal comes with a twist. NexTower is a private company that will lease space on the towers to other private companies. But its top-most customer will be Flagler County Government's Emergency Services Division, which would get to use the towers' preferred positions at the top, free of charge, for the county's 800 megahertz communications system and what will follow it in a few years. When residents call 911 and cops or firefighters and medics respond to an area, the 800 megahertz system kicks in, enabling those responders to talk to each other. Poor communications can jeopardize the effectiveness of the response. Good communication can enhance it.
The tower-trio proposal is placing the county in the middle of what has turned into a divisive debate over the proper location of such tall towers, their effect on neighboring property values, wildlife and preserves, but also their importance in the county's network of emergency communications. The cell tower at John Anderson especially is raising all those issues and questions, with doubters charging that the county is not exploring all other possible alternatives and the county claiming it's the best spot—especially since the tower would rise on county-owned land.
Last month, a divided county planning board voted 4-3 to recommend approval of the three proposals. The matter goes before the Flagler County Commission Wednesday morning, with the commission having the final say. But commissioners will hear the same arguments the planning board did, and face the same dilemmas, which were illustrated by the three-hour long meeting of the planning board in August, with the Anderson Highway tower at center stage, though debates swirling around it reflect the debates affecting every proposed tower.
For the county's emergency services, its Public Safety Radio antennas must be relocated almost immediately, according to Kevin Guthrie, who heads the county's emergency services division. Those towers provide the only means of communications for cops, firefighters and emergency services personnel in the county, Palm Coast, Bunnell and Flagler Beach.  The county has five such towers, including the one at its Emergency Operations Center in Bunnell.  Maintenance and repair costs have raised concerns about the current towers' integrity. Remediation is possible. But problems persist.
The tower the county is currently using on John Anderson is 225 feet tall. Built in 1976, it's the oldest in the county's inventory. It has a 50-year lifespan. It's rusting. "Salt air is starting to take its toll on it," Guthrie said. "That tower is going to suffer catastrophic damage if we're going to have a major hurricane here."  It could not withstand a category two or higher hurricane.  The new tower will withstand a category 4 hurricane. But all three towers are aging similarly.
Further, the current lifespan of the county's 800 megahertz is approaching the end of its life. The county must upgrade its capabilities to be able to better address disaster situations such as wildfires or weather emergencies. That'll require new antennas on existing or new towers. That's expected in the latter part of the decade. The county must prepare for its next-generation system. The new towers will save the county money by eliminating the need for the county to rent space for extra antennas. "We're going to see a net present value of $3.365 million over the next 20 years, with a cash value savings of $4.625 million over the next 20 years, and that's significant," Guthrie said.
"Flagler County Emergency Management has worked diligently to locate suitable infrastructure on existing towers, but none of the other alternatives meet all of the above requirements," Guthrie wrote in a statement of need in support of the proposed trio. NexTower's proposal "was designed primarily for the county's public safety requirements—in close coordination with the county's radio expert. Both geographic requirements and antenna coverage were the prime considerations in the siting and height of the towers."
The county is leasing space on its current towers. "Those expire between January and April of next year, so we're kind of in a time-sensitive situation here," Guthrie said. "We have to move forward with the decision we're going to make whether that's going to new towers or sign another five-year lease with the current towers we're on."
"It's sort of like holding a gun to our head," Russ Reinke, who chairs the planning board,  said. "I frankly don't care. I want to see us do the right thing in our community of Flagler County." He was not impressed by the proposal because of its numerous variances. He preferred the tower to be moved. "If you were trying to build a tower in my backyard you can bet I'd have 14 attorneys here talking. You can't win, and you're in the other side, you're trying to help us as a county government. So we're trying to help you too."
But he soon lost that argument with the 4-3 vote, with Michael Boyd, Mark Langello, Bob Dickinson and Pam Richardson voting in favor and Reinke, Mike Duggins and Laureen Kornel opposed. Subsequent votes mirrored that lineup.
"The county is saying: How do we give this good service without having towers all over the place, and the fewer-taller towers seem to be the more logical aspect to this," Langello said. "I think that our code maybe needs to be looked at, that the code is not up to the technology. We have the ability in this variance to look at this, as far as I'm concerned, they did not create this problem, the technology does."
The proposed towers near Cody's Corner and Espanola are not expected to raise more than token opposition because the areas are either very rural or, in Espanola's case, very poor, with little to no political pull. The John Anderson Highway location is different. It neighbors more affluent properties and property owners who, unlike those in Espanola and Cody's Corner, can afford lawyers.
The John Anderson Highway tower would be located on a 3-acre site. The county's Land Development Code requires cell towers to be either at least 300 feet away from the nearest house, or a distant equal to 200 percent of the cell tower, whichever is greater. In this case, the 200 percent rule applies: the proposed tower would be 320 feet tall. Two hundred percent of that is 640 feet. The tower would actually fall short of that distance by 119 feet. It is also required to be 320 feet from the nearest unplatted property. It would fall short of that by 270 feet—or be within 50 feet of that property, rendering that property almost unusable for a house. The code also puts a limit in towers at 150 feet. The tower would exceed that limit by 170 feet, including 20 feet for a required lightning rod.
"Certainly a monopole could be a consideration here, but that's not effective because of the tower height," Adam Mengel, the county's chief planner,  said. "An urban type monopole is not appropriate here for the height or for the colocation that's anticipated to happen here." Co-location means that use of a cell tower by multiple users.
Several people, among them Brynn Newton, Peter Smith, James Fisk and Dennis Bayer, the latter an attorney in Flagler Beach, spoke in opposition to the proposal.
Bayer represents some of the property owners near the proposed tower on John Anderson. "I get it, I understand the need for good emergency services, I understand the need that we have a tower that withstands a hurricane," Bayer said. "It certainly seems like there could be a better site in the county not too far from this that could serve those same purposes. And I know some of you up here on the board have worked—Mike Duggins and others—we've done a lot of work to protect this greenway that runs from one end of the county to the other, from princess Place all the way down to the Volusia County border, to protect Graham Swamp, protect Bulow Creek." Bayer said he worked in the past to protect the land against being developed by the Ginn Corporation, with a compromise resulting in the land being slated for a fire station—"having no idea it would become a tower site."
"What kind of message are we sending for these other public lands we've protected, buffers and things of that sort, that they're now going to be impacted by cell towers?" Bayer Asked. "It seems to me that there needs to be another location." Variance criteria, he said, are in place for a reason. "If we took this building and put it on a piece of property that was too small, just because it was going to save the county money, that doesn't mean that a variance should be granted." He concluded: "Public purpose is important. That doesn't mean they're automatically entitled to a variance."
James Fisk, president of the Bulow Parks Historic Alliance and a board member of the Flagler County Historical Society, spoke in opposition to the proliferation of towers, especially because of the radiation they emit—whether on humans or wildlife. "Is it really that important to continue to jeopardize our citizens' and wildlife health just for an extra bar or two on your cell phone?" Fisk's question, however, illustrated one of the misunderstandings about those three towers: as far as the county's interest is concerned, they have nothing to do with cell phone coverage, but with emergency communications coverage, which is different. Phone companies will certainly be using the towers. But that won't be the county's uses.
John Hobbs, in a July 15 email to the county administration, wrote: "I have been doing some research and reading peer reviewed articles on dangers associated with exposure to telecommunications towers within close proximity to residential areas. I have found numerous articles that cite such towers as being carcinogenic – even if is a low‐level threat. What I want to understand is why the particular area was chosen for this project considering the proximity to residential areas as compared to locating a tower in a more remote location away from the density of population in the area which is proposed. Besides the possibility of human health problems, there will be serious economic repercussions as well both for current home owners and the effect the tower will have on people's plans to build high‐end homes with such a monstrosity in plain view off of their balconies and back yards. It is hard enough to sell the lots and get people to build in the Polo Club as is without a tower. If such a tower is a necessity for the county, why not use an area that will have less of an effect on property values and human health? Why not the dump site off of Old Kings that is not buildable or another piece of land in the county away from residential population on land that is much less desirable to live on?"
The county dump site off Old Kings Road is not an option, Guthrie said. "At the height that we need to be we would be in the flight glide path of the FAA and we did not receive permission to move forward," Guthrie said, referring to the Flagler County Airport. Other sites were ruled out because of environmental impacts.
Duggins, one of the members of the planning board who voted in dissent, objected on property value grounds. "On the 119-foot separation form the single-family house, that's the house I'm assuming to the east that's on the Intracoastal waterway," he said. "That's a $2 million house on a $1 million piece of property that the man paid for, and he's going to have a line of sight to see this tower. I just don't think if he had known when he bought that property approximately in 2004, or all those people on the especially Intracoastal side, most those have not been built on, there's two more than haven't been noticed, they're going to have the same line of sight to this tower."
"I'm not sure the line of sight issue in this particular case outweighs the need," Boyd, who voted in favor of the proposals, said. "There's only two or three places in the county you could build a cell tower that somebody couldn't see it. The issue with me would be if somebody lived in really close proximity to this."