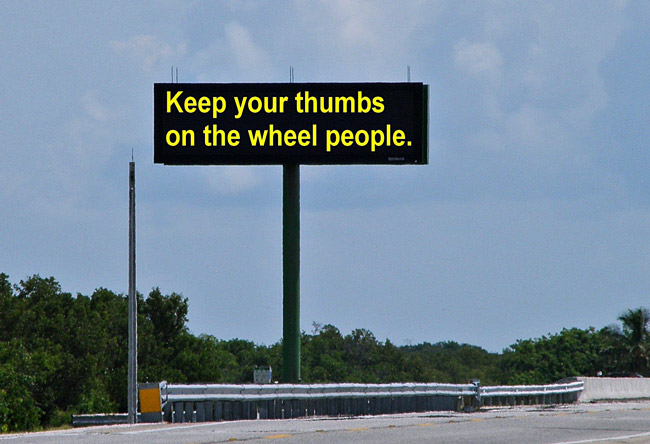 The National Transportation Safety Board on Tuesday urged states to ban cell phone use while driving, the first such call by a federal agency.
In Florida, bills that would prohibit kids under 18 from talking-while-driving are filed by a Senate Republican and a House Democrat, while another bill, carried Republicans in both chambers, would ban texting and driving.
But the House Democrat sponsoring the bill to ban kids under 18 from using cell phones while driving said Tuesday he wasn't confident the NTSB recommendation would go very far to move along his proposal, which he fears will die in an unfriendly House committee.
"Unfortunately for the state of Florida, all these road safety bills are bottled up in a drawer," said Rep. Irv Slosberg, D-Boca Raton.
Slosberg has in the past criticized the chairman of the House Transportation and Highway Safety Subcommittee, Rep. Brad Drake, R-Eucheeanna, suggesting that Drake wants to kill bills related to regulations on drivers.
And Slosberg did again in an interview on Tuesday.
"I guess they have to go very slowly, the only thing I can do is to have patience and bring the issue up over and over and one day they'll just be tired from hearing it from me," said Slosberg, who has made road safety his main issue in the Legislature. Slosberg's daughter died in a car crash several years ago, and for many years, Slosberg was best known in the Legislature for his effort to pass a bill allowing police to pull over drivers for not wearing a seatbelt, which eventually became law.
Drake didn't immediately respond to a request for comment late Tuesday. But last month during a committee meeting, under questioning from Slobserg on a texting ban, Drake said if there was support from enough members, and if it were "feasible and realistic," then he'd hear a bill in the committee. Slosberg is a co-sponsor of a bill (HB 299), along with Republican Rep. Ray Pilon of Sarasota, that would ban texting and driving. The measure is assigned to Drake's subcommittee, but hasn't been put on the agenda for a hearing.
Slosberg is also the House sponsor of a bill that would prohibit the use of handheld cell phones and other electronic devices – not just for texting, but any use – by drivers under 18 and people driving school busses, regardless of their age. That bill (HB 187) also would have to get through the Highway Safety subcommittee. The measure would also put a limit on how many passengers young drivers could have in their car.
The ban on cell phone use by minors is sponsored in the Senate (SB 930) by Sen. Thad Altman, R-Viera, while the ban on texting (SB 416) is sponsored by another Republican, Sen. Nancy Detert of Venice, and was recently approved unanimously by the Senate Transportation Committee, so the issue isn't a partisan one.
But restrictions on what drivers can do – from seat belt and car seat laws to those restricting kids from riding in the backs of pickups – have long cut along two divides in the Florida Legislature.
One is between rural lawmakers, some of whom see it as an infringement on a personal liberty that is part of rural culture and personal responsibility that goes against the Libertarian streak in many rural areas, and everyone else.
The other is along racial lines, with some black and Hispanic lawmakers in the past expressing concerns over new traffic laws, which some fear could lead to additional racial profiling.
The NTSB said Tuesday that distracted driving, some of it due to cell phone use, contributed to nearly 4,000 highway deaths last year, citing National Highway Traffic Safety Administration data.
"According to the National Safety Council, drivers using cell phones look but fail to see up to 50 percent of the information in their driving environment," the NTSB said in its recommendation.
The agency also said that in a national survey by AAA Foundation for Traffic Safety, 69 percent of Americans reported that they've talked on their cell while driving in the last 30 days and 24 percent said they've texted or emailed while driving recently.
–David Royce, News Service of Florida