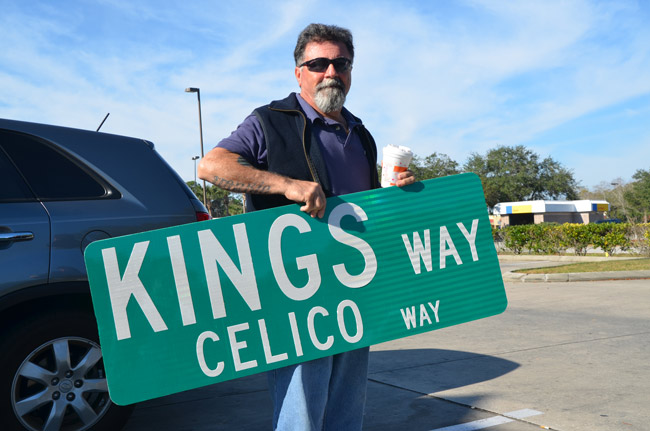 It won't appear on Google Maps any time soon, and may take a little doing for the Google empire to catch on. But King's Way at Old King's Road North was rededicated this morning as King's Way Celico Way in honor of Frankie Celico, the Flagler County Sheriff's Deputy felled by heart trouble on Sept. 9.
"The ceremony was great. A very big honor to my son," Frankie's father, Carlo, said, holding up one of the new street signs given to him as a memorial. "It would have been better if he was here than this, but today is his birthday, 34th birthday, and he got this gift."
A few dozen people gathered for the dedication at the intersection, near the Shell Station and Dunkin Donut shop where Celico was known to spend much of his time.
The renaming of the street that leads into the Palm Harbor shopping center to the east and the Staples shopping center to the west was instigated by friends of Celico's and Palm Coast City Council member Frank Meeker. Their aim originally was to drop King's Way and go with Celico Way. One business along the way objected, citing the cost of changing stationery and identity. The city council also raised objections, saying the re-naming might set a precedent the city would eventually rue as others would come forward asking for street-name changes.
The compromise was to keep King's Way as the principal name (it appears in larger letters on the street signs) and add Celico Way below it.
See Also: