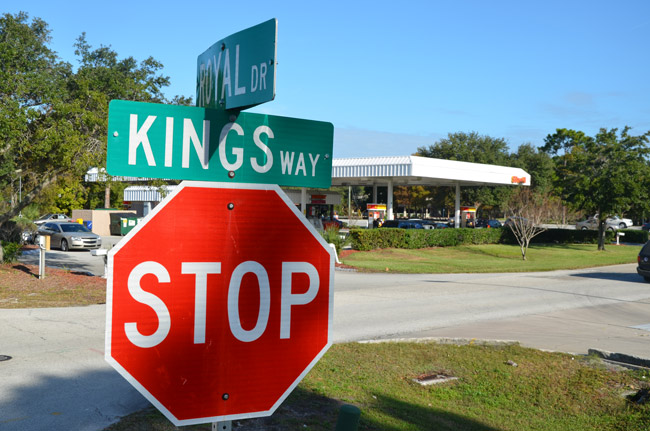 Kings Way is a small road—a driveway, really, between businesses and into the aging mall at Palm Harbor—that fronts the Dunkin Donut shop inside the Shell Station that was, for many years, the daytime home of Sgt. Frank Celico.
Celico, a Flagler County Sheriff's deputy for 11 years, died suddenly on Sept. 9 from heart complications. He was 33. His funeral drew throngs, and soon after friends and supporters, and many strangers, signed a petition to rename Kings Way in Celico's honor. Frank meeker, the Palm Coast City Council member, embraced the cause and took it to the council, where it ran into resistance.
Some council members were worried about setting a precedent that would open floodgates to requests for name changes. Roger Chang, owner of the Grand Hong Kong Asian Bistro at 3 Kings Way, found it unfair that he'd have to redraw his advertising and stationery to comply with the proposed new address, though other the only two other businesses along the way had no objection, and the manager of the Dunkin Donuts was quite displeased that the city wasn't embracing the idea of a name change.
Not a full name, change, anyway. This morning, the Palm Coast City Countil voted unanimously to add the line "Celico Way" below the official name of "Kings Way," essentially co-naming the street after Celico. The new name appears distinctly in second billing format. And it didn't happen without several objections from the public, either because of the half measure, or because it was being done at all.
"I know it doesn't sound right, but what did Sgt. Celico do to merit a street named after him?" Jack Carrell, a near-constant presence at council meetings, said. "Usually somebody does something besides being a nice guy and hanging around and drinking coffee." Carrell recalled, for example, the time when Shirley Chisholm's name was proposed for a street name. Chisholm was the storied congresswoman from New York, the first-ever black woman elected to Congress, serving from 1969 to 1983. She retired in Palm Coast and remained engaged in civil rights and as a writer. "She did something," Carrell said. Yet the proposal to rename a street after her was turned down.
Patrick Delsordo, who'd led the effort for the name change, objected to the sign because it was a half measure. "He spent 360 days thereabouts per year at that location, whether he's getting Coffey, hanging out, just BSing with the rest of the gang," Delsordo said of Celico. "He was more than just a cop, he was a friend. I understand that some of you don't understand the idea or the concept or don't like it because it opens up floodgates. It does not. We have a wall, we have veterans park, we have everything for our soldiers, men and women of the armed forces. We have nothing for fallen firefighters, nothing for fallen police officers. He is both. He was a police officer and a best friend. We should honor him the right way. Celico Way is a great idea."
Delsordo was supportive of a short-lived compromise that would have designated at least a portion of Kings Way "Celico Way," exclusively, without interfering with businesses. That idea didn't gain support, yielding instead to the double-decked names. "Great sign, absolutely beautiful, it's confusing," Delsordo said. "I don't know if you guys have been out there and driving around Palm Coast at all, but people can't find their own way home. You give them two names of the same street, they're going to be confused. Let's give 'em one name. Let's make it Celico Way."
Carlo Celico, father of Frank Celico, briefly addressed the council to thank the 800-some people who signed the petition, and John Pollinger, also a Celico supporter, proposed that the city revisit its objection to naming streets after people who've made a mark on the community.
"Obviously everybody knows I go to Dunkin Donuts on a daily basis. I used to talk to Frankie as well, he's a great guy," Meeker said. "But more important to me, he was such a great guy, that well over 700 people were moved to ask the city to do something special. That's the first time in the amount of time I've been here that somebody has come to me with a request for somebody specific, with the signatures and the petitions to make something happen. I know that there are concerns about changing road signs and then having to update GPS units and that makes it confusing when people are trying to find things. I'm not really interested in opening up the flood-gates of name-changes."
He saw the current compromise as replicating signs across the country, on intersates, where segments of road are dedicated to a particular individual. No other council member had anything to add when Mayor Jon Netts called for a vote, adopting the resolution to "co-designate the street signage for Kings Way by adding Celico Way to honor the memory of Sergeant Francesco Celico."