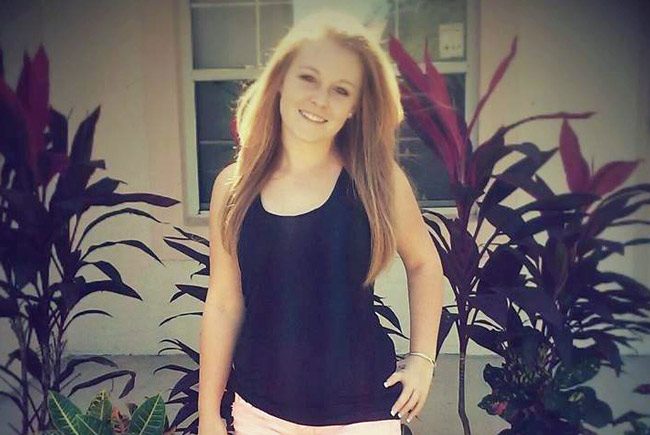 A memorial service for Brandi Celenza is scheduled for noon on April 27 at Parkview Baptist Church, 5435 Belle Terre Parkway in Palm Coast, with visitations at 11 a.m.

It has been 17 days since Brandi Celenza was found dead of at least one gunshot at her home at 23 Felter Lane in Palm Coast. It may be weeks, possibly months, before the Flagler County Sheriff's Office concludes its investigation in the 25-year-old woman's death, Sheriff Rick Staly said.
"I believe that there will be a conclusion to this case, but whether it'll be two weeks, six months, I don't know," the sheriff said. The agency has been extremely tight-lipped about the investigation starting from the day when Celenza was found at her home and the sheriff's supervisor of detectives called the incident "definitely suspicious."
Suicides, including suicides by gun, are frequently determined in a matter of hours or at most days.
The only documentation the Sheriff's Office has released so far is the five-line initial case report on the shooting, which merely states, in the reporting deputy's words, that at 10:40 a.m. the morning of April 7, "I made contact with reporting party Keith Johansen who advised his wife was involved in a shooting incident. A crime scene was established and the incident was turned over to the Criminal Investigations Division."
Celenza and Johansen had, according to Celenza's Facebook page, married a year ago, and Celenza went by the name Brandi Johansen, though Celenza's obituary in the News-Journal notably does not recognize the marriage nor does it name Johansen among Celenza's survivors, pointing to a rift between Celenza's family and that of Johansen.
The sheriff's case report points to Johansen as the one who reported the death. There was a 911 call, apparently placed by Johansen, but the call has not yet been released.
The incident report notes that Celenza's 6-year-old son provided a verbal statement to law enforcement, as did Johansen. The boy is Celenza's son from a previous relationship. Both the boy and Johansen were at the house at the time of the gunshot or gunshots, though that exact time, if known, has not been released. The boy is no longer with Johansen, though the house, after remaining off limits for several days as investigators processed its interiors, was turned over again to Johansen.
"There's just nothing that we can release at this point. It's a very active investigation," Staly said last week in an interview he gave during the grand opening of the Family Life Center, the shelter for victims of sexual and physical abuse. "We're doing what we have to do." He added: "Time is on our side and we don't want to rush any conclusion or any investigation."
Another telling detail in the obituary the family wrote about Celenza was this: "In lieu of flowers, the family asks that donations be made in Brandi's honor to the Family Life Center at PO Box 2058, Bunnell, FL 32110 or online at www.FamilyLifeCenterFlagler.org."
Johansen was arrested on a violation of injunction charge in September 2015, involving the mother of his daughter, who had previously received a friends request from Celenza and seen her with Johansen in the parking lot where she (the daughter's mother) worked. She told police she later saw Celenza take video of her at Walmart. The charge was dropped.
Explaining the time the investigation is taking, Staly said: "We rely on a lot of other people, like the Medical Examiner's Office for example. We don't have a formal report from the Medical Examiner. We're still waiting from other providers that we've served search warrants on." Every scrap of information gathered requires analysis. "It just takes time, unfortunately."
Celenza's obituary states she was a resident of Palm Coast for 20 years and had graduated from Matanzas High School and its ROTC program, "loved being with her family and those closest to her," and considered her son "the center of her universe."