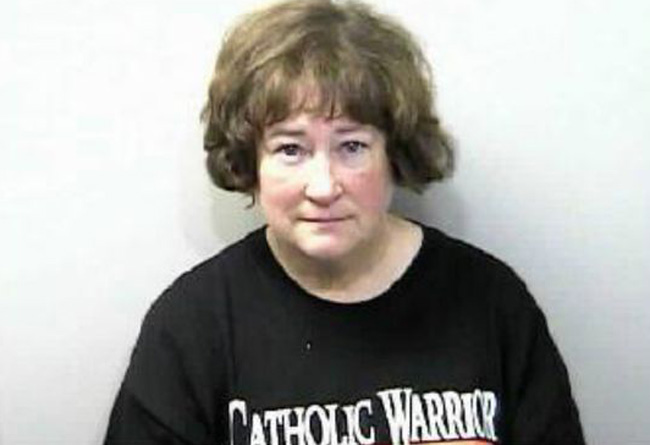 A woman was charged with criminal mischief Tuesday after the Satanic Temple's holiday diorama in the Florida Capitol was damaged.
Susan Hemeryck, 54, of Tallahassee, entered the Capitol at 11:23 a.m. and told an on-duty police officer that "she was sorry and had to take the Satanic display," according to a Florida Department of Law Enforcement probable-cause affidavit.
When the woman was advised not to remove the temple's fallen-angel display from its table, the affidavit said Hemeryck "reached forward and began to rip apart the display."
She was wearing a shirt emblazoned with the words "Catholic Warrior" when booked for her arrest. "It's just wrong, when you remove baby Jesus two days before Christmas and put Satan in his place — that just can't happen. I couldn't allow it to happen," Hemeryck said, according to the Associated Press. "I was there at the right time and the right moment, and I needed to take a stand against Satan."
The first-floor display is set up in the middle of the hallway leading toward the offices of Attorney General Pam Bondi and Gov. Rick Scott, feet from a post where Capitol police work at metal detectors.
Lucien Greaves, spokesman for the Satanic Temple, said the group may leave the display as is.
"Even if it wasn't fixable I would be for leaving the smashed remains there for the rest of the time as a testament to the intolerance of some people," Greaves said. The state Department of Management Services has imposed a new seven-day timeline for items put up in the rotunda. The temple's diorama went up Monday.
The display includes the phrase "Happy holidays from the Satanic Temple" atop a diorama of an angel falling into hell. The temple, which doesn't really worship the devil, argues that government should either bar all displays from religious groups at public facilities or allow all groups to display their beliefs, Greaves said.
The criminal mischief charge is a second-degree misdemeanor.
The FDLE valued the diorama at less than $200.
A year ago, the display was barred from the Capitol because it was deemed "grossly offensive" by the Department of Management Services. However, the display won approval this year after threats of a lawsuit.
The display is the latest in a series of irreverent holiday displays from groups motivated by the state's acceptance of Christian nativity scenes the past two years.
Among the offerings has been a Festivus pole made from beer cans and a dressed-up pile of rope to signify the deity from the Church of the Flying Spaghetti Monster.
–News Service of Florida and FlaglerLive