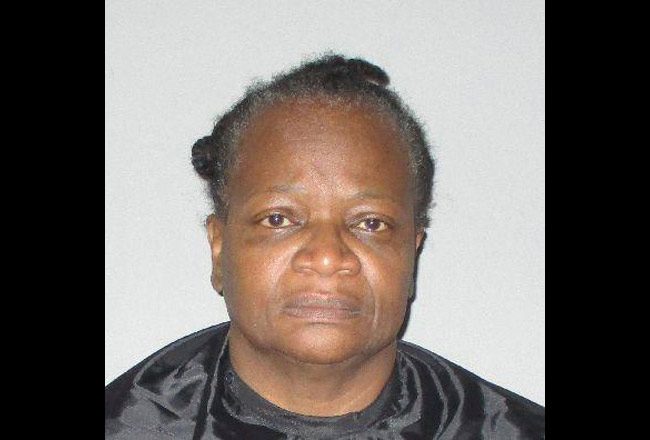 The phone call Deidre Renee Keech placed to Pet Smart Wednesday started calmly, routinely. It degraded–at her end only–into a bigoted, profanity-laced screaming screed that ended with a threat to shoot up Banfield Pet Hospital's employees at Pet Smart at Town Center, and resulted in Keech's arrest on a second-degree felony charge.
Keech would later tell a Flagler County Sheriff's deputy that she did not have a gun and was merely upset. But as with an increasing number of recent cases, particularly since the Valentine's Day massacre of 17 students and adults at Marjory Stoneman Douglas High School in Parkland, law enforcement agencies in Flagler County have confronted nearly two dozen such threats, most of them less serious, and made arrests in three of them just this week (at Matanzas High School, in Bunnell and in the present case). Flagler County Sheriff Rick Staly on Thursday pledged a "zero-tolerance" approach to any kind of such threats, whether in jest or out of temper.
There was nothing unserious about Keech's threat when she uttered it, according to a recording of the conversation Pet Smart provided the Sheriff's Office and obtained by FlaglerLive.
Keech, a 53-year-old resident of Palm Coast's R Section, told "Amanda," the person at the other end, that she needed to cancel the insurance on both her cats, Lexie and Raven.
Keech provides her basic information (phone number, address, zip). She provides an email address.
Amanda asks her gently why she wanted to stop the plan. "I just can't afford it anymore," Keech says. Amanda asks for a little patience because she can only see one insurance plan at a time. She finds Lexie's, and tells her there are still "four payments left on the plan before we'd be able to make any changes." It's one of the more expensive plans, Amanda informs Keech, telling her that once it renews, it could be brought down to a less expensive one.
"It looks like Raven's is about to renew, I could take care of her next payment then I would take care of a payment when Lexie's plan renews in July," Amanda says.
Clearly, Amanda is trying to steer Keech away from canceling outright, but she does so in the same even tone she's had from the beginning of the conversation.
But Keech is even clearer. "No, I just want to cancel it, period," she says, "because I'm going to close the credit card." Keech seems familiar with the velvety techniques of salespeople, who are trained to equate losing accounts with catastrophes. She is not interested in wasting time, but she seems also to have overlooked the fact that she owed four more playments.
"OK, so the only way to cancel Lexie's plan, like I said, is there's still four payments left on her plan before we can cancel, these are year-long plans," Amanda says.
Keech's voice now rises as she cuts off Amanda. "Oh no no no no no, No." Pause. "No!"
"I pay monthly, I'm not paying for another four months, year and all that crap. I'm cancelling the credit cards," Keech says. "Don't try to Jew any money out of me. And if you're a Jew I apologize but I'm not dealing with it. Cancel them." (A bigoted statement is not considered less of one just because it is coupled with an apology, anymore than a threat to carry out a shooting is not considered less of a threat when coupled with assurances that it was not serious, as Keech would soon discover.)
Amanda repeats that it's a year-long plan. Keech yells that she doesn't care and wants a supervisor as she yells "CAN-CEL" and spells out the word letter by letter. "I'm not paying, or don't send me a bill," she says, yelling at this point. Amanda speaks in the same even tone of the balance due. Keech yells, repeats the slur, and says her cats are dead–that's why she was not paying anymore. "Now you've really upset me," she yells, "because my cats are dead, and you want me to pay for year-long insurance? No."
"It's a year-long wellness plan," Amanda continues.
"My cats are dead! I'm not paying for a year!"
Keech demands that someone else get on the phone or "I'm going down to Banfield and it'll be worse if I go down there. How dare you. How dare you."
Amanda tries to repeat something, when Keech makes her threats: 'Don't tell me again. You send me a bill girl," she says, "call the cops because I'm going to shoot the shit out of Banfield, I've got a fucking gun and I'll shoot the shit out of you."
Amanda tells her she's going to "call the cops" and hangs up.
Soon after that, Keech actually shows up at Pet Smart in Palm Coast's Town Center. Employees there had been told by their corporate office of Keech's call. But Keech was "calm and non-argumentative while at Banfield," her arrest report states. An employee confronted Keech about the comments she'd made over the phone. Keech remembered making the statements, but said she was upset and did not have a gun. She got the information she needed (it's not clear if she got her cat insurance cancelled) and left.
A sheriff's deputy went to her house on Raemond Drive, where she related the incident as she remembered it. After the deputy received the recorded conversation from Pet Smart, he arrested Keech and she was booked at the Flagler County jail early Thursday morning on a charge of making a false report of a bomb or explosion. She was released that afternoon on $2,500 bond, and is due in court for arraignment on April 9.