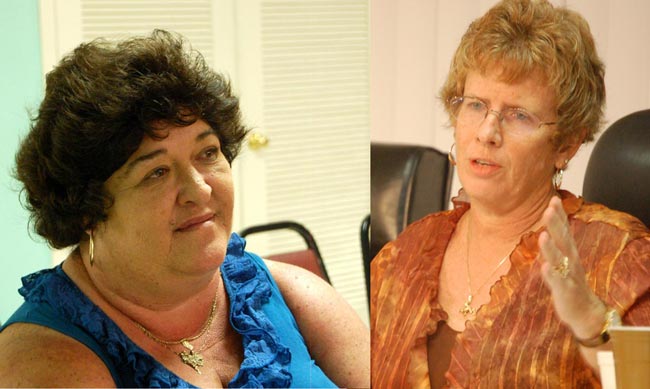 In a vote reflecting the conflicts rending the Flagler Beach City Commission's search for a new manager, commissioners appointed Caryn Miller, their own redevelopment director, acting city manager Thursday night. The 4-1 vote featured Commissioner Ron Vath piped in by phone from an undisclosed location, and followed a discussion that rehearsed commissioners' arguments as they move uncertainly toward an attempt at a more permanent appointment.
An attempt by Commissioner Steve Settle to appoint Bruce Campbell in the acting manager's spot failed. Campbell works in the city's building maintenance department and is one of three remaining candidates for the permanent job.  "It's a win-win for Campbell, he gets a chance to train, he gets a chance to do what he needs to do," Settle said. But he had no support.
Libby Kania, the deputy city manager (or assistant manager) was also nominated–by Jane Mealy. That nomination didn't take.
Miller was one of the 140 candidates who applied for the job after City Manager Bernie Murphy announced his resignation in April. Murphy's last day was Thursday. Miller was among the final eight who were  interviewed earlier this month. But she did not make the original final cut when commissioners picked their top two choices. One of those top choices—Scott Janke—dropped out after his wife's porn background became too much of a liability. The commission decided to re-interview three candidates. Miller was not among them. Campbell was.
Thursday's meeting, like the second round of interviews, was characterized by a growing rift between commissioners—and between members of the commission and a vocal faction in town. The rift is over Campbell, whose supporters have literally campaigned for his appointment and gathered some 450 petitions (some of the names are doubled and some are not from Flagler Beach) on his behalf. Three commissioners have recoiled at the tactic: Joy McGrew, Jane Mealy and John Feind. Campbell says he has neither encouraged nor discouraged his followers.
Vath and Settle appeared willing to give Campbell a go. But the commission needs four votes to appoint its next manager, not three, and the mayor—a Campbell supporter—doesn't get to vote. So unless two commissioners change their mind, the commission is heading for a stalemate. They say they want to settle the issue in October. That may not be possible if they fail to agree on any of the three remaining candidates (who also include two out of towners: Edward Sealover of Nassau County and Gary Word of Surfside.) Thursday's appointment of Miller may not be as short-term as commissioners hope if they re-open the application process.
"I said it before and I will say it again," McGrew said, "it's still one of my only reservations about Mr Campbell as a candidate: I am not comfortable with the following." McGrew didn't want the vote to to turn into a dry run for the permanent manager's appointment, which she feared a Campbell appointment–as an acting executive–would be.