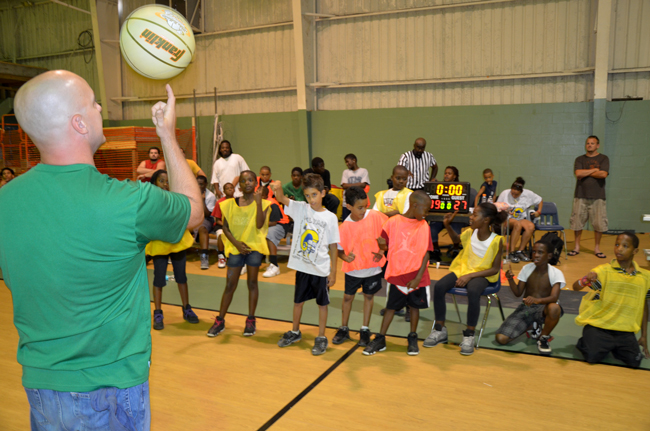 By the time the auction to raise money for Carver Gym in South Bunnell ended at 6 p.m. Wednesday, Chris Kelly's Ripple Effects Ecotours  had landed the highest bid–$500—for a two-hour kayak tour for two around Marineland, and Property Appraiser Jay Gardner's flight tour of Flagler County had landed a $395 bid, and three other offers tied with $250 bids among the 46 items in the auction.
In all, the auction, organized by Flagler County Commissioner Barbara Revels—who's led the Carver revival effort since last fall—raised $5,370, exceeding the goal by $370, though that's an undercount. Cheryl Massaro, the director of the Youth Center on the campus of Flagler Palm Coast High School, is contributing $1,000 raised through the latest talent show. Massaro will also be in charge of Carver, which is being turned into a youth center similar to the one at FPC. Revels said there's been other unsolicited donations totaling $500, bringing the fund-raising total closer to $7,000.
This time last year Carver Gym was facing closure as commissioners, including Revels, no longer wanted to provide the $120,000 a year necessary to keep it going. Commissioners quickly reversed course following an outcry, but also cut funding this year by 25 percent, and put themselves and the Carver Gym community on notice: the gym had to find a more independent way of paying for itself. The result, after Revels led a committee in cooperation with the school board and Bunnell, was a joint enterprise, with the school board and Bunnell pitching in $10,000 a year each, the county—which retains ownership of the gym–$50,000, the sheriff, $5,000, fund-raising another $5,000, and $15,000 from a hopef-for crime-prevention grant, for a total budget of $95,000. The center would have operating costs of about $85,000 a year.
That doesn't include spending by the county and with help from a $5,000 Kiwanis Club grant to rebuild classrooms and lounges downstairs and upstairs at the gym, rebuild the entrance into a controlled environment, where electronic ID cards will be required to enter the building, add new air conditioning units, and furnish the place with televisions and computers and other amenities. Earlier this week, the county commission was interested in moving the Bunnell branch of the county's public library to Carver. That plan isn't yet developed, but may entail a vending-style distribution system for books and DVDs, again using electronic access cards.
The auction's participants reflected Carver's county-wide involvement. Politicians, agency heads, volunteers and others from across the county joined in with eclectic offerings, from attorney Dennis Bayer's offer to prepare estate planning documents to volunteer Mary Ann Clark's "hand-knitted yellow receiving blanket with counterpane," to six months' free storage at Eagles Nest Storage, which is managed by Flagler Beach City Commissioner Kim Carney.
The challenge for the Carver foundation board, created to maintain the gym's fund-raising year after year, is to repeat that success in the future.