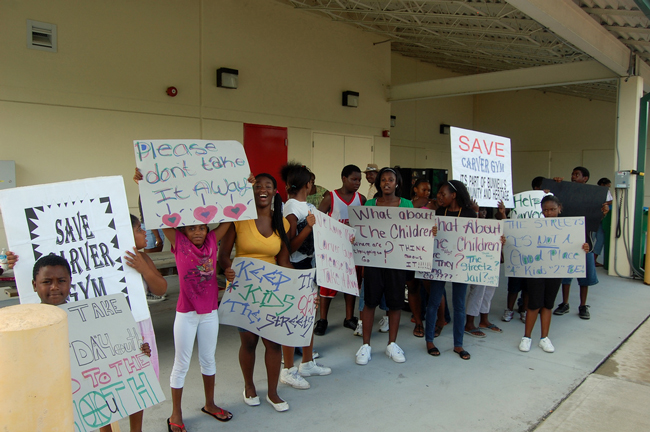 Want to bowl with Superintendent Jacob Oliva? Go on a bike patrol with Flagler County Sheriff Jim Manfre? Get a homemade pizza by County Commissioner Franmk Meeker, in his home? Get a three-month membership to Fitness One in Palm Coast? Tour London and Paris (though that one, like a trip to Costa Rica, will set you back a few dollars).
Start bidding.
The popular Carver Center Online Auction is back for the fourth year,  with some 67 items to bid on through the rest of the month as Bunnell's Carver Center foundation hopes to yet again raise at least $5,000. It has done so quite successfully in previous years.
The auction is the main fundraising event for the center. It is noted for the eclectic and imaginative nature of items up for bid, placed there by community members, local governments and, in several cases, elected officials, not all of whom are trying to win your vote this year. Several travel agencies are offering big trips, such as Winspire's Royal Caribbean Cruise (starting bid must be $2,970 for a $3,235 value), or a seven-night stay in  Maui for a starting bid of $5,920 (for a value of $10,249). For those interested in an exotic ride closer to home, the Flagler County Parks and Recreation department is offering a week's camping at Bull Creek Campground at the western edge of the county, where about 95 percent of Palm Coasters have yet to boldly go. And for the portion of those Palm Coasters who just can't stray from their religious routines, there's always a round of golf for four offered by Palm Coast's Palm Harbor Golf Course (which is having a hard time giving tee times away, though the bidding for this one starts at $120).
Also on offer are paintings, a swim with the dolphins at Marineland Dolphin Adventure, hot and cold yoga sessions, gift certificates to local eateries (Chicken Pantry, Outback, The always-delectable Thai Korner), an airplane tour of Flagler County, compliments of Property Appraiser Jay Gardner (parachute is extra), and should something go wrong along the way, there's the traditional "Personal Florida Will Package by Dennis Bayer," the Flagler Beach attorney.
            The bids are tabulated on line. Bidding opened on Monday and will close on Thursday, April 24, at 6 p.m. To bid and to keep tabs on the bidding process, go online here (http://flaglerschools.com/content/auction) and watch as bidders duel. 
"Not only does it raise funds for the Center, but it is also a lot of fun to bid on items and watch to see how your favorite item make it through the competitive process," Flagler County Commissioner Barbara Revels said. Revels serves on the George Washington Carver Center Foundation and was also instrumental in getting the Center on its financially sustainable path, after the county commission decreased some of its funding in 2011.
Because of operational cost and building upkeep, the Flagler County Commission considered closing the facility during intense meetings in 2010 but changed course in the face of resolute community reactions against closure.  Through a cooperative effort with the Flagler County School Board, Bunnell and Flagler County governments, the center is back and serves as a centerpiece of the community, particularly the perennially underserved black community of south Bunnell, where the Carver Center has the iconic presence of an institution. The center is run in conjunction with the Flagler County Youth Center, on the campus of Flagler Palm Coast High School. Both facilities are managed by Cheryl Massaro, the youth leader and Youth Center director. The George Washington Carver Foundation was formed to insure the financial future center.
The Flagler County Commission recently toured the facility in Bunnell to review recent the improvements. Those include insulation, painting, and expanded classroom space at the Center. Like the Youth Center, the Carver Center is a recreational facility but it also offers tutoring, after school study, internet access and also serves the community with GED classes, employment counseling and other services. Bunnell government recently secured grants to vastly improve the recreational grounds around the center.
The auction has prompted a culinary competition among members of the Flagler County Commission. Chairman George Hanns has once again entered his lasagna meal that will be delivered to your door. (He knows his beers, too, so don't let him get away without delivering you one of his favorite brews.) He is challenged by Commissioner Nate McLaughlin's lasagna meal that will also be delivered to the door of the highest bidder. Then of course there's Meeker's pizza. All three commissioners are vying for the title of the most money generated for the Carver Center by a commissioner and thereby confirming the title of best cook.
Thanks to the Supreme Court's recent ruling in McCutcheon vs. Federal Election Commission, bidders don't have to limit themselves to one item. They can spread the wealth and bid on every single one of the items if they so choose, with no limit on their bid.