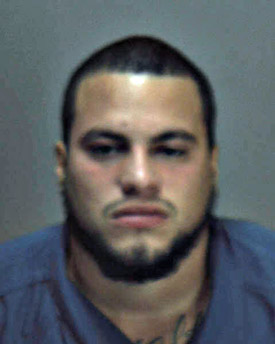 Carlos Torres felt he'd been disrespected.
Update: On Aug. 8, 2012, Carlos Torres was sentenced to 30 years in prison, with 25 years mandatory, meaning he is not eligible for early release.

On July 30 almost a year ago, the 21-year-old Interlachen man was riding around with Catherine Tarrance in her Ford Expedition (with chrome rims, as several witnesses will recall) when the pair stopped at the Fast Track at the intersection of Main Drive and North County Road 305. Torres ran into a man called Jonathan. They argued. They came to blows. Torres apparently lost. Another man, Thomas Douglas, who was a vague acquaintance of Torres, was also in the store. Somehow Torres got the impression that after the fight, Doulgas went around town ridiculing Torres because he'd lost the fight.
Had Torres let it drop, he would not have been convicted, on Friday, of two counts of attempted murder. But he didn't.
Two days after the fight at Fast Track, Torres, again riding with Tarrance and a third man, drove out to where Douglas was staying, at 417 Lenore Avenue. Douglas had fallen on hard times (as he'd later tell an investigator, on whose reports this account is based). He was staying with his girlfriend of four years, Renee Michelle Briggs, in a shed next to a trailer, where Briggs's mother, Connie Lee McCarter, lived with her son.
It was very late when the SUV pulled onto the property. When McCarter noticed the lights of the car, she stepped outside to investigate, and saw Torres and Douglas arguing. Torres was asking Douglas why he was "trying him." Douglas went into the shed and came back out, hearing Torres warn him: "Don't get something stupid" (according to the detective's report of the incident. Douglas had picked up a flower pot, but then thought otherwise. Torres then went to the SUV and retrieved a .380 caliber handgun and set chase, and very quickly, as he chased after Douglas, shot him at least once, then shot him again when he heard Douglas say something inaudible. But Douglas was not hit.
Tarrance, the SUV's owner, would later claim to an investigator that she'd seen nothing and heard nothing, that she'd remained in the car, listening to her stereo and fiddling with her phone, though the last shot Torres fired, he fired as he stood above the SUV.
That's the shot that landed.
Douglas, Briggs and McCarter were all in the same place on the property. Torres fired in their direction. The bullet hit Briggs above the stomach, seriously wounding her. Torres got into the SUV, and the car drove off, according to the witnesses at the scene, in no particular hurry. Briggs was taken to Shands hospital in Gainesville. She has since recovered.
Torres and Tarrance were located later that night in Interlachen, and Torres was arrested.
After a one-day trial that began on Friday in Putnam County Circuit Court, a jury took just one hour to deliberate and find Torres guilty of two counts of attempted second degree murder. He will be sentenced on Aug. 8. The maximum sentence he faces is life in prison.