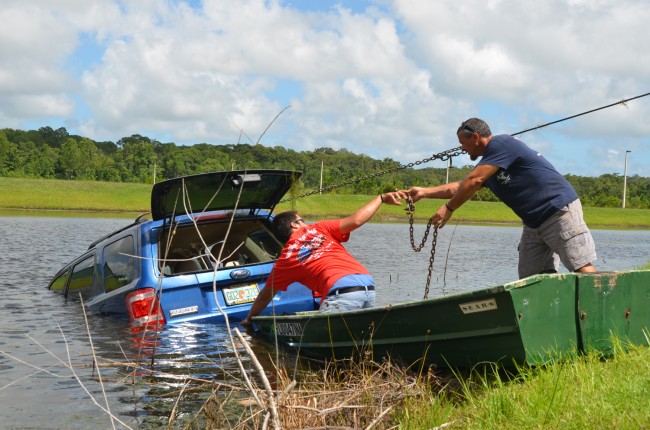 Last Updated: Sunday, 6 p.m.
[Note: Laundrie was moved to a regular room on Sunday.]
Aug. 10–Carl Laundrie woke up around 9 this morning, with family at his side, and has been conscious, conversant and able to eat, his son, Carl Laundrie III, said this afternoon.
Laundrie, 65, was in a harrowing wreck Friday afternoon when he drove his SUV into a pond near the county's Emergency Operations Center, and was completely submerged, until county employees, including firefighters training nearby, jumped in and pulled him out. (See the details in yesterday's story, below.)
"We'd like to tell the rescuers and the firefighters a very, very sincere thank you," Laundrie's son said on behalf of the family. "We are certainly in their debt big time. My dad is alive because of them."
The younger Luandrie, who is 35, is himself a firefighter-paramedic with Volusia County. Laundrie also has a 40-year-old daughter and a 34-year-old daughter, one of whom lives in Boston, where Laundrie's wife Wanda was visiting when she got the call about the accident. Wanda was able to be by her husband's side by 1 a.m. this morning. Carl and Wanda have six grandchildren, and will soon have a seventh.
Doctors have ruled out a stroke or a cardiac event, but have not yet determined the cause of issue that led to the accident, which Laundrie does remember.
"For the most part he hasn't really talked much about the accident but he remembers everything," his son said.
Laundrie is "in real good spirits," his son said, and has been making progress enough that he may be transferred out of the Intensive Care Unit and into a regular room soon, and may even be discharged by Monday. "It's a good possibility, as long as his progress continues the way it is now, it wouldn't surprise me at all," the younger Carl said.
Laundrie was visited by one of the firefighters who rescued him, and has received other visits, including that of Commissioner Barbara Revels and Joe Mayer, the director of facilities, though ICU visitations are severely limited.
Saturday afternoon, Craig Coffey, the county administrator, updated county commissioners of Laundrie's condition in a brief email, after he spoke with Wanda Laundrie.

Carl Laundrie, County's PIO, Critical After Diving His Car Into Pond Next to Flagler's EOC
Aug. 9–Carl Laundrie, the long-time public information officer for Flagler County government, was in critical condition Friday afternoon after he drove an SUV into the retention pond on the east side of Flagler County's Emergency Operations Center Friday afternoon.
A Florida Highway Patrol investigator said Laundrie was in critical but stable condition. He was later said to be improving.
The wreck took place at 1:23 p.m. as Laundrie, 65, was taking the curving road around the EOC, a road he's taken countless number of times on his way to his office at the Government Services Building. He was driving a blue, 2012 Ford Escape.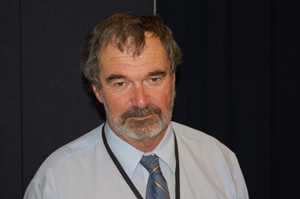 He was transported to Florida Hospital Flagler, where he remains, under sedation as of 3 p.m., as physicians attempt to determine what caused the wreck. Laundrie had brain surgery two years ago.
He was saved by an employee at the EOC and firefighters who happened to be training within sight of the pond.
The men who dove into the pond and saved Laundrie are Rolf Preuss, the 911 coordinator at EOC (an employee of Emergency Services under the county's aegis) and Flagler County Fire Rescue Lt. Andrew Keppler and firefighter Sean Walker, along with Rob Gavazzi, the county's HVAC technician.
The firefighters were at the docking station of the EOC, training on a new, 2013 fire truck that went into service only Sunday, when the wreck took place. They made sure, while they were under water, to feel their way through the SUV, certifying that there were no other individuals there.
The vehicle was entirely immersed when the rescuers went after Laundrie. Had the wreck taken place without witnesses present, it's unlikely that Laundrie or his vehicle would have been immediately discovered: barely a tiny segment of plastic from the rack on the roof of the vehicle was visible above the water, and would be easily missed by anyone not knowing what was beneath.
At one point Flagler County Sheriff's divers were getting prepared to dive in to fish out personal effects such as wallets and keys dropped there by the rescuing individuals, but for safety reasons the office eventually ruled against it.
Florida Highway Patrol investigators took over the scene, with assistance from the Bunnell Police Department and the Flagler County Sheriff's Office. Investigators were at the scene for almost two hours before a crew from Roger's Towing began fishing out the vehicle.
Flagler County Administrator Craig Coffey was off Thursday and Friday, and was shaken by the news even as he kept getting updates from the hospital, where Laundrie's son was.
"He's in our thoughts and prayers and we're thinking of Carl, and we're hoping for the best here. Carl is a tough guy," Coffey said. "He's definitely resilient, he came through his brain surgery just fine. It was definitely a shock today. We're just going to see."
Only a few days ago Laundrie was spending some time off in the Keys, enjoying lobster season and managing to catch some 20 lobsters, Coffey said. Laundrie is planning to retire in two or three years, but "he was going to hang with us for a few more years," Coffey said.
Laundrie has been Flagler County's communications director since early 2003, when he ended his career as a reporter for the Daytona Beach News-Journal and, for several years, as the Flagler editor of the Flagler News-Tribune.
One of his very last by-lined story for the paper ran on Oct. 25, 2003. It was about a wreck. But it involved a Cessna plane, two young pilots and a turkey buzzard.
"A training flight ended with a crash Wednesday morning in western Flagler County after an instructor and student pilot's single-engine plane collided with a turkey buzzard,' Laundrie wrote. "The pilot, Birendra Nayee, 21, of Daytona Beach and his instructor, Ron Freud, 22, of Daytona Beach Shores walked away from the crash with only cuts and bruises. Rescue crews found them about a mile from the crash site along State Road 11 east of Lake Disston."
Four days later, Laundrie wrote his farewell column. "After 25 years of reporting on Flagler County 's successes and its tragedies, both large and small, I am joining the county staff to help them write about this beautiful place in which we live," he wrote, crediting the late Josephine Davidson, wife of then-News-Journal publisher Tippen Davidson, for steering him in the right writerly direction.
"There are many more milestones ahead for this village," he wrote, referring to what he called the "village of Flagler County" that cared for him and his family as county and family grew together, "and I plan to be there and share in the triumphs and challenges of the future. I do not fear the coming years, for I know the people who live here. For the most part they are kind and friendly. In times of trouble they join together as a community."
He could at times see into the future.