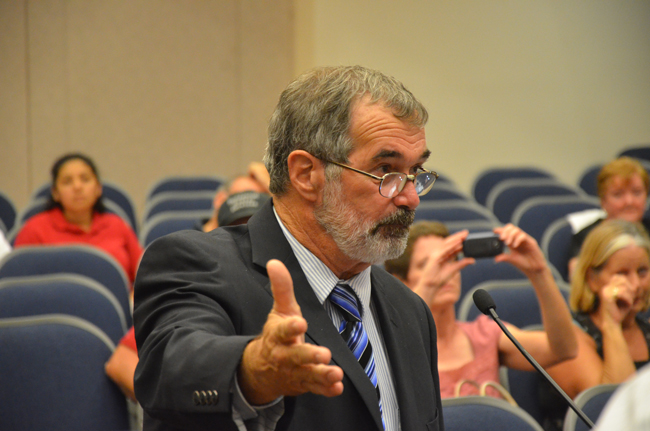 His rescue was as remarkable as his recovery: 10 days after Carl Laundrie blacked out at the wheel of his wife's SUV, driving it into a retention pond across the street from the Flagler County Emergency Operations Center, Carl Laundrie, the county's communications director for almost a decade, was back at work Monday. He was wielding his camera, taking pictures—as he usually does—of people the county commission was recognizing at its bi-monthly meeting.
Until it was Laundrie's turn to be recognized—or, more precisely, his rescuers' turn.
There they were: Nicholas Fey, Rob Gavazzi, Andrew Keppler, Rolf Preuss and Sean Walker, the firefighters or emergency operations and county employees who happened to be nearby when Laundrie's vehicle swerved off the road he'd taken countless time, and who dove into the pond to retrieve him—not knowing who he was at the time—before the car was entirely submerged.
And of course there was Laundrie, fighting back tears. "I had a prepared statement. I'd never make it through it," he said, his voice breaking. "These guys saved my life. Period."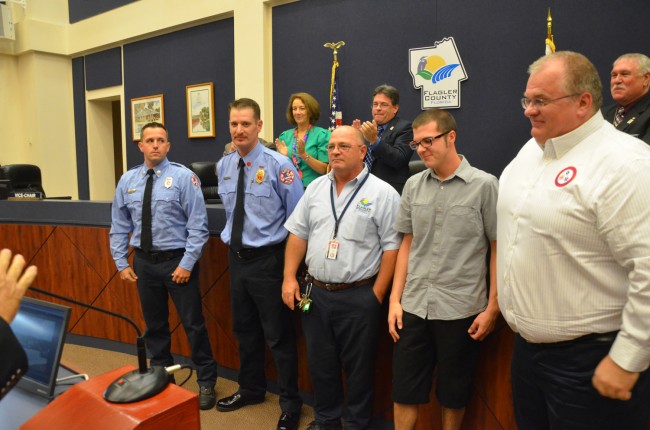 Firefighter-paramedics from every agency of course do this every day: they shear victims out of mangled vehicles, they keep their heart beating after what would seem like insurmountable odds, they drive them and fly them to trauma centers then get back to work, at times to perform similar life-saving operations during the same shift, and rarely hear from the people they saved. And they can be  uncomfortable when they're given awards for doing their job. But when when the same employer signs the checks of the person saved and that of the people doing the saving,  the intersection lends itself to the sort of recognition the county commission organized at the top of its meeting Monday evening.
Joe Mayer, the county's facilities director, and Laundrie, had the chance to honor the five men who dove into the pond a Life Saving Award in person. Before handing out the awards, Mayer showed a montage of surveillance cameras that picked up the incident on Aug. 9, including the part where Laundrie rolled through the stop sign most county employees roll through, in back of the EOC, just before he went into the retention pond. The silent footage shows the men who rushed to the scene—Fey, who'd been driving by, followed by Rob Gavazzi and Rolf Preuss from EOC, then Walker and Kepler, firefighters who'd been training nearby on a new engine.
"Together, they got Carl out, got him to the hospital safely, and he's back with us tonight," Mayer said. "I got the call about 1:15, actually the lady from the engineering department came over to my office and said, 'Joe, they're really doing some realistic training over there in the EOC,' and I said what are you talking about? And she says, 'There's a car in the retention pond and there's people in there rescuing.' I said this is not a drill." At that point Mayer did not know his colleague had been the victim. The rescue had already been carried out by the time he got there, and the salvaging operation of the car was under way.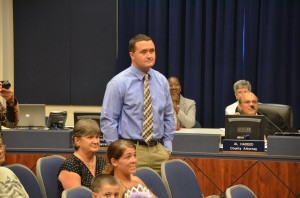 The prognosis when Laundrie left the scene in an ambulance, on his way to Florida Hospital Flagler, was not good. It was the sort of prognosis that requires the summoning of Florida Highway Patrol homicide investigators to the scene, because, to put it simply, Laundrie's death was expected more than not. Laundrie, a 65-year-old Navy veteran whose genes produced,. Among other children, a paramedic and firefighter of his own (Carl Laundry III, who works for Volusia County Fire Rescue), would have none of it.
He'd survived brain surgery three years ago. He survives county commission meetings sometimes more than twice a month, and those can be as lethal as train wrecks. He would survive this disturbing accident, of which he remembers nothing after getting his usual lunch at a sandwich shop nearby and taking the route he always took.
Some 48 hours after the wreck, doctors hadn't quite figured out what had happened so much as what had not, but Laundrie was awake, he was conversing, wit, beard and memory intact (but for those couple of minutes in what he would call "the drink.")
"What you may not realize is that they didn't know who I was. I was driving my wife's car, I was going to take it to go grocery shopping, so they weren't coming to rescue Carl from Admin who somehow drove into a pond. I could have been somebody with his left turn light blinker on since Belle Terre who thought he was parking at the tax collector's office, because I had the blue Escape, which I don't normally drive to work, so nobody recognized it. Flagler County has crack water rescue teams, and these guys are good. They're my team."
Only a few weeks ago Laundrie, as part of his assignments, was photographing those very teams training with Flagler County Fire Flight over the Intracoastal Waterway.
Laundrie  noted Preuss's work in emergency operations, Fey, who was a bystander (and who lost his wallet in the drink), Gavazzi, an air conditioning technician, and the firefighters. "And I have five doctors at Florida Hospital Flagler who say without a doubt, you guys saved my life."
Laundrie handed out the awards personally as his son—who'd been at Laundrie's bedside through the more harrowing portion of the first 48 hours—watched from a couple of rows back with his family.
Gavazzi recounted how he'd seen Fey try to break the window of the sinking car when he decided to try to open a back door, which he said should have been locked. Somehow, it opened. "It was an angel that opened that door," Gavazzi said. "There are angels around us every day. God bless you."
County Commissioner Frank Meeker suggested renaming the pond "Carl's Cove."
"We're glad to have you back," said Commissioner George Hanns, who's seen more county employees come and go as the longest-serving elected official in Flagler. "Your wife will never let you use her car again, we know that. But I will say now here's a guy who served his country on two tours to Vietnam, came home safe, and raised a family and does an outstanding job for first the News-Journal, News-Tribune, and Flagler County for the last nine years or so. And I'm really pleased with the staff, within minutes staff was on the line with all the commissioners, we were all aware of it. I personally am not a real emotional person, but I said a prayer for you right away, and I'm very proud of that, but it scared us all. There's no doubt about it. But for the third time now, come back from a war zone, welcome home. You did a good job, and no more stints. I know we all like a little attention from time to time, but it's remarkable that you're here with us today, and I'm sure it was meant to be."