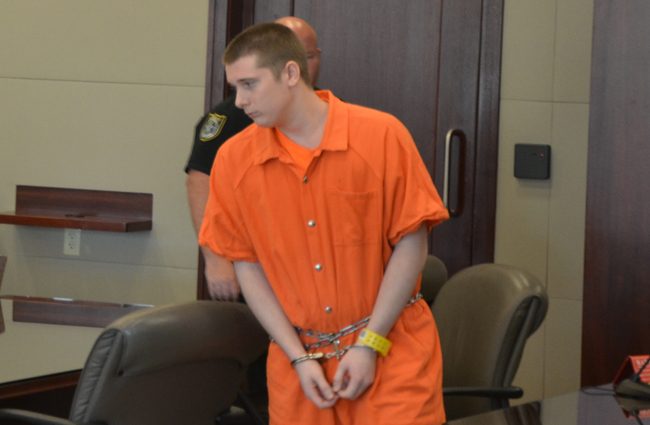 Carl Devore didn't kill a man. But he was sentenced to 17 years in prison this morning for killing his friend and accomplice, Victor Betty, during a home invasion burglary on Palm Coast's Frank Place in July 2013, even though someone else fired the bullet that killed Betty.
The bullets were fired by Darien Corbett, 21 at the time. Corbett was a resident at the house, and was defending his wife and himself from the assailants. Because of the circumstances of the attack, Devore was charged with the Betty's death and faced a second-degree murder charge as well as an armed burglary charge. He could have faced life in prison.
In a plea agreement, the murder charge was lessened to manslaughter with a weapon, a first-degree felony, punishable for up to 30 years in prison, and the armed burglary charge was dropped.
The legal concept of charging an assailant with a killing that someone else carried out in self-defense isn't simple: even Circuit Judge Dennis Craig, who accepted Devore's plea this morning, acknowledged the difficulties and asked a few questions about it. So it wouldn't be surprising if Devore, who sat and stood through today's sentencing hearing often with an uncomprehending, anxious look on his face, his left leg often nervously, reflexively twitching up and down, had little idea to this day why he was getting punished for a killing he did not commit, during a home invasion he had, at the last minute, sought to abort.
Devore, 21, is not a smart man. He is "just above the cutoff for intellectual disabilities," in the words of Steven Bloomfield, a psychologist the defense brought in as an expert witness. In another setting, Bloomfield said, Devore "couldn't be considered for the death penalty, for example, because of his IQ," which is in the 70s. Devore himself, an 11th-grade drop-out, told Craig that he'd started having trouble with his studies in middle school. "In high school it went completely downhill, I wasn't getting the help I was supposed to be getting," he said.
Sentencing hearings often stretch over hours as the defense brings in witnesses—family, friends, pastors—to speak on behalf of the accused in efforts to lessen the sentence about to be imposed. This hearing was different. It stretched because of Craig's concern about Devore's competence, which became quickly apparent when Craig questioned him directly.
At one point, Devore said he didn't know what the Constitution is. Craig gave him a brief civics lesson on the Bill of Rights, sounding like a father speaking with his middle school child. At times, Sharon Feliciano, Devore's attorney, stopped the judge to rephrase what he'd said in even simpler language, with hand gestures to illustrate lengths of time and sentence severity.
"What does contest mean?" Devore asked the judge, when Craig was explaining what rights of appeal Devore was giving up.
"Contest means fight it," the judge said.
Moments later, Devore showed no confusion whatever when asked what his plea agreement meant, saying out loud and sharply, as if he were the judge, that his sentence would mean "10 to 25 years."
"You cut right to the chase," the judge told him. But that was the only time in the colloquy when Devore showed any sign of immediate, unhesitant understanding.
As the exchange continued, Devore got nervous, the way a student put on the spot gets nervous, when the judge asked him to explain what the prosecution's role was. He couldn't answer. He didn't seem to understand why the judge was asking him the question. (Bloomfield, the psychologist, would later explain: "He gets very nervous in anything where he feels he's being tested.")
Craig explained: he wanted to be sure that Devore was competent enough to understand the process. What Craig didn't tell him was that he was essentially checking off and re-checking off every possible avenue for an appeal based either on insufficient counsel or a claim by Devore that he was insufficiently aware of the sort of plea he was tendering. The lengthy exchange with the judge sounded at times almost callous, if maybe unwittingly so, not only by exposing Devore's lack of education or awareness of basic legal concepts, but by implicitly making him reassert his guilt through different answers, whether the judge was asking him about "the presumption of innocence" or what roles the lawyers in the courtroom filled.
Craig asked Devore about the prosecutor.
"He's the one that gives me the charges," Devore said. His high-pitched voice sounded more boyish than mature.
"OK. Whose side of things is he on?"
"State's side."
"Is he on your side?"
"No."
The psychologist would later detail his four encounters with Devore, his suicide attempts, his weak personality—that of a follower, susceptible to the influence of others in attempts to feel accepted—his poor grasp of things but not his stupidity: what takes others a few moments to understand, he needs a lot more time to process. But he eventually understands. "This is an odd thing for me to say," the psychologist said. "If he feels bad enough to commit suicide he feels good enough to chance, so it's not as if he's devoid of emotion. He's remorseful."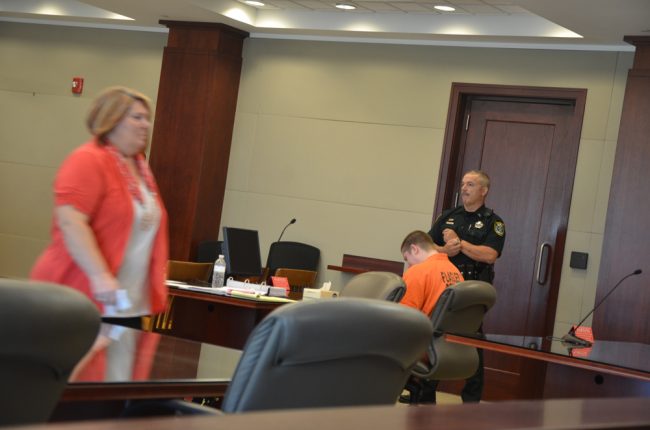 What invariably surfaces in court in the lives of men and women about to be sentenced, and what surfaced in Devore's case—growing up without a father, not getting the help he needed in school, a severe brain injury at one point, his wanting intelligence—was designed to elicit sympathy, or at least lessen the severity of his sentence. At one point the psychologist told the judge he hoped that in prison there'd be awareness about Devore's lower intelligence from the Department of Corrections, to protect him from more predatory inmates.
But there was no question about what had led Devore to this day, either: the home invasion that morning in the F Section, an indisputably violent, terrifying shock to the five residents of the house.
It happened at 2 a.m. the morning of July 13, 2016, at 3A Frank Place in Palm Coast. Based on the Flagler County Sheriff's Office's investigation, Betty entered the house through the front door, armed and his face veiled, followed by Devore, who was similarly armed and veiled. There were six occupants in the house—Jimmie Hoffman, 19 at the time, Jonathan Weida, 20, Kathryn Bray, 18, Koda Crawford, 20, and Darien Corbett, 21. There was also a child, less than 2 years old, in the house.
Betty ordered Bray and Wieda to the ground and yelled, "where's the money?" The two assailants then attempted to confront Corbett in a back bedroom. Corbett was trying to keep the bedroom door shut against them, to protect his wife, and yelling to her to get his gun, which she did: he loaded it, then immediately confronted the two assailants, fired, and killed Betty. Devore fled.
Ten hours later, Devore turned himself in. In his confession, he told detectives that the heist was intended to find marijuana, and that he'd had cold feet at the last minute, at the very door of the house, but Betty told him: "too late."
Bray alone testified today, for the prosecution.
She had been in the kitchen, cooking. She'd just finished washing her hands when the two assailants "burst" through the door. She immediately put her hands up, she couldn't scream, couldn't make a noise, backed all the way up to the wall and got on the ground. She described one of the assailants putting a gun to her fiance's head, described how she had to hide the moment she saw Corbett come out with a gun and knew that there'd be gunfire, how a man fell, another ran out.
Marc Johnson, the prosecutor, asked her how she'd felt at the time. "Terrified. I've never been scared for my life before. That's about all I can say," she said, describing her numbness and shock for days afterward, "because I couldn't believe it had happened." She's not been well since, suffering anxiety and night panics, dreams in which her housemates at the time, who were like family, getting killed, or herself getting killed. Asked if she's sought therapy, she said she couldn't afford it.
Almost two hours into the hearing, after a break—when Devore sat as he'd sat throughout, at the defense table, his head down, his left leg twitching, a dozen members of his family or friends in the courtroom behind him (defendants are usually not allowed to look back), Feliciano called the first witness for the defense.
She called Krista Vergara, Devore's older sister by two years. "Growing up we didn't have a real childhood, but we got through it," she said, describing Devore as "my little big brother." She was planning for her wedding at the time of the killing. He had not been in trouble before. 'Growing up he had my back and I had his back," she said. But the most startling moment of her brief testimony was when she said she was not aware of how extensive the psychological issues with her brother had been until this morning. She broke down when Feliciano asked her what she wished to tell the judge about her brother's sentence. "I wish he didn't have to go," she said.
Robert Murray, who is engaged to Devore's mother and has known him three years, also spoke, before Devore's mother, Lori Devore, was called: that was when Carl himself broke down, lowering his head even further and clenching his jaw to keep from sobbing.
"You don't want to admit all the problems they have," his mother said. "Carl is my boy. He has been my rock. He has fought battles for me that no child should have to fight."
"The hardest part for me personally is I got that phone call at work saying, mom, something bad happened, I need to talk to you," she continued, describing the day of the killing, before she drove her son to the sheriff's office. He was crying on the phone, asking her to come home from her job at a doctor's office. He explained to her what happened, told her he didn't want to be there (at the scene of the home invasion). "As a mom, I thought we were doing the right thing by taking him to the police station," she said. She had been shocked by a commander repeatedly telling her that detectives were only talking to her son and that he'd be going home with her, only to then be told that he was being charged and jailed. (The judge explained to her later that the strategy is not unusual or improper.)
"For somebody who's never in their life has been in trouble. I have a hard time with this," she said, "a hard time accepting what the state is asking us to accept." She asked the judge: "Have mercy on my son."
Devore had wanted to speak initially, but he told the judge that he was too nervous to do so. He continued crying and did not look up as his mother walked by him, the closest she had been to him in over a year.
"We don't take any great joy for being in the situation we're in," Johnson, the prosecutor, then told the judge. "This is an extremely tragic situation on many, many levels," he said, reminding the judge of the night of the attack, when young people, including a very young child, were in their house, minding their own lives, when they were intruded upon. Johnson said that in the end, Devore "made a choice," even though there's no dispute about his mental abilities, or his never having been in trouble before. "The fact of the matter is that he made a decision to do what he did that night, and there must be consequences to that," Johnson said.
Johnson said the 10 to 25 year range was fair, and would be fair whether it was 10 years or 25.
Feliciano asked the judge to take into account the psychologist's testimony and Devore's personality as mitigating factors, as well as his lack of criminal history. He was hanging out with "social misfits," she said, asking the judge to impose a 10-year sentence, not more.
441 days.
"I agree with counsel on both sides that this is a tragic event, tragic on many levels," Craig said, citing Devore's decision, his family, "everybody that was in the house," and the perpetrator killed during the episode. "Everyone in the house that had to suffer through the crime is going to have to live with that as well," Craig said, including Corbett, who had to "pull the trigger" to defend people in the house. Still, he said, an armed home invasion "is one of the most violent types of offenses that can occur," and among the most "impactful" on victims. Punishment, he said, "should be commensurate with the act that was involved." The death was "foreseeable," not an accident, he said.
"However, that is tempered by the evidence that I heard for mitigation on behalf of Mr. Devore," Craig said. But 10 years would be "inappropriate."
"So the court is going to go ahead and sentence Mr. Devore, we're going to sentence you to 17 years in the Department of Corrections, with credit for 441 days."
In effect, Devore can be released in a little over 12 years, given his 15 months of jail time so far, and the fact that he can get out, with good behavior, after serving 80 percent of his sentence. The judge did not mention probation: it was a considerably more forgiving sentence than Devore or his family may have sensed in the shock of the moment, as Craig in effect imposed as close to an actual 10-year sentence as he could, once credit and other factors are taken into account, without quite going that low.