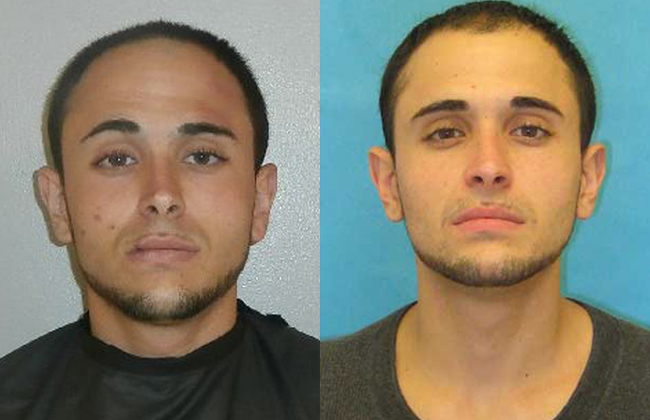 Giuseppe Verdone Jr. has a history of disturbingly creative crimes. Four years ago he was arrested and charged with setting off a "bottle bomb" at a bus stop at Bird of Paradise Drive and Biscayne Drive in the northern part of Palm Coast. He'd mixed toilet boil cleaner and aluminum foil in the bottle. By then he'd already been arrested–as an adult, anyway–for burglary only months before. He'd been expelled from school. He was also arrested four times as a juvenile.
Two years ago he was arrested for aggravated assault with a concealed weapon and violating his probation. He was sentenced to 21 months in state prison, ended up serving 10 and was released in October 2012. Less than a year later, he was arrested again on forgery charges. But none of his acts rival in violence and audacity the acts he's now accused of: luring a Chinese-food delivery man to a fake address, assaulting him, kidnapping him, and throwing him from a vehicle on Palm Coast Parkway Saturday night (Nov. 2).
And that was just the beginning of what would be a spree of alleged crimes across three states until Verdone and an underage girl, possibly his girlfriend, were finally arrested.
Verdone, now 22, of 64 Bannerwood Lane in Palm Coast, is accused with the girl of attacking Ming Gong, 43, when Gong attempted to make a delivery of Chinese food to 78 Bayside Drive in Palm Coast–a vacant home.
Detectives, according to a Flagler County Sheriff's Office release, said Verdone and his companion called King's Palace, which Gong owns, and placed a delivery order, directing Gong to the vacant home. When he got there, detectives said Verdone assaulted Gong, impersonated a police officer, handcuffed Gong and placed him in the back seat of his (that is, Gong's) vehicle.
The assailants then pushed Gong from the moving vehicle on Palm Coast Parkway Westbound, near the Palm Coast Community Center. Gong suffered serious head injuries and had to be airlifted to the trauma unit at Shands Hospital in Jacksonville, where he underwent surgery and is listed in serious condition.
Verdone and his companion headed north and are believed to have committed an armed robbery in St. Johns County later in the evening. Gong's stolen vehicle and the two suspects were located early this morning in Liberty County, Ga., where a chase ensued. The stolen vehicle was stopped in Hardeeville, S.C., where the two suspects were arrested and are being held in the Jasper County Detention Center in Ridgeland, S.C.
Verdone and his accomplice are facing possible charges of kidnapping, aggravated battery, robbery and grand theft. The incident is still under active investigation and no formal charges have been filed locally at this time, but will be when the investigation is completed. The two also face charges in South Carolina, Georgia and St. Johns County. Verdone's booking information in South Carolina does not include charges.
"The deputies who responded to the scene on Palm Coast Parkway worked with detectives to quickly identify a suspect," Flagler County Sheriff Jim Manfre said. "Initially, they had to overcome a language barrier with the victim, but they worked through that challenge to put out a timely bulletin for the stolen vehicle. It was good, fast police work and I congratulate them."