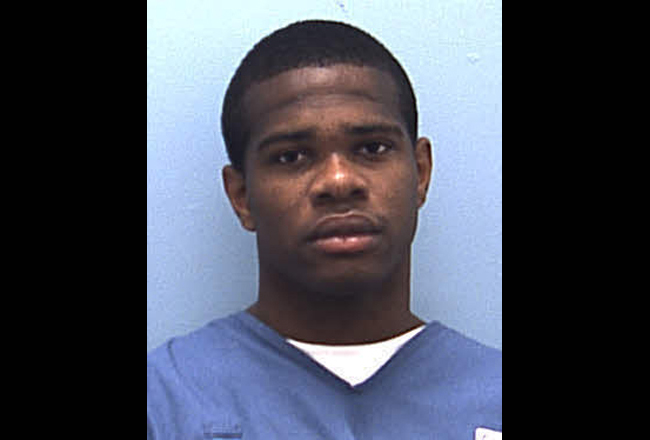 Dyson Graham, who will be turning 25 on Friday, was released from state prison 11 months ago after serving three years on a conviction for carrying a concealed weapon as a convicted felon. Sunday morning, Graham and a 16-year-old girl missing from Hillsborough County were arrested in Flagler County following a carjacking in Orange County and a car crash in Palm Coast.
Around 9 p.m. on Wednesday, a man and a woman were carjacked at gunpoint at the Florida mall, and forced briefly to ride and drive the car, a 2009 black Toyota Corolla, before being forced out of the car in the parking lot. The carjacker also fired a gun during the incident–he is believed to have fired the shot into the ground, either accidentally or to scare the couple–the Orange County Sheriff's Office reported, but no one was hurt. The incident took place at Orange Blossom Trail and Sand Lake Road.
No surveillance video was available in that area of the Florida Mall, but authorities released a sketch of the carjacker.
Sunday, the black Corolla was spotted in St. Johns County, and fled south on I-95, hitting speeds of up to 100 miles per hour.
According to a Flagler Sheriff's release, Flagler deputies were contacted by the St. Johns County Sheriff's Office and told that their
deputies were in pursuit of the Toyota on I-95. The car entered Flagler County just before 4 a.m. and exited at Palm Coast Parkway where Flagler deputies had set-up stop-sticks. As the car exited the interstate, the driver was able to avoid hitting the stop-sticks and then continued across Palm Coast Parkway in an apparent attempt by the driver to get back on the interstate. The driver lost control of the car and struck three palm trees before coming to a halt along the southbound entrance ramp.
Following the crash, the driver fled, leaving the 16-year-old girl inside. He then ran into a wooded area adjacent to Cypress Edge Drive. Deputies conducted a ground search for the driver–Graham–who was located. Graham was bitten by a K-9 as he hid under a trash dumpster outside of the Golden Corral on Cypress Edge Drive. Graham was treated at the scene for several bite wounds.
Graham, of 3306 Green St. in Jacksonville, is charged with possession of stolen property, possession of a firearm by a convicted felon, carrying a concealed firearm and resisting arrest without violence. The St. Johns County Sheriff's Office and the Orange County Sheriff's Office may file additional charges.
The 16-year-old girl's name is being withheld. She remained in the car. She was taken into custody, where deputies learned of her having been reported missing. She will be charged with possession of stolen property. Following questioning, by investigators from Flagler and the Orange County Sheriff's Office, both will be booked at the Flagler County Detention Facility.