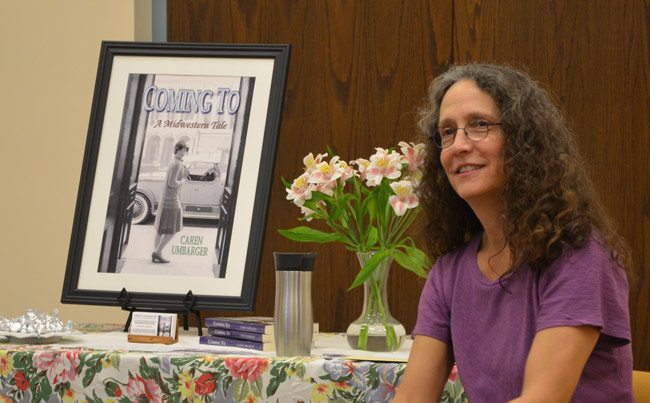 Caren Umbarger will be at the BeachHouse Beanery in Flagler Beach Saturday, July 28 from 1 to 3 p.m. to talk about her debut novel, Coming To: A Midwestern Tale, winner of a bronze medal for fiction in the 2011 Florida Book Awards. Umbarger will also read from the first chapter and sign copies of the book.
In spring, Umbarger was honored for Coming To during a luncheon at the Governor's mansion in Tallahassee, and was a guest speaker at the Florida Library Association Conference in Orlando. She will appear at the Florida Heritage Book Festival on Sept 15 at Flagler College's Ringhaver Student Center in St. Augustine.
In Coming To, Umbarger reveals an original voice and a powerful message about gender equality. Set on the eve of the Great Depression in Mason City, Iowa, the story chronicles the burgeoning self-awareness of Lillian Scharf, who steps outside the bounds of a traditional Jewish marriage and is confronted with cataclysmic consequences. "I wanted to write a story that not only women could relate to, but also anyone who has struggled out of oppression to make a better life for themselves," Umbarger says.
Umbarger is the artistic director of the Flagler Youth Orchestra, the free, after-school strings program serving some 300 students in grades 3-12. The orchestra begins its eighth season this fall, its third under Umbarger's leadership. She is also an accomplished violinist, and performs throughout northeast Florida with her husband as the Island Duet. The pair is scheduled to play at the Beanery Friday, September 21 and Friday, October 21.