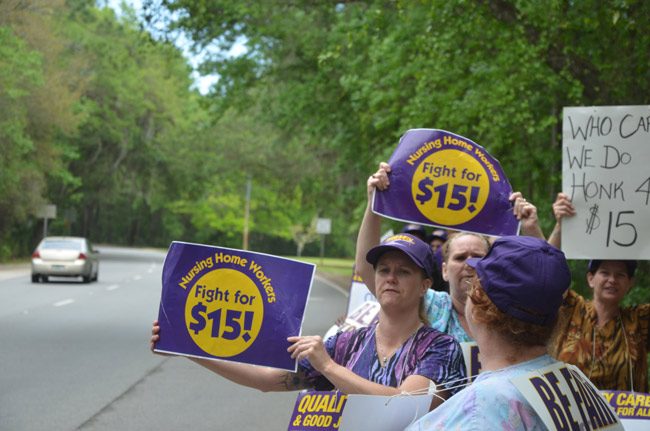 CareerSource Flagler Volusia, the federally funded job-training and placement agency that plays a key role as a hedge against unemployment, is itself going to lose 10 positions, or 10 percent of its workforce, because of a $1 million budget cut. The agency's current budget is $8.5 million.
The cut was expected, as it follows a pattern: when unemployment is low, workforce development agencies' budgets shrink. When the economy is in recession, those budgets increase. So the agency left five positions unfilled this year, and will cut five more come July 1, the agency's Lou Paris said this afternoon.
In a sense, the agency is a victim of its success. Unemployment in April in Flagler hit a post-recession low of 4.5 percent, with just 2,000 people out of work locally. It was 4.2 percent in Volusia. That compares with 5,000 unemployed in April 2010 in Flagler, when the local unemployment rate was above 15 percent.
"The way the government looks at this, during economic booms we have less people coming through the doors, so we have less people" working at the agency, Paris said. Still, that doesn't mean that low unemployment invariably means less need: "From our perspective, people still coming through the door require a lot more attention. People who have significant barriers to employment require more in depth work, one on one."
The low unemployment numbers mask another problem: the significant under­-employment problem in the region—people who are either working part-time because they cannot find full-time work, or people who have lost well-paying jobs, and are now finding themselves working for considerably smaller wages.
Gov. Rick Scott has taken a lot of credit for job-creation in the state, but Florida's economy, including Flagler's, rests heavily on low-paying service jobs. Those tourism-related jobs the governor is touting generally pay little, for example, as they are concentrated in the hospitality and restaurant industries.
Something else that usually happens in boom times hasn't happened this time. "From the business side, as the economy is booming and we reach a very low unemployment level," Paris said, "what typically happens is there's a higher competition for individuals, and that typically raises wages. We haven't seen that."
The federal government keeps track of the under-employed and reports the tally in what it calls its alternative measure of labor utilization, which counts those who are unemployed but also those who work part-time involuntarily—because they can't find full-time work. Florida's rate in the first quarter of 2017, at 10.3 percent, was double its official unemployment rate, and well above the national average of 9.5 percent.
So the agency's biggest challenge has been the under-employment of thousands of individuals locally, with "very low" average wage. Just being recorded as having a job is not enough. "We have people who are struggling to make ends meet," Paris said. Another challenge: once those struggling to work find something that at least enables them to survive, they fall off the workforce development radar. So even though they could still seek services from an agency like CareerSource, and perhaps improve their chances at a better job, they either have no time to do so or don't think to do so.
"We get to some, but we know we have quite a few that we cannot get to," Paris said. "Losing this funding puts us in a more tight position to be able to serve these individuals."
The agency's mandate is to provide a capable workforce for the local business community, finding out what those needs are and making sure "they have the qualified individuals in the pipeline," Paris said. That involves re-training the unemployed, sending them to school, lining them up with scholarships and, when they get to work, subsidizing their training costs. The agency ends up shouldering the equivalent of half a new employee's first-month labor costs.
Ironically, the people about to be laid off from CareerSource will themselves be seeking the agency's help. "Luckily," Paris said, "because the economy is good our hope is every single person from these five that are leaving the company, that they'll be in a good position to find something."
Paris is among them, though he's already got his next job lined up: he will be leaving CareerSource in mid-to-late summer to start an entrepreneurial program at Stetson University.
Colleagues who have worked at the agency for more than two decades report that they have seen "nothing of this magnitude" before, Paris says, referring to the size of the job cuts. But at the same time, none had gone through a recession as deep as that of 2008, which infused the agency with a much larger budget, proportionately, than had previous recessions. "So the discrepancy feels larger."
As for how workforce development may be handled by the Trump administration, the jury appears to still be out on that one. "Their stance on workforce development has not quite come together yet," Paris said. "From what we hear there's a strong preference for us to develop on job creation more so than social service."
In fact, CareerSource may yet see further, steeper cuts, based on the budget President Trump just sent Congress: he is proposing reducing federal job-training programs a staggering 40 percent, from the current $2.7 billion to $1.6 billion. For example, CareerSource Volusia Flagler's budget benefits heavily from the Workforce Innovation and Opportunity Act, which helps states and local communities train adults and dislocated workers, or those who have just been laid off, or those who've exhausted their unemployment benefits. That's what the Trump Administration is proposing cutting by $1.1 billion, according to an analysis by the Center for Budget and Policy Priorities.
"The Administration has called for these deep cuts despite Congress' passage in 2014 of bipartisan legislation to update these job training programs, including placing a greater emphasis on training for in-demand occupations, encouraging replication of program models with evidence of effectiveness, and encouraging work-based learning models that allow workers to earn while they are learning," the center writes in its analysis. The workforce innovation act "also strengthened performance measurement so that workers have the information they need to choose the most effective job training programs."
Inexplicably, the cut affects tens of thousands of the very people Trump promised to help—workers dislocated by changing economic trends.