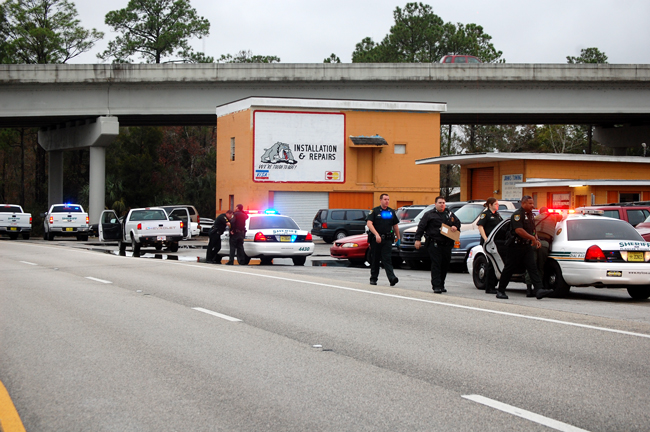 The scene right outside of John's Towing on U.S. Route 1 in Bunnell had passers-by and local businesses wondering what could have provoked at least eight cop cars to swarm on a white Chevrolet pickup late Monday afternoon.
The pick-up was pulled over, cops drew their weapons, and eventually a man and a woman–an older teenager–were pulled out of the pick-up, handcuffed, and placed in two separate cruisers, where they stayed–as did the swarm of cars and cops–for more than an hour. The two suspects were repeatedly questioned. The pick-up truck was examined several times.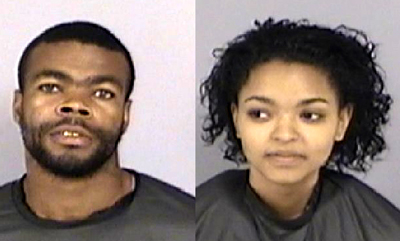 The male suspect is Jason Bernard Neal, 28, of Hardy Street in Bunnell. He is charged with grand theft auto and purse-snatching. He's being held on $10,000 bond. He's been jailed about a dozen times going back to 2007 on such charges as battery, robbery, violating his probation, theft, driving on a suspended or revoked license, cocaine and marijuana possession, sale of cocaine, leaving the scene of an accident with property damage, failure to appear in court, making a false report of a crime to law enforcement, trespassing, and using a car tag not assigned to him.
The woman is Kedra Rose Allen, 18, of Westover Lane in Palm Coast. She is charged with grand theft, purse snatching and two counts of failure to appear. She is being held on $10,000 bond.
Sherri Ghirelli, owner of Sherri's Style, the hair studio a few steps north of John's Towing, was outside, watching the scene unfold until weapons appeared. "When they drew their guns, that's when we ran in," Ghirelli said.
In a separate booking, Major Harris of Winchester Street in Daytona Beach, was booked into the Flagler County Jail Monday with a series of felony charges dating back to a November incident: Possession of a firearm, ammunition or electric devices by a convicted felon, false imprisonment, aggravated battery with great bodily hard, felony battery, and aggravated assault with a deadly weapon. But one charge, kidnapping, was ascribed a Jan. 17 date. Harris's booking is not tied to the incident on U.S. 1.
---
Lt. Bob Weber of the Sheriff's Office Sums Up the Case (Courtesy of WNZF)[media id=143 width=250 height=100]