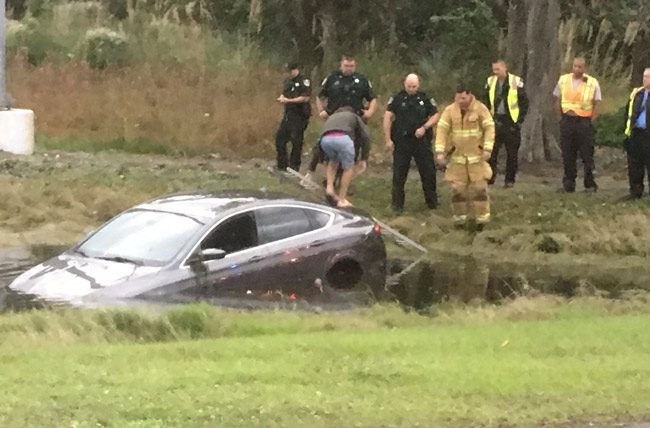 A car veered off the road and into a pond at the intersection of I-95 and State Road 100 just before 5 p.m. today. No one was hurt.
The car was occupied only by a driver, who managed to crawl out to dry ground quickly after the crash, which left the vehicle, a Chrysler, half-submerged and tilting forward.
The crash took place at 4:54 as the driver, whose identity has not been released, was taking the on-ramp off State Road 100 to go south on I-95. The cause of the crash is not known.
The Sheriff's Office, Flagler County Fire Rescue, the Palm Coast Fire Department and the Palm Coast Fire Police all responded, but there was no road blockage, and the scene was expected to clear relatively quickly. Saxon's Towing of Bunnell was dispatched to fish the vehicle out of the water.
Saxon's was involved in fishing a vehicle out of the pond at almost the same location, off the southbound off-ramp, nearly three years ago, though in that case the car was almost fully submerged and deputies and paramedics had to dive in to rescue a man from drowning in his car. The man recovered fully.