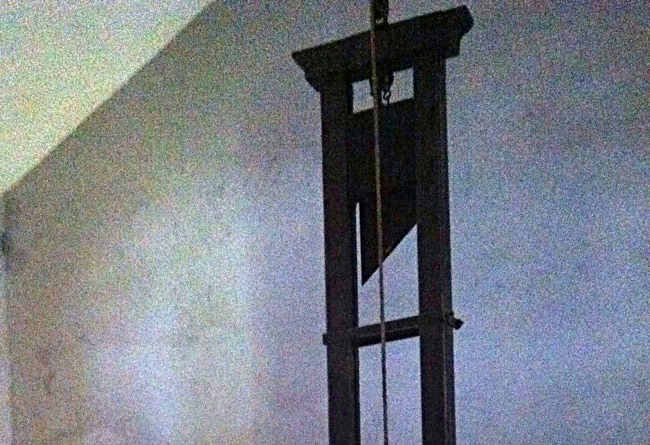 With more than 400 people on Florida's Death Row, a House subcommittee Tuesday approved a proposed constitutional amendment that is part of a plan to try to reduce delays in carrying out the death penalty.
The proposed constitutional amendment would shift power from the courts system to lawmakers to set rules about what are known as "post-conviction" appeals in death-penalty cases. The House Criminal Justice Subcommittee also approved an accompanying bill that spelled out several steps for trying to speed up the process.
Subcommittee Chairman Matt Gaetz, a Fort Walton Beach Republican who is sponsoring the measures, said he hopes the plan will spur changes that will prevent the need for going to the ballot in 2014 with the proposed constitutional amendment. He said, in part, he is trying to end "gamesmanship" that has contributed to lengthy appeals.
"If there is no other way, this Legislature has to act and has to step forward," Gaetz said.
But some lawmakers, the Florida Bar and a central Florida judge raised concerns about trying to take authority away from the courts. Rep. Mike Clelland, D-Lake Mary, said he couldn't support what he described as an "encroachment."
"What I want to do is avoid a constitutional battle across the street … and I fear that that's where it's going to end up, and I just can't support that in good conscience," Clelland said, referring to the Florida Supreme Court, which is across the street from the Capitol.
The subcommittee voted 8-5 to approve the proposed constitutional amendment (PCB CRJS 13-04) and 9-4 to approve the accompanying bill (PCB CRJS 13-05).
The state constitution gives the Supreme Court the power to set rules for how the legal system works, limiting the ability of the Legislature to force changes. In 2000, the Legislature approved a law to try to shorten death-penalty appeals, but the Supreme Court found that the law was an unconstitutional encroachment on its powers.
As of Sunday, the state had 404 Death Row inmates, more than any other state except California, according to a House staff analysis. Inmates spend an average of 13 years on Florida's Death Row, and 10 have been there for more than 35 years. Last Friday, Gov. Rick Scott signed the sixth death warrant of his tenure, that one for Larry Eugene Mann, who murdered 10-year-old Elisa Nelson as she rode her bike to school in Palm Harbor on Nov. 4, 1980. Mann will die by lethal injection at 6 p.m. April 10 at Florida State Prison, near Starke, after 32 years on death row.
Gaetz said the bill accompanying the proposed constitutional amendment includes a series of changes that would try to shorten timeframes in death-penalty appeals. Many of those changes are procedural — such as shortening the amount of time in which motions can be filed and hearings held — but others would take steps to rein in such issues as allegations that post-conviction attorneys have conflicts of interest. Those allegations can delay cases.
But Belvin Perry, the chief judge in the 9th Judicial Circuit in Orange and Osceola counties, said the delays in carrying out the death penalty are broader than procedural issues. He said 94 Death Row inmates have exhausted their appeals but have not faced execution, an issue that he attributed, at least in part, to a need for more resources in the governor's office, the attorney general's office, the court system and in the offices of attorneys who handle inmates' appeals.
Perry, who said he sentenced three of the 94 Death Row inmates who have exhausted their appeals, also warned that changes in the death-penalty appeal process could lead to disputes in federal courts.
"Before we tinker with this too much, we need to think carefully because once you get the feds involved, you never know what will happen," Perry said.
Phil Chanfrau, a Palm Coast attorney, wrote on his blog earlier this week: "Any thought of capping the appeals to eight years is likely to result in a decision by the US Supreme court that Florida's appellate review process is fatally flawed and unconstitutional." He added: "Politicians have long known that the surest way to lose an election is to appear soft on crime. They refuse to bite the bullet on this issue for political reasons. Until the general public realizes it is too costly to pay for appeals in death penalties, and that mistakes do happen we will continue to have this huge waste on our taxes. Keep them in prison. A million dollars can be better spent on other things like teachers, bridges, schools, and roads."
But Rep. Gayle Harrell, R-Stuart, questioned whether the process would change if the Legislature does not get involved.
"Without action by the Legislature, we are not going to see the necessary changes made," Harrell said.
–Jim Saunders, News Service of Florida