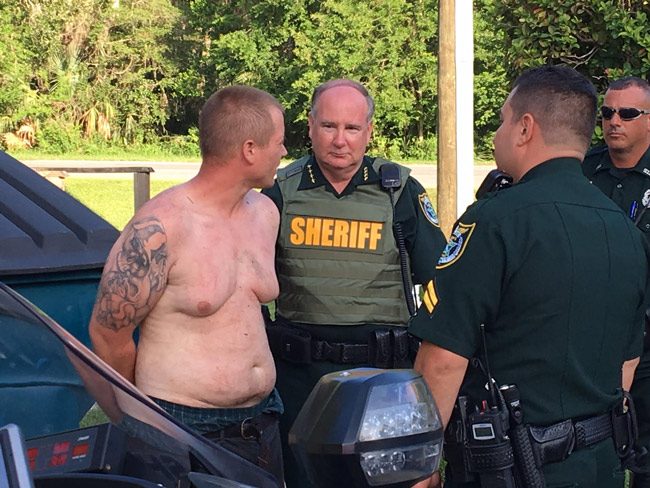 Last Updated: 7:35 p.m.
Update, 7:15 p.m.–Just before 7 p.m., a six-hour manhunt came to an end as Flagler County Sheriff's deputies–apprehended the man who'd fled into woods after crashing his vehicle for the second time, the first time into a sheriff's deputy's car.
Sean Ryan Fitzpatrick, 30, a felon who just finished serving 96 months in state prison, was caught in the area of Colbert Lane and Palm Coast Parkway, by SunTrust Bank.
"Our understanding he was just released from prison less than a year ago," Sheriff Rick Staly said from the scene, shortly after the apprehension. He had been in prison for crimes including fleeing and eluding, fraud, multiple burglaries, larceny, grand theft, and some other crimes, and was released in October 2016. "When we had him in the canal after part of the chase, trying to get him to come out of the canal, he told us he was not going to come out because he was not going back to prison." A deputy went after him, he managed to get to the other bank and evade him in the brush.
"We wore him out," Staly said. "It was a long search, but certainly worth it at the end. We're going to look at him for other things we believe he's been involved in, not at liberty to go into detail on that because it's an active investigation." He credited his deputies for "an outstanding job on a very long, hot afternoon."
He did admit to crashing into the deputy's car after initially saying he had not been involved. Another deputy witnessed him crashing his car near Waterfront Park, when he actually went airborne.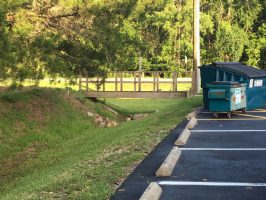 When Fitzpatrick spoke with the sheriff after his apprehension, he said, "'I knew you were going to put me back in prison.' I said, we don't put you in prison," the sheriff told him, "your actions put you in prison, and then I told him there's a new sheriff in town and we weren't going to give up." He also told him there was a new jail since the last time he'd been in the Flagler jail.
Fitzpatrick was on his way to the hospital to make sure the cuts he sustained are not an issue. "We want to make sure he doesn't have a concussion to be accepted into the jail," Staly said. "Multiple deputies are going to guard him at the hospital because we're not going to do this again." A dozen deputies worked the scene, with an additional few from other agencies.
"It was an outstanding job by our deputies and the team, dispatchers, everybody," Staly said.
"We had him pretty much cornered in the woods, we kept putting more pressure on him," Sheriff's spokesperson Brittany Kershaw said. There were two K-9 units and deputies in the area when the man emerged from the woods. "He looked like he was still attempting to move further away from us, that's when the deputies approached him and were able to apprehend him." The deputies, Kershaw said, warned the man that they would use their Tasers if the man didn't stop. He complied at that point.
Friday afternoon, the sheriff's office issued the following update: "Following the search for and arrest of Sean Ryan Fitzpatrick, the investigation continued and stolen property was recovered from truck he was driving. The property was linked to a burglary that was reported on June 10, 2017. He is being charged with this burglary. Fitzpatrick is no stranger to committing crime. Since 2008 he has been charged 30 times with theft and burglary crimes, 24
convictions and has served 63 months in Florida prisons."
The original story from earlier Thursday afternoon is below.

Sheriff in Manhunt Near Waterfront Park and Canopy Walk for Suspect Who Fled After Crashing With Cop Car
Flagler County Sheriff's deputies aided by several other agencies have been in a manhunt for the past five hours in the area of Colbert Lane, toward Waterfront Park and Canopy Walk in Palm Coast, as they search for a man who crashed into a deputy's car then fled.
The man was driving a truck east on State Road 100 when he merely scratched Sgt. Jason Neat's patrol car. "It was a very minor fender-bender in front of the McDonald's on 100," said Sheriff's spokesperson Brittany Kershaw. But instead of stopping at the scene, the man, who's believed to be in his 20s or 30s, is 5'10'' and white, fled and drove north on Colbert Lane, triggering a chase. At that point, he had already incurred charges of leaving the scene of an accident with property damage and fleeing and eluding.
He drove north up to the area of Waterfront Park, where he crashed his truck. The crash was severe enough to make the vehicle un-drivable, and to injure the man in the head. He then ran into the woods.
"The suspect is still on the run or at least he is hiding in the woods," Kershaw said. "We've been tracking him for five hours now. The area out there where he is is very thick brush so it's very hard to see through, very hard to climb through."
The Sheriff's Office is still in the area—seven units' worth—with a K-9 unit, and is being aided by police from Flagler Beach, Bunnell, and Florida Fish and Wildlife Conservation Commission, as well as Flagler County Fire Flight, the emergency helicopter, which had returned to the county airport in late afternoon. Volusia was reading its own Air One to help in the hunt.
It's not yet clear if the man is dangerous or not. The Sheriff's Office has some idea who the man may be, but has not confirmed it: deputies don't believe that he is the owner of the truck. But they do know that the man has a past record.
"If it's who we think he is he has outstanding warrants," Kershaw said. He has spoken with some people—it's not clear whether they were law enforcement—in the past five hours. "He said he would not turn himself in because if so he would be going back to prison, so we're thinking it may be this potential person, but we haven't had anyone get close enough to confirm from the picture we have of him."
The man on two occasions is believed to have swam across a canal and back. He was initially wearing a red shirt, but discarded it along the way, likely because of its brightness (red is easy to spot from far away), and is now in shorts only.
The operation is under the command of Chief Paul Bovino. Sheriff Rick Staly was at the scene this afternoon, but later went to a Flagler Beach City Commission meeting for a presentation.
This story will be updated when warranted.