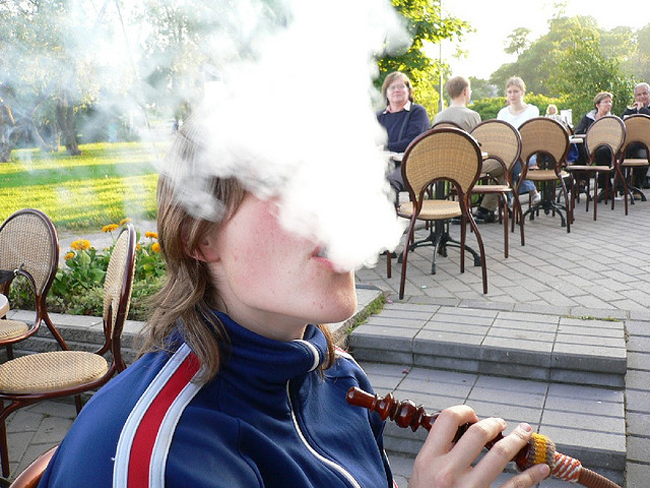 Bright-colored packaging surrounds deadly candy-flavored products aimed, critics charge, at children – namely tobacco.  Chocolate flavored tobacco. Green apple flavored tobacco. Mango flavored chewing tobacco. Peach flavored cigarillos. Or snuff, for that matter. These enticing and delicious sounding packages are prominently displayed at convenience store checkout counters.
Although anyone who purchases these products to smoke, dip or chew must still be 18 years of age, health departments across the nation and the U.S. Food and Drug Administration fear the products target children, who get adults to purchase the products for them. So far, however, flavored produces have not triggered a rise in teen smoking. To the contrary. The trend is significantly down for smoked tobacco as well as smokeless tobacco, suggesting that caution should temper alarm that anything like a new epidemic is afoot. It isn't. But just as clearly, long-term and significant declines in usage dating back to the 1990s have leveled off, and in some cases, began to rise again, slightly. Health officials would like to ward off a steeper rise.
Palm Coast City Council members, at a meeting earlier this month, joined Bunnell, Flagler Beach and governments across the state and nation in supporting a resolution to discourage the sale of candy-flavored tobacco.  The resolutions have no force because tobacco is a legal product for sale to adults. But local officials hope store owners will voluntarily de-emphasize the sales and possibly get the state to outlaw the candy-flavored tobaccos.
"It adds our voice to the voice of other cities urging our legislators to take action," Jon Netts, Palm Coast mayor said. "But each one of us, when we go into a store and we see these products that are clearly designed to entice the very young to start down the road to tobacco addiction, it wouldn't hurt if you went to the clerk, if you went to the manager, if you went to the owner and you said I object to that product being sold to our children. Public pressure has a lot to do with what they sell."
A junior at Florida Palm Coast High School, Melissa Boyles, asked the Palm Coast City Council to pass the resolution with an impassioned plea and a display showing the various products. "I have seen bright students cut off years of their lives and I have seen family members cut off their lives because of the deceit big tobacco practices," Boyles told the Council. "It wasn't until ninth grade that I realized I could change that. I have the power to educate."
Boyles drew laughter when she asked if council members had ever seen an adult smoking green apple cigarettes or dipping chocolate snuff. She said the tobacco industry targets youth to replace the 1,200 people a day who die from the effects of using tobacco. It's a worn tactic: the industry used to subtly market cigarettes to youth decades ago before the nation became more conscious about tobacco's harms–and wiser to tobacco companies' deceptive marketing techniques. The tobacco industry then made a big push to continue the marketing abroad, especially in less developed nations, where advertising regulations are less stiff and smoking rates much higher than in the United States. Candy-flavored products are merely the tobacco industry's latest marketing insinuation into young minds.
"The idea that tobacco kills isn't a new one," she said. "And neither is the concept that they're targeting youth, but their methods of doing so are." She continued: "With wrappers that look like pixie sticks and containers that resemble Tic Tacs, how easy is it to become accustomed to the idea that tobacco is okay."
Flavored tobaccos, including pipe tobacco, cigars, dips, snuffs and even cigarettes have been around for decades. Sales of flavored cigarettes, with the exception of menthol, have been banned since 2008. Health departments across the nation and the FDA warn that the brightly colored packaging and candy flavors are a new strategy to lure young people to tobacco use. The FDA warns that the flavored tobaccos are as addictive as smoking. After a young person tries flavored tobacco, that person is more likely to move on to other tobacco products, the FDA cautions, although figures, so far, don;t bear that out.
A report that tracks societal trends, the University of Michigan Monitoring the Future Study, has not studied the candy-flavored tobacco products. Lloyd Johnston, a principle investigator with the study, said he can't say what's going on with candy-flavored tobacco because it hasn't been part of their study. But if flavored tobacco products are fostering a new batch of teen smokers, the numbers the survey has gathered don't show that effect: teens have been smoking less over time, not more and that trend was reinforced by the survey's 2012 numbers. Among students in grades 8, 10 and 12, researchers found that the percentage saying that they smoked at all in the prior 30 days fell for the three grades combined, from 11.7 percent to 10.6 percent—a statistically significant drop.
"A one percentage-point decline may not sound like a lot, but it represents about a 9 percent reduction in a single year in the number of teens currently smoking," Johnston, who was the principal investigator of the study, said last December. "Such a reduction can translate eventually into thousands of premature deaths being prevented, as well as tens of thousands of serious diseases." More than  400,000 Americans per year are estimated to die prematurely as a result of their smoking cigarettes. Most smokers begin their habit in adolescence. There was some evidence from the study that in 2010 the long-term decline in teen smoking might have come to a halt, but the decline resumed in 2011 and has continued into 2012 with statistically significant declines both years. An increase in the federal tax on tobacco products, instituted in 2009, may have contributed to this recent decline in smoking in this age group, according to the investigators.
The numbers regarding smokeless tobacco are also encouraging, though the numbers are typically–and unfortunately–not made part of those presentations to local governments. The Michigan survey summarized those numbers: Among 8th graders, 30-day prevalence dropped from a 1994 peak of 7.7% to 3.2% in 2007. It stands at a low of 2.8% in 2012. Tenth graders' use was down from a 1994 peak of 10.5% to 4.9% in 2004, but has risen some to 6.4% in 2012; 12th graders' use decreased from a 1995 peak of 12.2% to 6.1% in 2006, before leveling and then rising to 8.5% in 2010, before dropping back some to 7.9% in 2012. Thirty-day prevalence of daily use of smokeless tobacco fell gradually, but appreciably, for some years. Daily usage rates in 2012 are 0.5%, 2.0%, and 3.2% in grades 8, 10, and 12, respectively—down substantially from peak levels recorded in the 1990s but, again, the declines in daily use have halted and begun to reverse."
The Monitoring the Future Survey has tracked sales of clove-flavored cigarettes and an herbal-tobacco cigarette wrapped in a natural leaf, and seen those sales plummet.
Theresa Williams, a tobacco-prevention specialist with the Flagler Health Department, said she plans to ask other county governments to pass anti-flavored-tobacco resolutions. Nine of every 10 students in Flagler County cited for underage tobacco use are caught using smokeless tobacco, Williams said. "Everyone tries flavored tobacco," she said. "They know kids like candy, kids like attractive packaging." Williams acknowledged that flavored tobacco has been around for years, but asserted that the colored packaging and candy flavors are new efforts targeting children.
According to the FDA, flavored tobacco products have become increasingly more common. Products containing flavors like vanilla, orange, chocolate, cherry and coffee "are especially attractive to youth," the FDA warns. Flavored tobaccos are considered by the FDA as starter products, establishing smoking habits that can lead to a lifetime of addiction. "Like all tobacco products, flavored tobacco products have serious health risks and are not considered safe by the FDA," notes a warning on fda.gov.
A March 2008 national poll found that one in five youths aged 12 to 17 had seen flavored tobacco products or ads, while only one in 10 adults have seen the products. Studies of other flavored tobacco products such as bidis or hookas found that young smokers reported choosing the flavored products over cigarettes because they taste better and are perceived as safer. "Hookah smokers may actually inhale more tobacco smoke than cigarette smokers do because of the large volume of smoke they inhale in one smoking session, which can last as long as 60 minutes," Lowell Dale, a physician, writes at the Mayo Clinic's website.
A hookah lounge called A1 Hookah had operated for a few months at the late Food Lion shopping center in Flagler Beach, only to close in early December–in part, allegedly, because it was appealing to youths, and neglecting to card patrons. Williams applauded the closure of the business in an appearance before the Flagler Beach City Commission.
Tobacco industry documents show patterns of designing flavored cigarettes to target youths, the FDA reports. One company developed a concept of a "youth cigarette," including cola and apple flavors, stating: "It's a well-known fact that teenagers like sweet products. Honey might be considered," though that memo dates back to 1972. Another company instructed workers to make a cigarette which would be obviously youth oriented, specifically suggesting a candy flavor.
All tobacco, including flavored tobacco, are addictive and carry health risks. An estimated 443,000 Americans die prematurely each year to do smoking and exposure to second-hand smoke. More deaths are caused by tobacco use than all deaths from HIV, illegal drug use, alcohol use, motor vehicle injuries, suicides and murders combined. Cigarette smoking causes many types of cancer, as well as heart disease and chronic lung diseases like emphysema. Smokeless tobacco causes gum disease and cancers of the mouth.